10 LSS-Worthy Graduation Songs We All Know
Think old-school favorites from Vitamin C, After Image, Diana Ross, and more.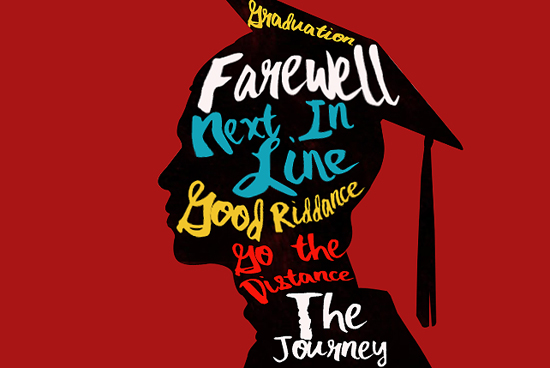 (SPOT.ph) Ah, student life, a time in our past most, if not, all of us surely miss. Life was a lot simpler when most of our worries centered on passing subjects and making student activities a success. It was a time of learning, forging friendships, maybe meeting our first love, and trying to make sense of what we wanted to do with our life. Of course, like all good things, student life has to end at some point, ceremoniously marked by grand commencement exercises. In time for the upcoming graduation season, we list just a few of the songs we all heard during the celebration. Which one was your batch's graduation song?
Also read:
Anatomy of a Fresh Graduate
15 Things You Should Know Before You Graduate
Song: "Graduation (Friends Forever)"
Artist: Vitamin C
Back in 2000, American singer Vitamin C (born Colleen Ann Fitzpatrick) released "Graduation (Friends Forever)." The song has since been the go-to track for grade school and high school graduations, and for good reason. It features a familiar melody and bittersweet lyrics that make you think about what the future holds.
Song: "At the Beginning"
Artists: Richard Marx and Donna Lewis
The Anastasia soundtrack is a great duet piece that has also become a staple in graduation rites. The positive message about journeying together just resonates so well with BFFs everywhere.
Song: "Next In Line"
Artist: After Image
Of course, no list of nostalgic graduation songs would be complete without "Next In Line." It has become an anthem for the youth who have yet to face the harsh realities of adulthood. The lyrics do not exactly talk about sunshine and rainbows, but the words paint a rather realistic picture for the younger generation.
ADVERTISEMENT - CONTINUE READING BELOW
Song: "If We Hold On Together"
Artist: Diana Ross
This track by Diana Ross definitely leans more on the positive. The Land Before Time soundtrack may be too sentimental and overly idealistic, but it sends a hopeful message to students about to enter a new chapter in their lives. Also, everybody loves (and probably cried over) Land Before Time.
Song: "Farewell"
Artist: Raymond Lauchengco
Filipino crooner Raymond Lauchengco's "Farewell" is the perfect song for friends parting ways after graduation, either because of people moving away or going off to different colleges. There's definitely that anxiety when leaving what you've been used to and facing the unknown, but "Farewell" proves that there really are, essentially, no goodbyes—just see you later.
CONTINUE READING BELOW
Recommended Videos
Song: "The Journey"
Artist: Lea Salonga
Another song about all the journeys we take, this 1993 Lea Salonga track also tackles the uncertainty of what lies ahead. Whether through sorrow or bliss, "The Journey" tells us it's better to stay positive and keep moving forward.
Song: "Good Riddance (Time Of Your Life)"
Artist: Green Day
The deep and poetic lyrics of this Green Day hit really tugs at the heartstrings. It's usually interpreted as reminiscent of memorable times in high school and during one's coming-of-age. And not only is it a favorite during graduation, it's also pretty famous at proms.
Song: "Go the Distance"
Artists: Robert Bart (film) and Michael Bolton (pop version)
Another famous Disney song, "Go the Distance" (which is off the Hercules soundtrack) is a motivational number perfect for students dreading the next steps. It tells the youth to go far and aim for glory. No better advice than that.
ADVERTISEMENT - CONTINUE READING BELOW
Song: "I Believe I Can Fly"
Artist: R. Kelly
Here's another inspiring song we remember very well from the 1996 movie Space Jam. This R. Kelly ballad is a top choice among graduation songs for its memorable melody, plus lyrics that promote a very can-do attitude. And okay, we all secretly like Space Jam.
Song: "We're All In This Together"
Artist: High School Musical cast
This High School Musical hit is a relatively newer and fresher choice. It's upbeat and dance-y, perfect for the celebratory mood that should be the highlight of graduation ceremonies. It focuses on unity and teamwork one last time before everybody goes their separate ways.
Also read:
Anatomy of a Fresh Graduate
15 Things You Should Know Before You Graduate
Share this story with your friends!
---
Help us make Spot.ph better!
Take the short survey
Load More Stories