MOVIE REVIEW: The Angry Birds Movie soars just enough to be enjoyable
While not as addicting as its source material, this animated film features funny visual gags and entertaining voicework.
(SPOT.ph) In December 2009, a random but strangely addicting puzzle game about "angry" birds launching themselves at evil pigs was introduced into the world. Every person of every age was glued to their devices, completely transfixed at "Angry Birds." It comes as no surprise that the Finland-born gaming phenomenon moved into other media, spawning several sequels, editions, and spin-offs. It may be about three or four years since Angry Birds was at the top of the relevance pyramid, but it's still a recognizable property, and with this recognizable property, Rovio and Sony Pictures have created a film that is as silly and as colorful, though not quite as addicting as its game counterpart.
Because the Angry Birds game lacks much of any story, its film version attempts to fill in those gaps. Why are these birds so angry? Why do the pigs have the birds' eggs? These questions and more are answered in a brisk but entertaining hour and a half. We first meet Red (Jason Sudeikis), who lives on an island full of flightless birds. Red is usually cool and funny, but when he gets pushed, he becomes sarcastically grumpy and hot-headed. After a mishap with his family, he is sent to bird court and is sentenced to anger management classes. Here, he meets the speed-addicted yellow bird Chuck (Josh Gad, also known as the voice of Olaf from Frozen), the good-natured but explosive Bomb (Danny McBride), and Terence (a growling Sean Penn), who is a large red bird who seems to perpetually be in a bad mood.
ADVERTISEMENT - CONTINUE READING BELOW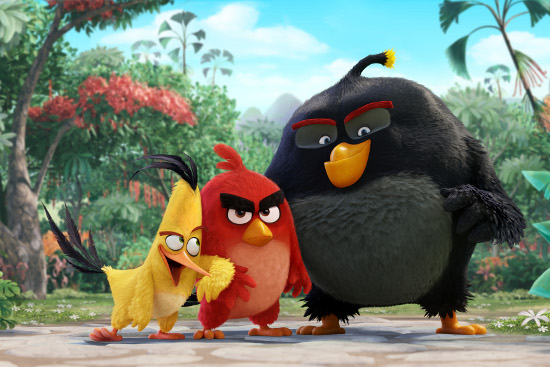 CONTINUE READING BELOW
Recommended Videos
During some not-entirely successful anger management classes taught by Matilda (Maya Rudolph), a ship of green, mysterious pigs lead by Leonard (Bill Hader) arrives on the island and befriends the startled birds who have never seen anything like a pig before. The pigs are friendly and they are welcomed, but Red feels like there is something more sinister going on. Sensing something is wrong, Red, Chuck, and Bomb seek the help and wisdom of a legendary and heroic Mighty Eagle (Peter Dinklage) to uncover what's really happening.
The film is primarily aimed at kids, with each scene bursting with color, over-the-top action sequences, and hilarious visual gags. There are some crude jokes sprinkled in for the adults in the audience, but the film is sure to be a blast for the young ones. The Angry Birds Movie uses its source material quite well, specifically when the birds learn to launch themselves via slingshot, birthing one of the most fun and surprising sequences in the entire film. The animation is crisp, with some particularly memorable work on the film's lead characters, and some really great visual and scripted bird puns. Storytelling-wise, it's not the most sophisticated film out there. It struggles in showing why we should care for Red when he's being kind of a jerk to everyone through the early part of the film, or how the pigs are introduced into the birds' world.
ADVERTISEMENT - CONTINUE READING BELOW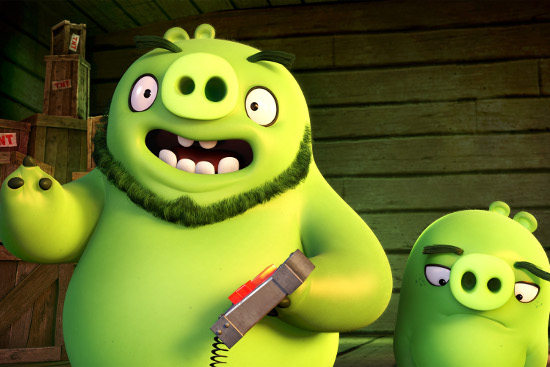 When The Lego Movie turned its film into more than just product placement, there was hope for The Angry Birds Movie. It doesn't quite soar as high, partly because its source material isn't exactly dense, but also because it could've done better in the lessons it aims to impart to audiences. One of it is that it's okay to be angry because sometimes when you're pushed too far back, you need to launch yourself forward. It's a bold statement, but it unfortunately gets bogged down by the filmmakers caring more about visually making everything pop. The film's storytelling lacks the subtlety and gut-punching realness that Pixar's Inside Out had when explaining to its audience that it's okay to be sad. However, what it does do well is its pure joy and fun in the film's centerpiece moment when the birds fight the pigs. The voice acting was solid all around, with Sudeikis' Red being the best of the bunch, followed by Dinklage and Hader.
ADVERTISEMENT - CONTINUE READING BELOW
The Angry Birds Movie is nowhere near as addicting nor as popular as the game it is based on, but it does manage to entertain the crowd with its clean, eye-catching animation and its frequently funny sequences, whether going for smarter bird-related jokes, or adult toilet humor. While it is unlikely this film will revitalize the popularity of the Angry Birds game, it is a fun and maybe even nostalgic trip for all.
RATING: 3 out of 5 spots
The Angry Birds Movie is now showing in theaters. Photos courtesy of Columbia Pictures.
Share this story with your friends!
---
Help us make Spot.ph better!
Take the short survey
Load More Stories