10 Award-Winning Performances in Pinoy Movies
Jaclyn Jose isn't alone!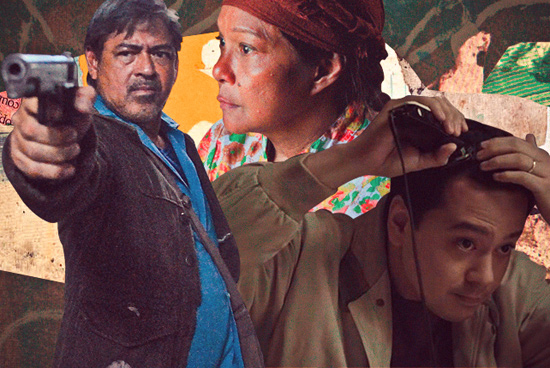 (SPOT.ph) Filipino movie fans rejoiced when veteran actress Jaclyn Jose bagged the Best Actress award at this year's Cannes Film Festival, making her the first Filipino (and Southeast Asian) to do so. She isn't alone; in fact, we have plenty of talented actors recognized worldwide for their compelling and memorable performances. We round up 10 critically acclaimed actors and their award-winning roles.
Also read: 10 Must-See Critically Acclaimed Pinoy Movies of 2015
LJ Reyes
Award-winning role: Anino sa Likod ng Buwan (2015)
Written and directed by Jun Lana, this thriller revolves around a married couple and their relationship with a soldier during a political uprising in the '90s. The entire film's story takes place in one night, and unfolds in a single, uninterrupted sequence.
International credits: Best Actress at the 13th Pacific Meridian International Film Festival in Russia
John Lloyd Cruz
Award-winning role: Honor Thy Father (2015)
Audiences best know JLC for his charming roles in popular romance flicks, but you've never seen the actor this gripping or intense. In the film, he plays Edgar, a mild-mannered father and husband who must resort to violence in order to pay back staggering debts from a failed Ponzi scheme.
International credits: Star Asia Award at the 15th New York Asian Film Festival
Nora Aunor
Award-winning role: Naglalayag (2004), Thy Womb (2012), Dementia (2014), among others
Nora Aunor's career spans well over 30 decades, and the Superstar has racked up quite the critical acclaim over the past years. One of her most memorable roles was 2012's Thy Womb, where she played an infertile Badjao midwife who will do anything for her husband's happiness.
International credits: Bisato d'Oro for Best Actress at the 69th Venice International Film Festival (Thy Womb); Best Lead Actress in a Foreign Language Film at the 3rd Saint-Tropez International Film Festival (Dementia); Best Actress at the 31st Brussels International Independent Film Festival, among others
Sid Lucero
Award-winning role: Toto (2015)
Sid Lucero's turn as a hotel room attendant who takes extreme and desperate measures to obtain a U.S. visa won him praise from critics. The film was originally an entry to the 2014 Metro Manila Film Festival's New Wave section where it won the Jury Prize.
International credits: Best Actor at the 19th Los Angeles Comedy Festival 
Teri Malvar
Award-winning role: Ang Huling Cha-Cha ni Anita (2013), Hamog (2015), and Sakaling Hindi Makarating (2016)
Teri Malvar was just 13 years old when she bested Nora Aunor for a Best Actress award at the 2013 CineFilipino Film Festival. She nabbed the award for her touching portrayal of a little girl's developing crush on a new woman in a small town for the film Ang Huling Cha-Cha ni Anita. Flash-forward a few years later, and Malvar is taking home a new award from New York for her "daring roles that have expanded the range of contemporary Philippines' cinema."
ADVERTISEMENT - CONTINUE READING BELOW
International credits:  Screen International Rising Star Asia Award at the 15th New York Asian Film Festival
Aiko Melendez
Award-winning role: Asintado (2014)
Directed by Louie Ignacio, Asintado tells the story of a young boy who botches a drug courier job, and his mother who pushes his mentally-challenged brother to kill the drug dealer in order to save him. The 2014 film was a finalist for Cinemalaya's Directors' Showcase.
International credits: Best Actress in a Foreign Language Film at the International Filmmaker Festival of World Cinema in London; Best Actress (Global) at the International Film Festival Manhattan in New York
Barbie Forteza
Award-winning role: Laut (2016)
Barbie Forteza was handpicked by director Louie Ignacio for her role as a young member of a Philippine ethnic group Sama d'Laut who are struggling to make ends meet after moving to an impoverished Badjao community. The 18-year-old previously took home a Best Supporting Actress trophy in the 2014 Cinemalaya Film Festival's New Breed section.
International credits: Best Actress at the 36th Fantasporto International Film Festival in Portugal
Buboy Villar
Award-winning role: Kid Kulafu (2015)
Directed by Paul Soriano, this biographical drama centers on the childhood of Manny Pacquiao. When he discovers his natural talent for boxing, he goes on an intense and inspiring journey from the amateur circuits to the big city. The biographical drama stars Buboy Villar as the titular young Manny.
International credits: Achievement in Acting at the 5th Guam International Film Festival
Eugene Domingo
Award-winning role: Barber's Tales (2013)
This drama stars Eugene Domingo as a widow who is forced to take her late husband's job as a community barber during the end of Marcos era in the '70s. The film is a follow-up to director Jun Lana's 2012 comedy-drama, Bwakaw.
International credits: Best Actress at the 26th Tokyo International Film Festival 
Joel Torre
Award-winning role: On the Job (2013)
We're no strangers to Joel Torre's stellar acting, but he had audience members at the edge of their seats in his 2013 role as an ageing prison inmate who doubles as a veteran contract killer for powerful politicians. The film made its international debut at the Cannes Film Festival's Directors' Fortnight, earning Torre praise from critics (including Variety and the New York Times).
International credits: Best Actor at the 17th Puchon International Fantastic Film Festival in South Korea
Also read: 10 Must-See Critically Acclaimed Pinoy Movies of 2015
Load More Stories