MOVIE REVIEW: Now You See Me 2 embraces its absurdity
The Four Horsemen are back, and the heists are more magically ridiculous than ever.
(SPOT.ph) In an era of fairytale adaptations and long-running superhero franchises, Now You See Me 2 almost seems like a breath of fresh air. Sure, it's another sequel (with a third one reportedly already in the works), but this silly, high-flying caper isn't afraid to expand and even embrace its original—and admittedly, rather convoluted—storyline.
This time around, the Four Horsemen have been driven into hiding after pulling off an elaborate heist to take down a financier (as featured in the first film). Now, they're pretty much underground legends, eager to make a comeback and fall back into the public's good graces. Jesse Eisenberg, Dave Franco, and Woody Harrelson all reprise their roles, now written with more spunky confidence that we didn't see in the first installment. Eisenberg, in particular, wears this confidence with the most understated ease, slipping comfortably into his role as the group's ambitious leader.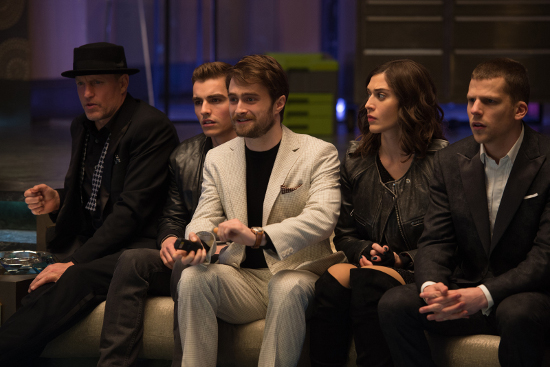 ADVERTISEMENT - CONTINUE READING BELOW
CONTINUE READING BELOW
Recommended Videos
Noticeably missing from the roster is Isla Fischer, but fans will love the group's newcomer, Lula (a charmingly funny Lizzy Caplan), who seamlessly melds well into the deeply loyal group. Another new addition to the cast is Daniel Radcliffe, a smug and wealthy genius who recruits the Horsemen to steal a device that can decrypt any computer program on Earth. The only problem is that they're still on the run, and they must pull off the complex heist while under the radar.
While this is all happening, the script of Ed Solomon expands the backstory of FBI agent, Dylan Rhodes (Mark Ruffalo). It also throws in Rhodes' personal vendetta against Morgan Freeman's Thaddeus Bradley, whose career as a magic debunker may have ties to the former's past. There's even a bit about a centuries-old secret society of magicians called The Eye, but don't expect any explanation from the film on that end.
ADVERTISEMENT - CONTINUE READING BELOW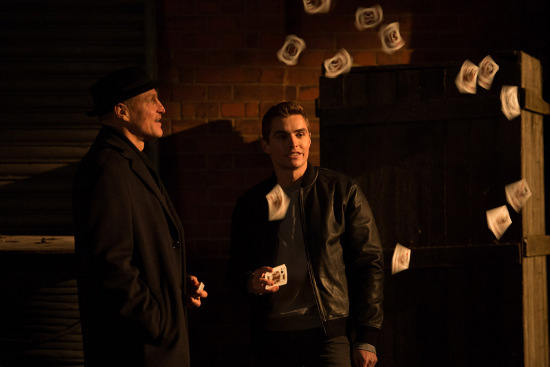 The script may suffer from a case of multiple, unexplained (or unnecessary) plot points, but when it focuses on the magicians and their grandiose illusions, it's entertaining from start to finish. Precise and fast-paced editing by Stan Salfas, coupled with nimbly choreographed camerawork by director Jon M. Chu, give the robbery scenes a joyous, edge-of-your-seat pizazz. The centerpiece of all this action is a seamlessly staged heist sequence involving a single playing card deftly passed from one Horseman to the next. Is it even remotely close to being plausible? Definitely not, but the beauty in this film is that it makes you believe that it can happen.
ADVERTISEMENT - CONTINUE READING BELOW
Ultimately, Now You See Me 2 is a film that knows what it is, gamely reveling in its over-the-top absurdity, even if it does border on illogical. It's an engaging 126-minute romp that, when paired with its charismatic, star-studded ensemble cast, make for a worthy addition to this year's summer blockbusters.
RATING: 3.5 out of 5 spots
Now You See Me 2 is now showing in theaters. Photos courtesy of Pioneer Films.
---
Help us make Spot.ph better!
Take the short survey
Load More Stories