MOVIE REVIEW: Me Before You will have you reaching for tissues
Emilia Clarke and Sam Claflin star in this adaptation of Jojo Moyes' best-selling novel.
(SPOT.ph) Trading her blonde wig, tattered clothes, and tough disposition for her natural dark brunette hair, wildly colorful dresses, and the most "adorkable" character this side of Zooey Deschanel, Emilia Clarke, better known to most as Daenerys Targaryen, showcases a more lovable side to her. She is the bright, shining star Me Before You needed to carry the charming and warm but otherwise predictable and clumsy romantic dramedy, also starring Sam Claflin.
Clarke plays Louisa Clark–Lou for short–a self-described happy-go-lucky and chatty 26-year-old who, in her own words, "has never hated anyone" in her life. She's lived in a small English town all her life while working at the same waitressing job for six years. Still, she genuinely enjoys life, despite being told time and time again that she's "full of potential." When she loses her job, she becomes desperate to find a new one as her entire family is dependent on her. Despite having no experience, she takes a job as a caregiver to Will Traynor (Claflin).
ADVERTISEMENT - CONTINUE READING BELOW
CONTINUE READING BELOW
Recommended Videos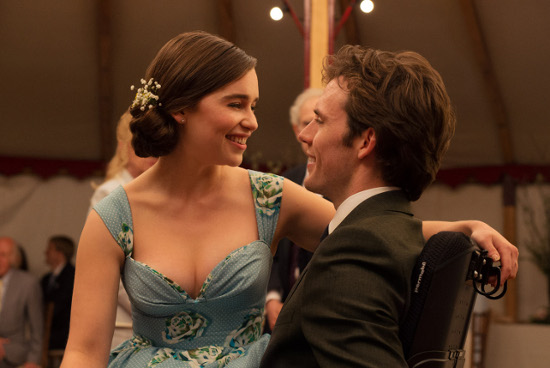 Will, after a horrific accident, has been left a quadriplegic. Formerly adventurous, he has lost his will to live now that he is confined to a mobile wheelchair. He is sullen, depressed, and unhappy when he and the joyful Lou meet. As with all films of this genre, the two don't exactly work well at the beginning, but soon enough things change. Lou tries and tries to make Will happy, while he does his best to stop mistreating the people around him, and they figure out how important the other one is to their own lives.
ADVERTISEMENT - CONTINUE READING BELOW
In a complete 180 from her Mother of Dragons character, Clarke plays Louisa as the most confident, fun-loving, energetic person you know. She might get on your nerves, but damn it, she will do her darndest to make you like her, or at the very least, appreciate her. Wearing some of the most ridiculous wardrobes she may probably ever wear in a film, and a pair of the best-acting eyebrows you'll probably ever see, Clarke's Lou is full of love and life, and her lightness brings so much to the film, elevating some of the sketchy material. She tends to overact, but she's so devoted to the role that you may let it pass. Claflin, on the other hand, most famous for The Hunger Games film series, has to act from only neck-up, and does the best he can do with it, fluctuating between total jerk to romantic leading man. The two have palpable and believable chemistry.
ADVERTISEMENT - CONTINUE READING BELOW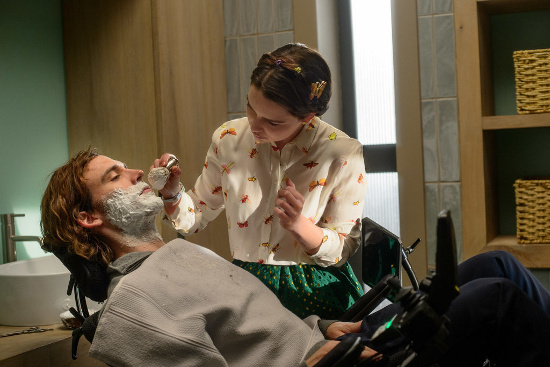 The rest of the cast, a who's who of geek pop culture, including Downton Abbey alum Brendan Coyle as Lou's dad, Clarke's Game of Thrones co-stars Samantha Spiro as Lou's mom and Charles Dance as Will's father, Albert Nobbs' Janet McTeer as Will's mother, Harry Potter's Matthew Lewis as Lou's boyfriend, and Doctor Who's Jenna Coleman as Lou's supportive sister, leave an impact and do fine in underwritten parts.
ADVERTISEMENT - CONTINUE READING BELOW
While we see Lou and her family separately, we rarely ever get glimpses of Will's life outside of Lou. This is a major problem because of how much Will's character and his choices ride on his life before and after the accident. The audience is told multiple times that Will was an adventurous and successful young man, traveling the world and "living boldly," a trait he tells Louisa he'd like her to have, but besides an awkward two-minute opening and clips here and there, we never fully see or feel Will's pre-accident life. The same thing occurs when we're told how much Will struggles when Lou isn't there–that he's in pain, screaming. Because we don't seee this, we never quite feel for him. All we see is how happy Will is with Lou, which makes some choices of author and screenwriter Jojo Moyes a bit questionable.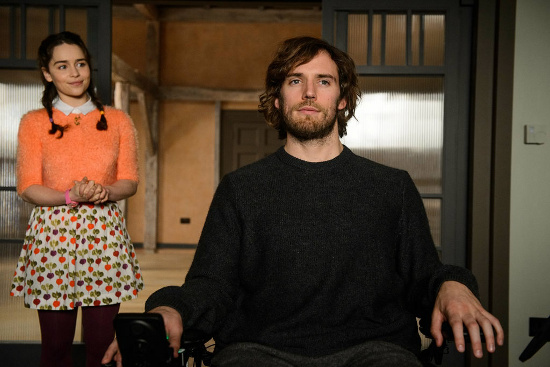 ADVERTISEMENT - CONTINUE READING BELOW
Thea Sharrock, making her feature film debut, directs it with a lightness and warmth that, matched with Clarke's portrayal, works fine. The film is as unsubtle as Lou's loud wardrobe, with obvious twists, and characters making life-changing decisions in a span of one scene and two lines of dialogue. When your film is using every romantic Ed Sheeran song known to man (one maybe too on-the-nose–"Thinking Out Loud"), it's not going to be subtle.
Clarke's portrayal and her chemistry with Claflin, though, pushes past conventions for a fairly enjoyable and romantic, and sometimes teary story. One of the major points in the film is Lou's pair of yellow-and-black bumblebee tights she would wear as a kid. While others see her as kooky, she wears these wacky outfits with confidence, and Emilia Clarke does the same. With sheer personality and confidence, she is the shining star this film needed.
RATING: 3 out of 5 spots
ADVERTISEMENT - CONTINUE READING BELOW
Me Before You is now showing in theaters. Photos courtesy of Warner Bros. Pictures.
Load More Stories