10 Pinoy Films for Every Breakup Situation
Go on, have a good ugly-cry.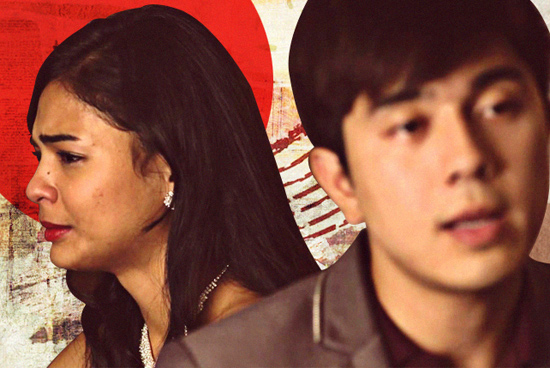 (SPOT.ph) Still getting over a breakup? Grab some ice cream, sit on the couch, and watch one of these. We promise you'll feel better! After all, sometimes all you need is a good ugly-cry.
Also read:
10 Must-See Pinoy Indie Romance Movies
10 Classic Pinoy Romance Films You Can Stream Now
10 Pinoy Indie Films You Can Stream Now
Starting Over Again (2014)
Stars: Piolo Pascual and Toni Gonzaga
Perfect for...when you can't remember why you broke up in the first place
There is always a chance you will run into an ex. Days, weeks, months, years after your breakup, you could always end up crossing paths again. Maybe you've thought about your ex from time to time, maybe you've completely blocked him or her out ever since. Sometimes, even, you can't remember why you broke up in the first place, and let's admit it: it eats away at you.
In Starting Over Again, we get a good look at a separated couple trying to answer these questions. Ginny (Gonzaga) and Marco (Pascual) have long split up but they both have unanswered questions. When the two are brought back together through work, Ginny sees this as an opportunity to rekindle a romance, but Marco has a girlfriend (Iza Calzado). Ginny doesn't care though; she's going to try and get Marco back. Throughout the film, we gradually get to see why Ginny and Marco broke up to begin with, as well as the pros and cons of them being together and remaining apart.
One More Chance (2007) and A Second Chance (2015)
ADVERTISEMENT - CONTINUE READING BELOW
Stars: John Lloyd Cruz and Bea Alonzo
Perfect for...a reminder that sometimes, breakups are a must
Whether it's because the relationship has grown to be toxic or it just isn't the right time, breakups are sometimes absolutely needed to either move on or, in rare occasions, grow closer.
Popoy (Cruz) and Basha (Alonzo) are not only the quintessential modern Pinoy movie couple, but they are also the best example Pinoy films have of a breakup or a separation being completely necessary. Popoy and Basha's rocky relationship shows how breakups are important in different ways. Sometimes, it's because you need to grow up separately. Sometimes it's because the timing just isn't right. Other times, it's because you're just hurting each other by being together. Throughout these two films, we get to see all these situations and more, and that while breaking up is hard to do, it might be the best thing for both of you.
CONTINUE READING BELOW
Recommended Videos
Sana Dati (2013)
Stars: Lovi Poe, Paulo Avelino, TJ Trinidad, and Benjamin Alves
Perfect for...when you need to be reminded that "one true love" is not a thing
Sana Dati, the beautiful anti-romantic Cinemalaya-winning film of Jerrold Tarog, is about Andrea (Poe) on her wedding day to Robert (Trinidad). A man (Avelino) shows up to photograph her wedding, and she feels an odd connection to him, reminding her of her "true love" (Alves) who had died prior to the film's events. She delays the wedding because that previous love is just too strong...or is it? Sometimes we have to figure out that things have happened and we need to just move on from our past. "The One" may not even actually exist, and we need to be slapped in the face so that we realize that we need to move forward.
ADVERTISEMENT - CONTINUE READING BELOW
Ang Nawawala (2010)
Stars: Dominic Roco, Felix Roco, and Dawn Zulueta
Perfect for...men who think the pain will never go away
A lot of Pinoy romance movies focus on the women in the relationship, but what about the men? Boys get hurt, too and could use some visual pick-me-ups to help get over tough moments like a breakup.
The critically acclaimed Ang Nawawala doesn't focus on a boy going through a breakup. Instead, it's about one who's coming to terms with a family tragedy—much, much worse, but that doesn't make the film's central message any less important or relatable. Gibson (Roco) has stopped  talking after a tragic  moment in his childhood, and struggles to maintain or even build relationships with the people around him. Soon enough, he rekindles relationships with friends, including a girl named Enid who brings new life to him. He does his best to get past the hurdle of self-blame, an important lesson for all recovering from a breakup, and even more importantly, from tragedy.
Sakaling Hindi Makarating (2016)
Stars: Alessandra De Rossi and Pepe Herrera
Perfect for...remembering that the world is far bigger than a failed relationship
Breakups can make you feel like a small, lonely fish in a large ocean. It's scary and daunting to (seemingly) face the world by yourself. However, it's important to remember that in that large ocean out there, there's much more to see and experience...yes, even if you are alone.
In Sakaling Hindi Makarating, we find Cielo (De Rossi) alone and hurt after her fiance not just breaks off their engagement, but also breaks up with her after 11 years of being together. Alone in an apartment the two had bought together, Cielo receives mysterious postcards from all over the Philippines. What begins as a drama turns into a road trip to some of the most beautiful sites in the country. The world is large, and even in our own country, there is so much beauty to see that we can't let breakups keep us tied down.
ADVERTISEMENT - CONTINUE READING BELOW
1st Ko Si 3rd (2014)
Stars: Nova Villa, Freddie Webb, and Dante Rivero
Perfect for...seniors who think they will never find love again
On the opposite end of the spectrum, some seniors (not the high school kind) often feel like love is past them. Whether because of a failed marriage, death, or just boredom, older people seem to find it difficult to go separate ways with their current partner because, well, they just don't think they can get another chance at love.
In 1st Ko si 3rd, Villa plays a 65-year old woman who has grown tired of her marriage because things have gone stagnant. She feels happy and like a young girl again when her first love from all those years ago (Webb) re-enters her life. Nursing a breakup is rough business for many, especially for older folks, but this film may just show them that they can find renewed love at any age.
Ikaw Pa Lang Ang Minahal (1992)
Stars: Maricel Soriano, Richard Gomez, and Dawn Zulueta
Perfect for...badasses who want to break up in the most spectacular, drop-the-mic fashion
So you're thinking of breaking up with a current flame and go out with a bang? Sure it's not the nicest thing to do, but sometimes, they deserve it.
The classic early '90s film starring three of Philippine cinema's most recognizable faces is based on old play called The Heiress, a magnificent piece of work showcasing the growth of a woman from naïve and timid to strong and powerful. In one particular scene, Adela (Soriano) really lets David (Gomez) have it in front of both their families during a wedding, and it's absolutely brilliant. From the red dress to the biting lines, the de-facto breakup scene is a wonderful example of how to drop the mic on your way out of a messy relationship.
ADVERTISEMENT - CONTINUE READING BELOW
Dagitab (2013)
Stars: Eula Valdez and Nonie Buencamino
Perfect for...when you need to see that there are people going through much worse relationships
We can mope and be bitter about our bad relationships and how they ended, but one should always know that there are people that are probably faring worse.
Cinemalaya 2014 entry Dagitab starts off with two professors on the brink of a collapsing relationship. It's rough and hard to sit through, and you can see the toll their marriage is taking through Valdez's raw acting. Soon, student-teacher relationships, loneliness, and supernatural beings (yes, it gets even weirder) come into play. Your breakup will seem so tame and silly compared to the people in Dagitab.
Baka Siguro Yata (2015)
Stars: Dino Pastrano, Valerie Garcia, and Nicco Manalo
Perfect for...when you need a good laugh after a long cry
Picture this: You're fresh out of a breakup, you've spent hours bawling your eyes out, and you're exhausted. Now what? Good-natured humor should always be welcome in times of need.
This Cinema One Original begins with Carlo (Pastrano) being dumped by his long-term girlfriend because she cheated on him with another woman. It's a shock, and it's even more shocking when his now ex-girlfriend doesn't really give a damn about him. He then has a one-night stand, and gets that girl pregnant. It's a comedy of errors based on everyday social situations. Relatable and funny, Baka Siguro Yata allows people to laugh at, not just the characters' problems, but also their own.
ADVERTISEMENT - CONTINUE READING BELOW
My Amnesia Girl (2010)
Stars: John Lloyd Cruz and Toni Gonzaga
Perfect for...when you get that rare, rare opportunity at a second chance
Wouldn't it be great to get a second chance to do (or undo) something? To turn back time and correct your mistakes would be something most people would consider. In any breakup, you tend to spend hours analyzing what went wrong and how things fell apart, down to the last detail.
While time travel is impossible in real life, something like My Amnesia Girl goes a different direction. The said old flame has amnesia and cannot remember anything you previously did. It's a concept made famous by 50 First Dates but used here as a way of getting a second chance at love, and finding out whether or not you'd make the same mistakes again. It's silly, but it makes a whole lot of sense when thinking about how to improve your relationship.
Also read:
10 Must-See Pinoy Indie Romance Movies
10 Classic Pinoy Romance Films You Can Stream Now
10 Pinoy Indie Films You Can Stream Now
---
Help us make Spot.ph better!
Take the short survey
Load More Stories