10 Movie Adaptations We Can't Wait to See
Suicide Squad, The Girl on the Train, and more!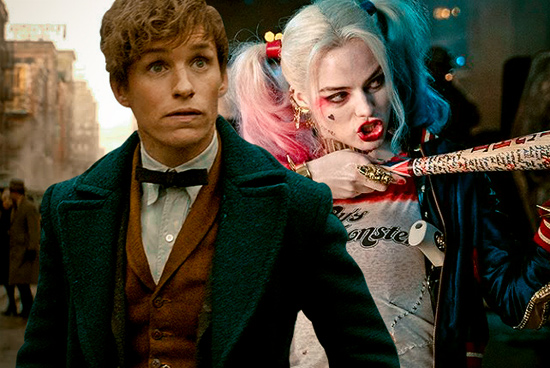 (SPOT.ph) It's safe to say that when it comes to movies, 2016 is all about the adaptations. From comic books (Civil War and Batman V Superman) to novels (Me Before You and The Jungle Book), we saw no shortage of our favorite stories coming to life on the big screen. There's still plenty more to get excited about for the second half of the year, so we round up 10 of the most exciting movie adaptations that are coming very soon.
ADVERTISEMENT - CONTINUE READING BELOW
CONTINUE READING BELOW
Recommended Videos
This list only includes films with a release date from late 2016 to early 2017.
Nerve
Release date: July 2016
Dave Franco and Emma Roberts play two strangers who meet and enter an online reality video game of truth or dare that quickly escalates to dangerous levels. The thriller is based on the 2012 YA novel of the same name, written by Jeanne Ryan.
Suicide Squad
Release date: August 2016
The Internet collectively lost it in July 2015 when the first trailer for DC Comics' Suicide Squad was unveiled. Now, almost a year later, we're still as excited as ever! The film, which stars Margot Robbie, Jared Leto, Will Smith, Cara Delevingne, and Viola Davis, revolves around a group of supervillains who are recruited to save the day in exchange for exoneration.
The Girl on the Train
Release date: September 2016
Paula Hawkins' best-selling novel comes to life under the helm of director Tate Taylor. Emily Blunt plays Rachel, a divorced alcoholic who becomes obsessed with a couple she spies out the window during her morning commute. When she witnesses a betrayal shortly before the woman goes missing, she gets herself involved in the dangerous police investigation. The film also stars Rebecca Ferguson, Justin Theroux, and Luke Evans.
ADVERTISEMENT - CONTINUE READING BELOW
Miss Peregrine's Home for Peculiar Children

Release date: September 2016
Based on the 2011 novel by Ransom Riggs, this adaptation tells the story of a 16-year-old boy named Jacob (Asa Butterfield), who somehow finds himself in an island full of orphaned children with strange powers. Directed by Tim Burton, the movie features an all-star cast that includes Eva Green, Samuel L. Jackson, Judi Dench. and Allison Janey.
The Light Between Oceans
Release date: September 2016
Michael Fassbender and Alicia Vikander star in the movie adaptation of M.L. Stedman's story about a couple living in a remote island who rescue a baby from an adrift rowboat. They take her to mainland Australia, where they encounter a woman (Rachel Weisz) who threatens to tear their blissful family apart.
Inferno
Release date: October 2016
Based on the fourth Dan Brown novel revolving around the adventures of Harvard symbologist Robert Langdon, Inferno takes viewers to historic Florence, Italy. Langdon, who mysteriously has no memory of what transpired the past few days, becomes the target of a major manhunt. Tom Hanks reprises his role, alongside Felicity Jones and Omar Sy.
ADVERTISEMENT - CONTINUE READING BELOW
Fantastic Beasts and Where to Find Them
Release date: November 2016
Although the film is only loosely based on J.K. Rowling's "textbook" of the same name, this new film will be the perfect, magical addition to the Harry Potter universe. It stars Oscar-winner Eddie Redmayne as Newt Scamander and his adventures in '20s New York.
Assassin's Creed
Release date: December 2016
This action-adventure is based on the award-winning video game series of the same name. It stars Michael Fassbender as Callum Lynch, who discovers he is a descendant of a secret society of assassins from 15th-Century Spain. When he gains the skills of his ancestor, he must now face the oppressive Knights Templar in the present day. The cast also includes Marion Cotillard, Jeremy Irons, and Brendan Gleeson.
Silence
Release date: TBA 2016
Martin Scorsese helms this gripping adaptation of Shûsaku Endô's 1966 Japanese classic about two Jesuit priests who face violent persecution in 17th Century Japan because of their Christian faith. Andrew Garfield, Adam Driver, and Liam Neeson lead the cast.
ADVERTISEMENT - CONTINUE READING BELOW
Beauty and the Beast
Release date: March 2017
The highly anticipated live-action retelling of the beloved 1991 animated film won't be in theaters until early 2017, but our hopes are high with its spot-on casting (including Emma Watson as Belle, Dan Stevens as Beast, and Luke Evans as Gaston). The film will feature songs from the original movie, as well as new material by composer Alan Menken, who made the Oscar-winning song from the Disney film.
Load More Stories