10 Pinoy LGBT Movies That Will Make You Believe in Love
Love is love is love.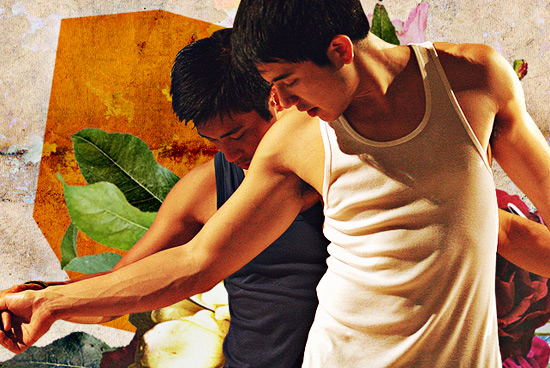 (SPOT.ph) With all the violence, bullying, and discrimination against people who identify as queer (and all its permutations), we can't help but lose hope. Will our parents accept us? Will our friends treat us the same way? Will our society protect us? Will we find love? These things haunt us and, sometimes, our only means of escape is through make-believe stories because there's almost always a thin line between the real and reel. Hidden under a pile of heartbreaking LGBT movies are ones that prove that #LoveWins in all its forms—familial, romantic, and self-love.
ADVERTISEMENT - CONTINUE READING BELOW
CONTINUE READING BELOW
Recommended Videos
Try to look for a copy and don't let Pride Month go by without watching them. If you're lucky, they might be in the line-up of one of the upcoming film festivals or indie movie screenings.
Ang Pagdadalaga ni Maximo Oliveros (2005)
This coming-of-age film follows the story of 12-year-old effeminate gay boy Maxi (Nathan Lopez) who is torn between his love for handsome police officer Victor (JR Valentin) and his loyalty to his family. He is teased by his neighbors and school friends but he's fully accepted by his two brusko brothers Boy (Neil Ryan Sese) and Bogs (Ping Medina), and their father Paco (Soliman Cruz). This award-winning film directed by Aureaeus Solito was later made into a musical written by Nicolas B. Pichay in 2013.
#LoveWins because...despite growing up in a rather sordid world, Maxi manages to bloom like a flower and come out strong in the end.
Ang Huling Cha-Cha ni Anita (2013)
ADVERTISEMENT - CONTINUE READING BELOW
Often compared to Ang Pagdadalaga ni Maximo Oliveros, Ang Huling Cha-Cha ni Anita is about 12-year-old Anita (Teri Malvar) who develops a crush on an older woman named Pilar (Angel Aquino). It is set in rural Obando, Bulacan, a town famous for the Fiesta of Santa Clara, and tackles themes of teenage pregnancy, abortion, and seduction.
#LoveWins because...Anita discovers who she is. Her bittersweet memory of Pilar will always live in her heart and make her believe in love. 
Rome and Juliet (2006)
Like the Shakespeare classic Romeo and Juliet, Rome and Juliet follows two souls caught in a web of forbidden love. Juliet (Andrea Del Rosario) is a conservative pre-school teacher who is set to marry Marc (Rafael Rosell) who comes from an affluent family. She falls in love with her wedding planner Rome (Mylene Dizon) and discovers a real connection beyond what she has with her groom-to-be. 
#LoveWins because...it does. Everything just falls into place when you wait.
ADVERTISEMENT - CONTINUE READING BELOW
Astray (2014)
Nerissa Picadizo's 20-minute film Astray features Angel Aquino and Althea Vega as lovers. It is an honest tale of love and loss where one of the women is riddled with the pain of losing her beloved to death. 
#LoveWins because...the filmmaker said she tried to make "well-rounded portrayal of an LGBT couple." She goes against the stereotype of butch and burly lesbians often portrayed in mainstream media.
The Ordinary Things We Do (2014)
An experimental silent short film, The Ordinary Things We Do presents the truth about marriage in a very simple yet profound way. It features the story of three couples—one heterosexual and two homosexual—in split-screen format. When everything material and immaterial is stripped off, what remains are souls united by and in love.
#LoveWins because...marriage is, first and foremost, about love.
Muli (2010)
Jun (Sid Lucero), an ex-seminarian-slash-communist who runs a hotel in Baguio, meets upcoming lawyer Errol (Cogie Domingo). They see each other once a year and their love story encompasses more than a decade of socio-political change in the country.
ADVERTISEMENT - CONTINUE READING BELOW
#LoveWins because...their love for each other proves to be stronger than the test of time and distance.
Bwakaw (2012)
When Rene (Eddie Garcia) comes out of the closet at the age of 70, he thinks it's too late to find love and even companionship. He accepts that all there is to look forward to is death and even makes a will, pays for a coffin, and packs his things as he prepares for the end. When his dog named Bwakaw falls ill, he finds comfort in Sol (Rez Cortez), a tricycle driver.
#LoveWins because...Rene decides to live life again to the fullest.
Ned's Project (2016)
Tattoo artist Ned (Angeli Bayani) joins a reality talent show for lesbians in hopes of winning the prize money that would enable her to get artificially inseminated. She later becomes pregnant after a strange turn of events.
#LoveWins because...Ned knows what she wants even if it means doing a lot of crazy stuff. The important thing is she's strong enough to handle them.
ADVERTISEMENT - CONTINUE READING BELOW
In My Life (2009)
Shirley (Vilma Santos) decides to move to New York City to be with her youngest son Mark (Luis Manzano). When she gets there, she finds out that Noel (John Lloyd Cruz) is more than just a housemate. 
#LoveWins because...a mother's love is unconditional.
Ang Sayaw ng Dalawang Kaliwang Paa (2011)
Watching the movie once isn't enough to fully digest the beauty that is Ang Sayaw ng Dalawang Kaliwang Paa. It has a simple premise—Dennis (Rocco Nacino) likes Marlon (Paulo Avelino) but Marlon likes their dance instructor and literature professor Karen (Jean Garcia). What makes the movie worth seeing again and again is its profound combination of poetry and dance. The film features the works of Filipino poets such as Ruth Mabanglo, Ophelia Dimalanta, Rebecca Añonuevo, Merlinda Bobis, Joi Barrios, and Benilda Santos; and even includes an homage to the Panay epic Humadapnon. 
#LoveWins because...when two people dance, they're just equals. They move in sync, or else they fall to the ground.
ADVERTISEMENT - CONTINUE READING BELOW
Also read:
Load More Stories