(SPOT.ph) There are movie sequels that you would wait years for and still be excited about. Then, there are sequels like Alice Through the Looking Glass, spun off from a movie that you thought didn't need a sequel. After seeing it, you question why it was made in the first place. While most of its talented A-list cast returns, including Johnny Depp, Anne Hathaway, Helena Bonham Carter, and Mia Wasikowska, the first film's director Tim Burton does not. He hands the reigns to The Muppets director James Bobin, who in turn, hands the reins to everyone else.
Very, very loosely based on Lewis Carroll's Through the Looking Glass, this film begins in the "real world" where Alice (Wasikowska) is now a successful merchant ship captain and has been sailing all over the world. When she returns home to London, she is forced to sell her beloved ship so that her family home would not be taken away. In a fit of rage, Alice bolts, and she is met by Absolem (the late Alan Rickman in one of his last roles), who leads her back to Underland through a mirror.
ADVERTISEMENT - CONTINUE READING BELOW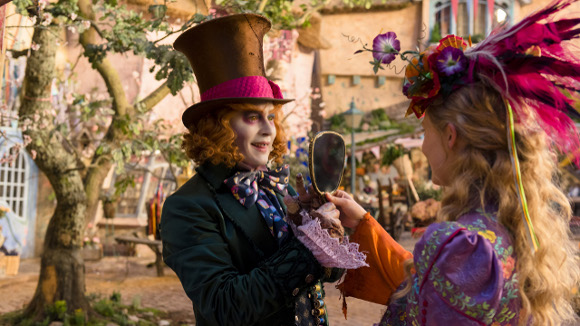 Alice soon reunites with her friends, including the White Queen (Hathaway) and the Tweedles (Matt Lucas), who inform her that the Mad Hatter (Depp) is gravely ill because his family has gone missing. The White Queen believes that the only way to save the Hatter is to save his family by going back in time. Because of plot holes waiting to happen, Underland residents cannot go back in time (on the chance they might run into their past selves) so Alice must do it as she runs no risk of walking into her non-existent past self. In order to do this, she must ask for help from Time (cast newbie Sacha Baron Cohen with the most ludicrous accent), but he denies her this request. Ever the rebel, Alice finds a way to go back in time anyway.
ADVERTISEMENT - CONTINUE READING BELOW
Recommended Videos
What follows is a CGI-fueled mess of a tale. Its multiple messages—about family, about the past, about the future—opt for an "in your face" strategy because the film cares far too much about looking like the most insane carnival you've ever been to. Instead of dealing with natural, sincere character moments, we get crazy pieces filled with flying golden time machines and strange time-related creatures, over-designed, fully-CGI sets, and the cast going a full-eleven on the crazy-scale. It's a lot of loud color and sound, and very little of it is actually engaging or fun, unless you're 10 years old or younger, and even they may get tired. The sequel fails to live up to Carroll's wonderful characters or Burton's magical on-screen world.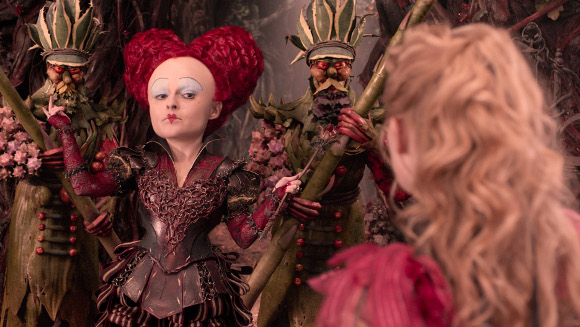 ADVERTISEMENT - CONTINUE READING BELOW
While Alice travels back in time, she ends up discovering some of the characters' backstories, and while that is kind of a sweet sentiment, we never spend enough time to really learn anything new besides "what happened." The pasts of the Hatter, the Red Queen, and the White Queen are limited to one or two moments that define who they are. Sequels, though, should try to build upon the previous film, and Looking Glass just doesn't quite care to do so. It doesn't care to make a convincing story that actually makes sense either. Its climax is so forced and convoluted, it feels like it was put there just so the visual effects team have another big scene to create and show off. There's no denying the talent of the effects team, as well as the production design, make-up and hair, and costume design teams of this film as they are all top-shelf, but the story really lets them down.
ADVERTISEMENT - CONTINUE READING BELOW
Bonham Carter is the stand-out, relishing every devilish word given to her big-headed Red Queen, but it's almost as if everyone just needed to fulfill their contracts. While occasionally fun, with its colorful cast of characters and wild set pieces, most of the film feels like an exhausting mess and nothing really feels sincere. You can't help but feel that everyone's time would've been saved had Alice never looked through the glass in the first place.
RATING: 2 out of 5 spots
Alice Through the Looking Glass is now showing in theaters. Photos courtesy of Walt Disney Pictures.
Share this story with your friends!
---
Help us make Spot.ph better!
Take the short survey
Load More Stories