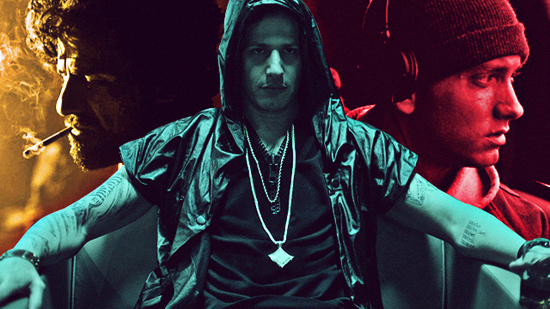 (SPOT.ph) Some of the best pieces of cinema are music-themed movies, whether it's about an inspiring journey to the top, or the wild, almost unbelievable world of rock n' roll. We look past the jazz hands in musicals and the drama in biopics and instead, set our gazes on fictional stories that put music front and center. Plenty of them feature killer soundtracks, too!
Almost Famous (2001)
Director: Cameron Crowe
This 2001 film wowed audiences and critics alike when it was first released, even catapulting then-newcomer Kate Hudson to fame. Set in the '70s, it tells the story of aspiring teenage music journalist William Miller, who goes on the road with fictional band Stillwater, all while bonding with band members and groupies alike. The acclaimed film is widely considered as one of the greatest films of the early 2000s. With its Grammy-winning soundtrack (including tracks from The Who and Simon & Garfunkel), this is a must-see for avid music fans.
ADVERTISEMENT - CONTINUE READING BELOW
The Harder They Come (1972)
Director: Perry Henzell
Starring renowned singer Jimmy Cliff, this movie propelled Jamaican music—specifically reggae—into the international limelight and onto everyone's radar. One part music and two parts crime, it centers on Ivanhoe Martin, an aspiring reggae singer whose life takes a violent turn for the worse as he becomes a fugitive of the law in his attempts to make it big in the music industry. An astute commentary on poverty is bolstered by excellent acting and Cliff's foot-tapping, head-bopping reggae soundtrack.
This Is Spinal Tap (1984)
Director: Rob Reiner
No list of music films would be complete without this critically acclaimed film. Chronicling the concert tour of a fictional band called Spinal Tap, the film is a satirical rock "documentary" that follows the format almost to a T. In fact, it's so well done that up to now there are some who believe Spinal Tap is a real band. A cult classic that has truly established itself in pop culture, This is Spinal Tap is a non-negotiable must-see for both music and movie fans.
ADVERTISEMENT - CONTINUE READING BELOW
Recommended Videos
Amadeus (1984)
Director: Miloš Forman
Our only Best Picture winner on this list, Amadeus tells a fictional story of legendary composer Mozart from the point of view of his rival, Antonio Salieri. Yes, all of the music is classical and yes, it's set in the 1800s, but don't be fooled. This movie is far from the boring period drama you'd expect. With award-winning performances by F. Murray Abraham and Tom Hulce (seriously, Mozart's freaky, high-pitched laughter will give you goosebumps), it showcases the insanity and mania that go hand-in-hand with genius. It may be almost three hours long, but trust us: It's worth every minute.
High Fidelity (2000)
Director: Stephen Frears
Based on Nick Hornby's book of the same name, High Fidelity revolves around Rob Gordon, a record store owner who knows all there is to know about music, but doesn't quite have it figured out when it comes to women. Starring the ever-charming John Cusack, along with comedy and music favorite Jack Black, High Fidelity is kooky, witty, insightful, and worth a watch for any discerning music geek. This movie is full of amusing music references and features an excellent soundtrack that covers everything from obscure '60s bands to classic artists of the decade. (Think Elvis Costello, The Velvets, Royal Trux, and Bob Dylan!)
ADVERTISEMENT - CONTINUE READING BELOW
Whiplash (2014)
Director: Damien Chazelle
Whiplash is truly a stylistic masterpiece. Rhythmic pacing coupled with close-ups of jazz instruments juxtaposed with Miles Teller's deranged drumming drives the film's dynamic energy home, lending intensity and power to each scene. The true crowning glory of the film, however, is J.K. Simmons' brilliant performance as ruthless band conductor Fletcher, who destroys the hopes and dreams of his students in pushing them to work harder and play better. By the end of the movie, you'll want to be Simmons but be absolutely terrified of him at the same time.
Inside Llewyn Davis (2013)
Director: Ethan and Joel Coen
Inside Llewyn Davis tells the story of a struggling folk singer (very loosely based on singer Dave Van Ronk). Depressing, incisive, and hilarious all at once, the film is a perfect example of the Coen Brothers' filmmaking genius. Gloomy, moody scenes are punctuated by bright yet melancholy moments of music. Up-and-coming Hollywood favorite Oscar Isaac once again proves his charm and versatility, as he completely embodies Llewyn Davis' persona with a subtle yet deeply emotional performance. He and the rest of the cast like Justin Timberlake and Carey Mulligan sing beautifully, too.
ADVERTISEMENT - CONTINUE READING BELOW
School of Rock (2003)
Director: Richard Linklater
For anyone born in the '90s or later, School of Rock is a classic—and yes, we say classic because, believe it or not, it came out over a decade ago! Directed by Richard Linklater (of Boyhood, Before Sunrise, and Dazed and Confused fame), the movie centers around Jack Black's Dewey Finn, an impostor substitute teacher who forms a rock band of middle-school children. This isn't just your average, slapstick comedy though; School of Rock is spirited, intelligent, and absolute fun for people of all ages. If you haven't seen it yet, watch it; if you've seen it already, watch it again. Trust us, you won't regret it.
Popstar: Never Stop Never Stopping (2016)
Director: Jorma Taccone and Akiva Schaffer
If you love Saturday Night Live's The Lonely Island, Popstar is practically a party from start to finish. Taking its cues from rock mockumentaries, it's a hilarious and reference-filled satire of modern-day celebrities. Andy Samberg casts himself as a Derek Zoolander of sorts, whose meteoric rise to stardom leaves his childhood friends and former boyband mates in the dust. If that doesn't win you over, maybe the dozens of celebrity cameos will, including Justin Timberlake, Mariah Carey, Usher, Simon Cowell, Ringo Starr, Adam Levine, and Michael Bolton.
ADVERTISEMENT - CONTINUE READING BELOW
8 Mile (2002)
Director: Curtis Hanson
Both fans and non-fans of rap alike should check out 8 Mile, a semi-autobiographical film based on Eminem's experience growing up in Detroit. Think of it as Rocky but with underground rap battles; this gritty, underdog tale of a man battling poverty and prejudice is every bit as compelling and enthralling. If you've ever doubted freestyle rapping as an art form, this movie will change your mind. Really.
Share this story with your friends!
---
Help us make Spot.ph better!
Take the short survey
Load More Stories