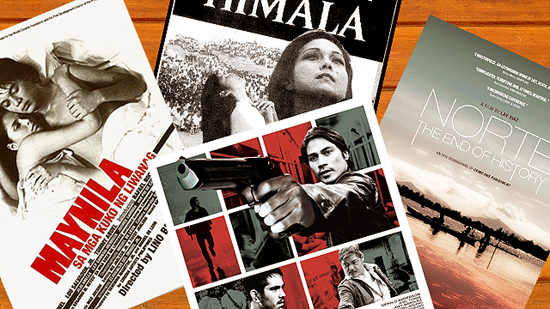 (SPOT.ph) There is far more to Filipino cinema than syrupy love team tandems and product placement-filled comedies. While those flicks have their own sizable audience, there are still plenty of Filipino films that will appeal to a more discerning viewer. From the greats like Ishmael Bernal and Lino Brocka, to modern-day directors like Erik Matti and Lav Diaz, we round up just some of the best, must-see films for cinephiles.
Maynila sa mga Kuko ng Liwanag (1975)
Director: Lino Brocka
Runner up: Insiang
Often considered the best Filipino film of all time, Maynila sa mga Kuko ng Liwanag tells the story of Julio Madiaga, a young man from the province in search of his lover, Ligaya, who had moved to the city in search of a better life. As time goes on, it becomes clear that Manila is not the paradise it is promised to be. Yes, Lino Brocka is best known for Insiang, the first Filipino film to screen at Cannes Film Festival, but Maynila's bleak story of poverty and systemic oppression is flawlessly executed and quintessentially Filipino.
ADVERTISEMENT - CONTINUE READING BELOW
Himala (1982)
Director: Ishmael Bernal
Runner up: Manila By Night
Hailed as one of the greatest cinematic works of the Philippines, Himala is truly a work of art. The film revolves around Elsa, a girl from a small provincial town who becomes a faith healer after she allegedly has a vision of the Virgin Mary. With stunning cinematography, an eerie soundtrack, a stellar performance by Nora Aunor, and careful direction by renowned director Ishmael Bernal, Himala is an absolute masterpiece that will stay with you long after the final fadeout.
Ganito Kami Noon, Paano Kayo Ngayon? (1976)
Director: Eddie Romero
Don't be fooled by director Eddie Romero's lighthearted approach; this classic film poses the all-important question of what it means to be a Filipino at a time of Spanish and American colonization. The story, told through the eyes of a naive peasant named Kulas (Christopher De Leon), is a rare feat of box-office appeal combined with social commentary and wonderfully detailed Philippine history. It also stars Gloria Diaz, Eddie Garcia, Jamie Fabregas, and more.
ADVERTISEMENT - CONTINUE READING BELOW
Recommended Videos
On The Job (2013)
Director: Erik Matti
This 2013 runaway hit is easily one of the most recognizable indie films that has hit mainstream cinema. Erik Matti successfully merges both worlds, casting very familiar faces and putting them front and center in a tale of greed, corruption, and betrayal. Joel Torre plays Tatang, a long-time convict who doubles as a hired assassin of some very powerful people. It also stars Gerald Anderson, Piolo Pascual, and Joey Marquez. It's an intense and visceral crime drama, coupled with stylish visuals and precise camerawork.
Batch '81 (1982)
Director: Mike de Leon
Runner up: Kisapmata
While any of Mike de Leon's films could have made the cut (Kakabakaba Ka Ba?, Kisapmata, and Itim, just to name a few), we have to put the spotlight on Batch '81, a gritty and violent look at fraternities. Centered on the neophytes of Alpha Kappa Omega and the horrors they face as initiates, its brilliance stems from its harsh portrayal of fraternity initiation. Its cynical takeaway, and the film's superb direction and screenplay have cemented its status as one of the most hard-hitting Filipino works of all time.
ADVERTISEMENT - CONTINUE READING BELOW
Oro, Plata, Mata (1982)
Director: Peque Gallaga
A list of must-see Filipino films would be incomplete without Oro, Plata, Mata, Peque Gallaga's most critically acclaimed work. Set in Negros during the war, the film revolves around two aristocratic families, the Ojedas and the Lorenzos, and the horrors they both endure as well as take part in. The merciless depiction of violence and trauma coupled with impressive cinematography and sound garnered the film multiple awards and nominations.
Burlesk Queen (1977)
Director: Celso Ad. Castillo
Vilma Santos stars as burlesque queen Chato in an unflinching portrayal of the gendered oppression one endures when faced with poverty. The unique montage editing and Castillo's skillful direction are a powerful combination, and the juxtaposition of a male audience with the female body serves as an effective means of criticizing our patriarchal society, leaving audiences with a lot to reflect on.
Minsa'y Isang Gamu-Gamo (1976)
ADVERTISEMENT - CONTINUE READING BELOW
Director: Lupita A. Concio
This 1976 film criticizes the presence of American military in the Philippines through the eyes of a nurse, Cora (Nora Aunor), who dreams of moving to the U.S. for a better life. Her disenchantment with the great American dream comes after her brother is shot dead by an American soldier. It depicts her emotional and eye-opening quest for justice, with stellar material backed by Aunor's raw and nuanced performance.
Norte, Hangganan sa Kasaysayan (2013)
Director: Lav Diaz
Lav Diaz is notorious for his unbelievably lengthy films (you've probably heard of the Silver Bear-winning Hele sa Hiwagang Hapis, which runs for a grand total of eight hours, or Mula sa Kung Ano Noon, which runs for almost six hours). This film clocks in at a mere four hours, receiving wide acclaim across multiple film festivals (including Cannes and New York Film Festival) for its unique storytelling and breathtaking cinematography. It revolves around a couple, Joaquin and Eliza, whose lives are changed after the former is blamed for a crime he did not commit.
ADVERTISEMENT - CONTINUE READING BELOW
Kinatay (2009)
Director: Brillante Mendoza
Kinatay left quite the lasting impression when it was released in 2009, competing in the prestigious Cannes Film Festival, and becoming the first Filipino film to take home the Best Director trophy. The film's bold and relentless depiction of brutal violence—including cold-blooded murder, rape, and mutilation—is terrifying and disturbing to the core. More than its graphic tale, however, is Mendoza's masterful camerawork and use of sound to highlight its unsettling atmosphere.
Share this story with your friends!
---
Help us make Spot.ph better!
Take the short survey
Load More Stories