(SPOT.ph) The first few minutes of Nerve sets the stage and tone for what's to come. An 18-year-old girl scrolls through her Facebook feed, video-chatting with her best friend while a Spotify playlist hums in the background. It's nothing new to many of us, but the sequence is amped up with slick, eye-popping visuals that carry throughout the film, from chat windows scrolling at the corner of the movie screen to wide shots of the New York City skyline tagged with digital flags of app users playing throughout the city.
Almost immediately, Nerve hooks you with its heightened filmmaking style, merging the digital world with the real world. The same concept reflects in its premise: A Pokemon Go-like app called Nerve combines live video streaming with social media. Anyone who plays the game can choose to be a Player (the bold ones who act out dares to quickly earn cash and online followers) or a Watcher (the live online audience that controls the game by assigning dares to players).
ADVERTISEMENT - CONTINUE READING BELOW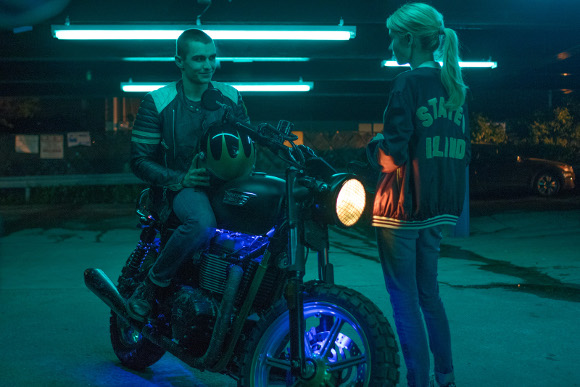 Enter Vee (Emma Roberts), a timid wallflower whose public humiliation pushes her to sign up as a Player. It is here where she meets Ian (an immensely charming Dave Franco), a mysterious stranger who also happens to be a long-time pro at the game. The Watchers take to their spontaneous pairing and send them off on a series of dares that quickly escalates as the cash prize and avid followers pour in. It's all fun and games until, of course, it isn't.
ADVERTISEMENT - CONTINUE READING BELOW
Recommended Videos
At its core, Nerve is a teen film through and through, dealing with familiar themes like peer pressure and a heart-racing whirlwind romance with an otherwise unattainable stranger. Its techno-thriller premise is what propels the film, as the audience feels very much like a Watcher—staring in awe as Players run through department stores in their underwear, leap across wide train platforms, and dangle dangerously from skyscrapers...all for the seductive promise of Internet glory.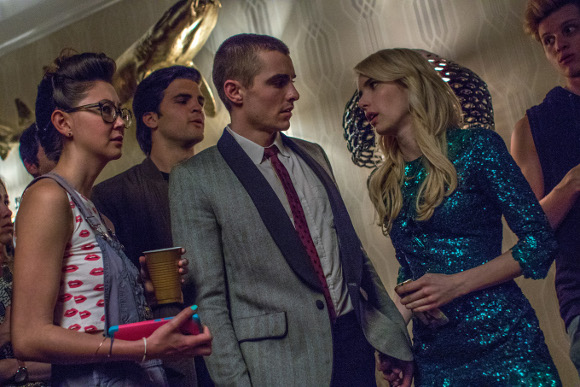 ADVERTISEMENT - CONTINUE READING BELOW
The screenplay by Jessica Sharzer surprisingly manages to balance teen angst with high-stakes thrills. Unfortunately, it can't quite sustain the deliriously fun momentum it built during the first half and eventually, veers into heavy-handed and ridiculously far-fetched territory. Directors Henry Joost and Ariel Schulman do an impressive job of catching (and holding) the audience's attention with ingenious visual flair, constantly finding ways to fill the frame with clever nods at modern-day technology. Meanwhile, cinematographer Michael Simmonds lights up New York with a hazy yet energetic neon glow (a la Tron).
There's plenty of commentary beneath all the flashy visuals, ranging from the strange concept of overnight Internet celebrities to the ethics of online anonymity and responsibility. More than that, Nerve hits home for those who live on the Internet, and like its fictional game, you just can't stop watching.
RATING: 4 out 5 spots
Nerve is now showing in theaters. Photos courtesy of Pioneer Films.
ADVERTISEMENT - CONTINUE READING BELOW
Share this story with your friends!
---
Help us make Spot.ph better!
Take the short survey
Load More Stories