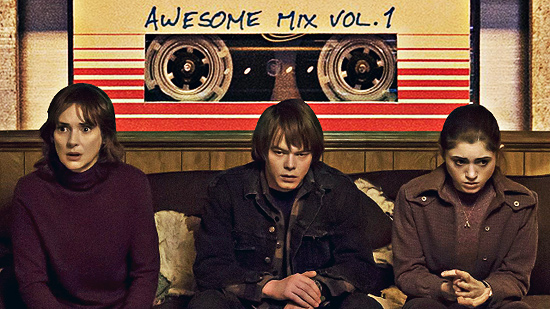 (SPOT.ph) We're long past the silent film era. These days, music plays an important role in film and television. When done right, it can aid in thoughtfully telling a story or in sufficiently capturing an emotion. Just think of movies like Boyhood or Drive, and how their carefully curated soundtracks add to the films' emotional impact. To celebrate music's great contribution to television and film, we list just a few of the soundtracks that make their respective moving pictures unforgettable. Bonus: We show you where to listen to its soundtrack, too!
TV SHOWS
Stranger Things
Stranger Things is all the rage these days, and for good reason. The sci-fi horror series is a very nostalgic throwback to vintage '80s films, stars a group of talented young actors as the main characters, and features a stellar performance by Winona Ryder. The well-curated soundtrack, filled with oldies but goodies, fits the era, as well as the feel and flow of the story.
Listen to: "Should I Stay or Should I Go" by The Clash, "Africa" by Toto, and "Atmosphere" by Joy Division
One Tree Hill
The beloved American teen series ran for almost a decade, leaving us with relatable characters and a fantastic soundtrack that includes the unforgettable theme song, "I Don't Want To Be" by Gavin DeGraw. The series follows half-brothers Lucas Scott (Chad Michael Murray) and Nathan Scott (James Lafferty) and the drama surrounding their family, friends, and romantic relationships. If you love obscure indie music and alternative rock, make a beeline for this soundtrack. The show released three OSTs during its decade-long run, with plenty of musical performances in between.
ADVERTISEMENT - CONTINUE READING BELOW
Listen to: "I Don't Want To Be" by Gavin DeGraw, "Kill" by Jimmy Eat World, and "The Mixed Tape" by Jack's Mannequin
Glee
This musical comedy and drama series was responsible for making show choirs cool. The story follows New Directions, the fictitious William McKinley High School's glee club, as it navigates the competitive show choir circuit. Everyone caught the Glee fever during its six-season run from 2009 to 2015. For six years, the talented Glee cast recorded catchy and successful renditions of popular songs across all genres. Both the series and its music were a commercial success.
Listen to: "Don't Stop Believin'," "Defying Gravity," and "Heroes" by the Glee cast
Empire
For lovers of hip-hop and R&B, make a beeline for Empire, now on its third, highly anticipated season. (We hear Kanye West is a big fan!) Music plays a big part in this soap opera, which focuses on Empire Entertainment, a hip-hop music and entertainment company, and the riveting family drama involved in running the business. Countless musicians have guest-starred in the show, including Ludacris, Mary J. Blige, Alicia Keys, Timbaland, Ne-Yo, and even Joel Madden.
Listen to: "Power of the Empire" by Yazz, "No Apologies" by Jussie Smollett and Yazz, and "Heavy" by Jussie Smollett
Freaks and Geeks
We're still hoping Judd Apatow's cult masterpiece didn't end as early as it did. The teen comedy-drama series, which only ran for one season, features a group of high school misfits just trying their best to get by. The story is set in the early '80s, and the music selection is on point for this period.
CONTINUE READING BELOW
Recommended Videos
Listen to: "Bad Reputation" by Joan Jett, "Runnin' with the Devil" by Van Halen, and "Don't Ask Me Why" by Billy Joel
MOVIES
Almost Famous
Avid movie fans adore Almost Famous for the story, the cast, and most importantly, the music. The award-winning film, set in the early '70s, tells the story of an aspiring teenage writer who gets the chance to write for Rolling Stone as he follows the fictitious band, Stillwater. The movie is said to be a semi-biographical account of director Cameron Crowe. If you need any more convincing, Almost Famous won the 2001 Grammy Award for Best Compilation Soundtrack Album.
Listen to: "America" by Paul Simon, "Tiny Dancer" by Elton John, and "Sparks" by The Who
Guardians of the Galaxy
This superhero film is full of awesome from start to finish. Guardians of the Galaxy follows main character Peter Quill/Star-Lord (Chris Pratt) as he puts together a group of intergalactic misfits in order to save the universe. One of his most prized possessions is a mixtape his late mother left him, which compiles feel-good tracks from the '70s and '80s. Get ready to sing along!
Listen to: "Hooked on a Feeling" by Blue Swede, "Spirit in the Sky" by Norman Greenbaum, and "Escape (The Piña Colada Song)" by Rupert Holmes
 Listen to the full soundtrack here
Rakenrol
In Quark Henares' Rakenrol, best friends and music lovers Odie (Jason Abalos) and Irene (Glaiza de Castro) gather an unlikely crew to form the band Hapipaks. Together, they navigate the underground music scene and face satanic bands, pretentious artists, and narcissistic rock stars.
ADVERTISEMENT - CONTINUE READING BELOW
Listen to: "Oo" by Up Dharma Down, "Gone" by Urbandub, and "Disconnection Notice" by Pupil
Once
Begin Again director John Carney's 2007 musical romance movie, Once, is full of poignant music. The film tells the story of two struggling musicians, played by Glen Hansard and Marketa Irglova, who collaborate to make music that tells the story of their budding romance. The song "Falling Slowly" won the 2007 Academy Award for Best Original Song, and the film's soundtrack was nominated for a Grammy Award.
Listen to: "Falling Slowly, " When Your Mind's Made Up," and "Once" by Glen Hansard and Marketa Irglova
Ang Nawawala
Marie Jamora's 2012 Cinemalaya entry, Ang Nawawala, comes with a lovable soundtrack that won both the Audience Choice and Best Original Music Score awards that season. The drama film tells the story of Gibson Bonifacio (Dominic Roco), who stopped talking as a child and is now back home for Christmas. The film explores the character's tragic past and how it significantly affects his present.
Listen to: "Di Na Babalik" by Ang Bandang Shirley, "Ano Ang Ibig Mong Sabihin" by APO Hiking Society, and "There's a Lonely Road to Sunday Night" by Ciudad
Share this story with your friends!
---
Help us make Spot.ph better!
Take the short survey
Load More Stories