(SPOT.ph) Don't Breathe is more than just the title of Fede Alvarez' second film after the 2013 reboot of the cult classic, Evil Dead. It's just as much a warning for the characters—and its audience as it will also have them holding their breath, frozen in fear. While Evil Dead used gallons of blood and had a good amount of jump scares, Don't Breathe goes the opposite route, focusing solely on suspense, fear, and story. The result? A pulse-pounding thriller that will have you at the edge of your seat.
The film opens with three teen friends attempting a house robbery. Clearly it's something they've done a few times, as they move with efficiency and know exactly what to do. Rocky (Jane Levy), a charming but struggling teenager, wants to steal enough money so she can run away with her younger sister and escape their currently abusive parental situation. Her boyfriend, the cocky and reckless Money (Daniel Zovatto) is a small-time crook who wants to do bigger jobs, while her good friend, the crafty and intelligent Alex (Dylan Minnette), is supportive but wary about doing anything too dangerous.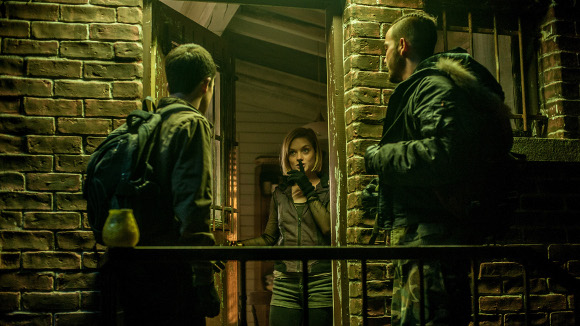 ADVERTISEMENT - CONTINUE READING BELOW
Money finds out about a house that has enough cash for all three of them to run away together, and the trio decides this will be their last "job." They must break into the home of a blind man (Stephen Lang), an army veteran who is sitting on hundreds of thousands of dollars in settlement money after his daughter was killed in a car accident. The job seems easy enough, but the trio is in for a shock when the blind man is ready, willing, and able to kill all three to protect his house.
The film sets everything up like you're in for a haunted house scare-a-thon. The house is designed to look abandoned: windows are barred, the paint is chipping, and it's in a creepy part of town where no one else lives. The "killer" isn't of the supernatural kind, and is something more real and grounded: a badass military veteran who can rip your throat off if he wanted to. It's this fresh, exciting set-up that helps Don't Breathe stand out among the supernatural horror that fills theaters today.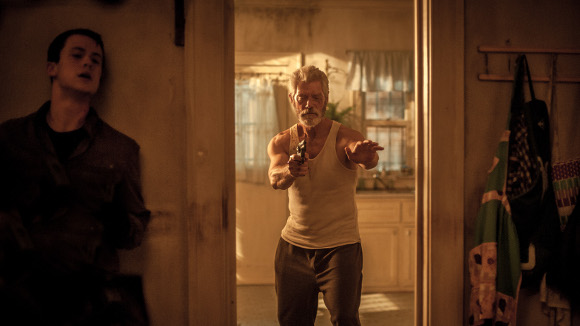 CONTINUE READING BELOW
Recommended Videos
Alvarez flaunts his directing prowess even with a relatively lower budget and comparatively smaller film. With much of the action taking place in the house, Alvarez takes the audience for a one-shot ride when the three first enter the doorway. The long camera take weaves in and out of doorways, vents, and rooms, highlighting objects and passageways that are important later on. He sets the game board down, and trusts the audience to remember. From the moment the blind man becomes aware of people in his house, the suspense is relentless. Alvarez, who co-wrote the screenplay with Rodo Sayagues, slowly but steadily unravels a cat-and-mouse game, making the most out of every corner in the house.
A lot of the suspense comes from characters hiding, covering their mouths, trying not to make any bit of noise that will attract the blind man. It's a common tool in horror, so Alvarez and co. try to place it in unique situations here, (like a lengthy, heavily marketed chase in the dark), and the audience is taken for a very similar ride with the characters. The most fascinating thing about the film is how it plays with its audience using the story. Unlike most horror films today, the audience isn't introduced to "good" characters; instead, the film plays with its viewers' conscience. Throughout the short but action-packed running time, there are plenty of instances where the audience questions whom they should support to survive the ordeal.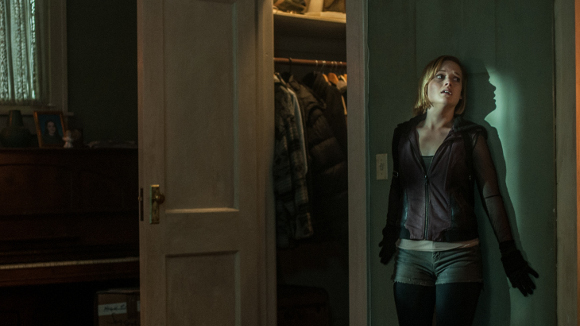 ADVERTISEMENT - CONTINUE READING BELOW
The film's biggest fault is in the motivations of its characters (though they are played by a very committed roster of actors). We get a good amount of backstory on Rocky and Money, but the film drops the ball with Alex. Written as the trio's heart and moral compass, we never fully understand why he's even involved in the first place. It's the biggest glaring flaw in an otherwise solidly written story (which has other flaws, but let's not reveal too much).
Ruthless and unpredictable, Don't Breathe will have you discussing with friends and family what the hell you just witnessed long after you've left the theater. It is a highly uncomfortable but exciting, expertly crafted film filled with suspenseful sequences, insane twists, and solid acting. Just remember to breathe.
RATING: 4 out of 5 spots
Don't Breathe will open in cinemas starting Wednesday, August 31. Photos courtesy of Columbia Pictures.
Share this story with your friends!
---
Help us make Spot.ph better!
Take the short survey
Load More Stories