10 Fresh Tunes to Listen To This September
All the songs you'll need this month courtesy of Frank Ocean, BANKS, Carly Rae Jepsen, and more!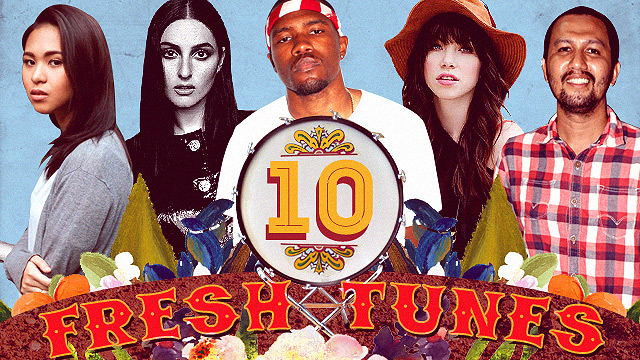 (SPOT.ph) This September, give a listen to Frank Ocean's latest sonic masterpiece, BANKS's fierce indie ballad, Carly Rae Jepsen's fresh bubblegum pop ditty, Tove Lo's hottest club anthem, and MisterWives's indie pop single. For local flavors, check out the latest from Johnoy Danao with Clara Benin, Rico Blanco, Ely Buendia with Itchyworms, Tandems '91, and Peryodiko. 
ADVERTISEMENT - CONTINUE READING BELOW
Song: "Nikes"
Artist: Frank Ocean
The long wait for Frank Ocean's follow-up to his Grammy Award-winning 2012 album, Channel Orange, is finally over. He recently released a surprise visual album titled Endless, a new album called Blond, and a music video for the single "Nikes." In the latter, Ocean's vocals shift from deeply distorted to sped-up falsetto to his usual rap and croon—all against hypnotic synths—as he references hip-hop culture and reflects on the excesses of modern living. The music video is a collection of various images, including Ocean on a stage, naked models, parties, and lots of glitter.
Fun fact: Rapper A$AP Rocky makes a cameo in the music video.
Song: "Right Time"
Artists: Johnoy Danao feat. Clara Benin
Two of the country's loveliest voices come together for this sunny love song. Johnny Danao and Clara Benin just came out with a new recording of "Right Time," an exquisite composition of soothing strings and poetic lyricism. The two's delicate vocals perfectly blend in this more slowed-down version of the song.
ADVERTISEMENT - CONTINUE READING BELOW
Fun fact: The song was written for Nikki Gil and BJ Albert's wedding.
Song: "Mind Games"
Artist: BANKS
"Mind Games" sounds like a typical BANKS song, and we're not complaining. The haunting arrangement, deep and distorted back vocals, and her powerful singing will give you goose bumps for days. BANKS sings of something relatable to most—the frustrations over all the sick mind games of a difficult lover.
Fun fact: The Altar, BANKS's forthcoming sophomore album, is out September 30.
Song: "Wag Mong Aminin"
Artist: Rico Blanco
"Wag Mong Aminin," off Rico Blanco's latest album titled Dating Gawi, is a testament to the artist's vocal prowess and emotional appeal. Unlike his earlier, more experimental releases, "Wag Mong Aminin" is a straight-up heartbreak track with a cathartic arrangement that puts the focus on the voice and the lyrics.
Fun fact: The music video was directed and produced by RA Rivera.
Song: "First Time"
ADVERTISEMENT - CONTINUE READING BELOW
Artist: Carly Rae Jepsen
Emotion was so good that it needed a Side B. Underrated pop singer Carly Rae Jepsen has just released a B side to her 2015 album, Emotion. The opening track, "First Time," screams '80s synth and features irresistibly danceable beats and flirty vocals. If Jepsen's latest efforts don't convince listeners of her knack for making truly enjoyable pop music, we don't know what will.
Fun fact: Emotion Side B, released last August 26, contains eight new songs featuring Jepsen's signature bubblegum pop sound.
Song: "Pariwara"
Artists: Ely Buendia and Itchyworms
We totally get all the hype for Ely Buendia and Itchyworm's collaboration. "Pariwara" combines Jugs Jugueta and Buendia's skillful songwriting and endearing vocals, plus a playful and feel-good arrangement. The song's positive message about life's challenges resonates with millennials, too.
Fun fact: The then incomplete song is reportedly from as early as Buendia's Eraserheads days.
Song: "Cool Girl"
ADVERTISEMENT - CONTINUE READING BELOW
Artist: Tove Lo
Swedish singer Tove Lo is out with another infectious ditty. "Cool Girl," the lead single for her forthcoming album, is a potential club banger but with a bit more sophistication and thoughtfulness. It's a song with an attitude, thanks to the snappy lyrics and beats.
Fun fact: Tove Lo's new album, Lady Wood, is out October 28.
Song: "Something About You"
Artist: Tandems '91
Tandems '91 delivers another sonic musical experience with their new single, "Something About You." The electro-retro track is a throwback to disco music, but at the same time seamlessly blends some futuristic elements to it.
Fun fact: The group's music is often compared to that of artists like Giorgio Moroder, Daft Punk, and Shook.
Song: "Not Your Way"
Artist: MisterWives
American indie pop band MisterWives is out with the music video for "Not Your Way." The silent film-inspired visual perfectly fits the old school-sounding track, which employs shifting tempos, prominent trumpets, and a strong feminist message.
ADVERTISEMENT - CONTINUE READING BELOW
Fun fact: The New York-based band was formed in late 2012 and is composed of Mandy Lee (vocals), Etienne Bowler (percussion), Willam Hehir (bass), Marc Campbell (guitar), Mike Murphy (saxophone), and Jesse Blum (multiple instruments).
Song: "Headrush"
Artist: Peryodiko
Peryodiko wastes no time kicking ass in "Headrush," a high-energy, punk-rock track that's refreshing to hear from the band. Even with lineup changes, Peryodiko, as proven by their latest release, remains solid and focused on making great music.
Fun fact: The band is working on their third album. You can support their latest effort via Artiste Connect.


Recommended Videos
Load More Stories