10 Fresh Tunes to Listen to This October
Get a load of Lady Gaga, Bon Iver, Armi Millare, Gabby Alipe, and more!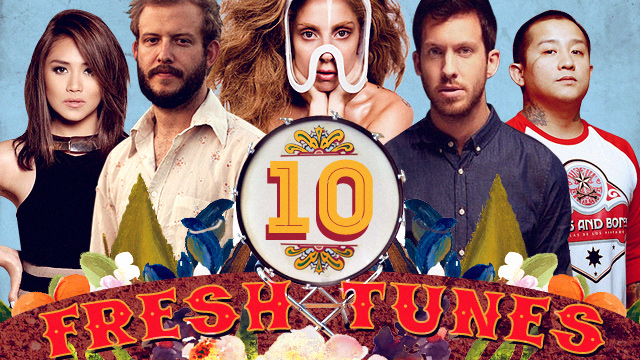 (SPOT.ph) This month's playlist includes Lady Gaga's comeback single, Panic! At The Disco's high-energy track, Calvin Harris's tropical house ditty, Bon Iver's folk-futuristic stylings, and The White Stripes's tender acoustic offering. We also compiled local goodies for your listening pleasure. Listen to Armi Millare, Sarah Geronimo with Hale, Gabby Alipe, Cheats, and Giniling Festival. 
Song: "Perfect Illusion"
Artist: Lady Gaga
Lady Gaga's comeback single may not be love at first listen. It takes a few plays to grow on you, but that's not a bad thing. There's something about the grittiness of this high-intensity pop-rock track that sounds refreshing. We just can't get enough of Lady Gaga's scratchy vocals.
Fun fact: "Perfect Illusion" is the lead single off Lady Gaga's newest studio album titled Joanne, out October 21.
Song: "Young Again"
Artist: Armi Millare
Armi Millare penned an emotional ballad about love and yearning for the indie movie Apocalypse Child. With just a piano as accompaniment to Millare's flawless vocals, the raw recording puts the focus on emotions and storytelling.
Fun fact: Apocalypse Child opens nationwide on October 26.
Song: "LA Devotee"
Artist: Panic! At The Disco
Panic! At The Disco is out with their music video for "LA Devotee." The upbeat pop-rock single is a tribute to the city of Los Angeles and a pleasant reminder of the fun, high-energy music of the band. It's almost impossible not to dance to the addictive chorus.
Fun fact: The music video for "LA Devotee" stars Noah Schnapp (Will Byers) of the hit Netflix series Stranger Things.
ADVERTISEMENT - CONTINUE READING BELOW
Song: "The Great Unknown"
Artists: Sarah Geronimo feat. Hale
Sarah Geronimo and Champ Lui Pio blend their vocals in the emotive single, "The Great Unknown." The ballad, Geronimo's follow-up to the upbeat "Tala," proves she doesn't need to belt out high notes nor mount outrageous productions to impress.
Fun fact: Hale's guitarist, Roll Martinez, wrote the track.
Song: "My Way"
Artist: Calvin Harris
We all need that no-brainer music we can just put on loop during lazy moments. In "My Way," Harris uses his vocals and puts together a very tropical house vibe. It's his usual sound, but "My Way" sure does a fine job of getting stuck in our heads. 
Fun fact: There's speculation that "My Way" is about his ex-girlfriend, Taylor Swift.
Song: "Visions"
Artist: Gabby Alipe
Gabby Alipe is out with his own brand of music post-Urbandub. "Visions" is nothing like his former band's sound, and the change might be unsettling at first. But give the radio-friendly, contemporary tune a chance, and you might just enjoy it.
Fun fact: "Visions" is Alipe's debut single as a solo artist from his EP titled A New Strain.
Song: "29 #Strafford APTS"
Artist: Bon Iver
Bon Iver, artist Justin Vernon's musical project, is out with a new album, which seems to be introducing a more synth-heavy sound. But fans will find "29 #Strafford APTS" comfortingly familiar, with its contemplative blend of folk, orchestra, and futurism.
Fun fact: Bon Iver's latest album is titled 22, A Million.
Song: "Drunk"
Artist: Cheats
The fellows of Cheats are fun on stage and in video. They recently launched their music video for their well-loved single, "Drunk." It's an indie-rock gem with loveable boy-girl vocals.
ADVERTISEMENT - CONTINUE READING BELOW
Fun fact: The music video for "Drunk," produced, directed, and edited by STRONGHOLDMNL, features the perspective of an Uber driver dealing with inebriated passengers.
Song: "City Lights"
Artist: The White Stripes
"City Lights" was written for the band's 2005 album, Get Behind Me Satan, but it was shelved and wasn't finished until recently. The folk single features delicate acoustics and White's tender vocals, making it one warm and lovely composition.
Fun fact: Renowned filmmaker Michel Gondry created the music video for "City Lights." According to the band, the video was made by Gondry "on his own and without anyone's knowledge."
Giniling Festival-LL (Official Music Video) from Jeje Santos on Vimeo
Song: "LL"
Artist: Giniling Festival
Giniling Festival's new rock single is all about hooking up. "LL," which stands for "Landian Lang" is a hilarious combo of standard rock sounds and brutally honest lyricism. They may seem all fun and games, but these guys make sense.
Fun fact: The music video for "LL" is a parody of Kanye West's music video for "Famous."
Load More Stories