10 Fresh Tunes to Listen to This November
You need to hear the latest from Lady Gaga, MØ, Alicia Keys, Parokya ni Edgar, Clara Benin, and more!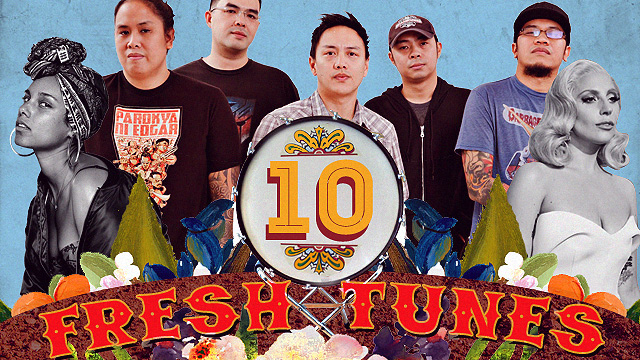 (SPOT.ph) There's much to be excited about this month, music fans! There's plenty of new tracks in store for you, including Lady Gaga's country-inspired single, Mac Miller and Ariana Grande's groovy collaboration, Marian Hill's jazzy pop ditty, MØ's electro-pop track, and Alicia Keys' soulful anthem. For some local flavor, we suggest the freshest from Parokya ni Edgar, Clara Benin, Kiana Valenciano, We Are Imaginary, and Runway Crimes.
Song: "A-YO"
Artist: Lady Gaga
That's right, Lady Gaga's latest single off her new album, Joanne, is a country-inspired track. "A-YO" features twangy guitars, some pop catchiness, and an impressive country drawl by the popstar herself. It's a fun tune that effortlessly blends genres like country, rock, pop, and electronic.
Fun fact: "A-YO" was written and co-produced by Lady Gaga, Mark Ronson, electro-pop musician Bloodpop, and country artist Hillary Lindsey.
Song: "Lagi Mong Tatandaan"
Artist: Parokya ni Edgar
We can't help but be sentimental and nostalgic seeing Parokya ni Edgar's music video for their comeback single, "Lagi Mong Tandaan." We can always count on Chito Miranda and the gang to accurately capture our musings about love and heartache. Here, the painfully real lyrics contrast with the kick-ass rock arrangement.
Fun fact: Parokya's much-anticipated new album, Pogi Years Old, was released in October. The album reportedly took five years to finish.
Song: "My Favorite Part" 
Artists: Mac Miller feat. Ariana Grande
For your next Sunday Slowdown, we suggest new couple Mac Miller and Ariana Grande's super smooth collab. "My Favorite Part" could easily be your new favorite track. It's equal parts chill, sexy, and groovy. Enjoy listening to the soulful crooning combined with jazzy keyboard and guitar.
ADVERTISEMENT - CONTINUE READING BELOW
Fun fact: "My Favorite Part" is off Mac Miller's new album, The Divine Feminine.
Song: "Tila"
Artist: Clara Benin
Clara Benin delivers a raw and acoustic rendition of "Tila" in her newest music video. As always, her delicate vocals, paired with the soothing sound of her acoustic guitar, are a delight to listen to. It's too bad she's on hiatus from performing because we sure miss her.
Fun fact: "Tila," off Benin's latest EP titled Riverchild, is a Side A original.
Song: "I Want You"
Artist: Marian Hill
American music duo Marian Hill has just released a nicely choreographed music video for their infectious pop track, "I Want You." The jazz-inspired ditty features a winning merger of clean female vocals, playful rattling from start to finish, tempo changes, and electronic touches here and there.
CONTINUE READING BELOW
Recommended Videos
Fun fact: Production artist Jeremy Lloyd and vocalist Samantha Gongol from Philadelphia are the duo behind Marian Hill.
Song: "Circles"
Artist: Kiana Valenciano
Kiana Valenciano wows listeners with her contemplative and smooth single, "Circles," where she pours her heart out against an electro-R&B backdrop. Her vocals seem to suit the genre well, and she's able to show some vocal stylings without the need to belt out any lines.
Fun fact: The song was produced and written with her father, Gary Valenciano.
Song: "Drum"
Artist: MØ
Danish singer-songwriter MØ just released her follow-up to "Cold Water," her previous smash hit collaboration with Major Lazer and Justin Bieber. "Drum" is an upbeat, feel-good electro-pop tune with a sugary and irresistible chorus.
ADVERTISEMENT - CONTINUE READING BELOW
Fun fact: "Drum" was co-written by Charli XCX, Bloodpop, and Noonie Bao.
Song: "A Good Kind of Sad"
Artist: We Are Imaginary
We Are Imaginary's latest is an indie-pop gem with jangly beats, dreamy vocals, and a memorable chorus. The band revisits its old and trusted formula, creating a melancholic and cathartic tune that's ideal for long drives or just some good old solo contemplating.
Fun fact: The song is from the band's recently released album, Death to Romanticism, released under Wide Eyed Records.
Song: "Holy War"
Artist: Alicia Keys
Alicia Keys' newest single, "Holy War," is a soulful, healing anthem with a simplified arrangement. Amidst the fingerpicked acoustic guitar and finger snaps, Keys showcases her vocal range, going from relaxed croons to full-on throaty roars.
Fun fact: "Holy War" is off Keys' upcoming sixth studio album, Here, which is due for release on November 4.
Song: "2600"
Artist: Runway Crimes
"2600," which features Typecast vocalist Steve Badiola, has two parts that are clearly defined by the changes in the melody. The first part tackles the pain of love lost, while the second represents the point at which we come to accept that loss.  The lush arrangement and forceful vocals help pull together the concept.
Fun fact: The song was first performed at the Bandwagon Music Market on October 1.
Share this story with your friends!
---
Help us make Spot.ph better!
Take the short survey
Load More Stories