Hi-Fi Happiness
Clinton Palanca on the annual Hi-Fi show and all the goodies it brings for audiophiles of Manila.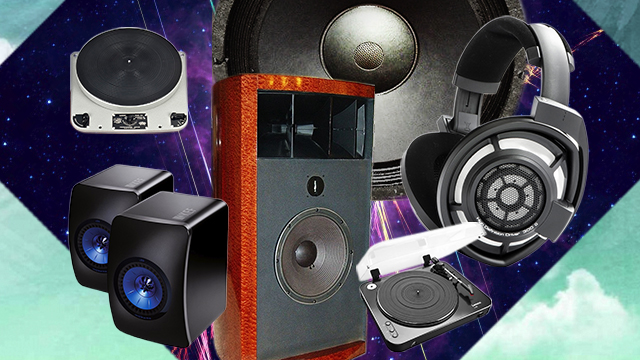 (SPOT.ph) Every year, a diverse bunch of people converge on the Dusit Thani hotel in Makati to roam through several floors' worth of rooms in which music is playing. There's a stereotypical profile of the hi-fi show attendee: middle-aged, paunchy, usually working a business or office job that isn't terribly exciting; I certainly fit this picture, and the majority of those who made the annual pilgrimage last Saturday and Sunday did as well. But there are always others, and we're always happy to see a younger crowd, or newbies who aren't familiar faces just dipping their toes into the audio hobby, and of late, hipsters joining the crowd crate-digging for that perfect elusive record. Sometimes there are even women.
High-end audio is famous for its factions, and the various churches of belief were all well-represented. The DIY crowd is balanced out by a number of commercial booths, including the oft-derided Bang & Olufsen; vinyl is omnipresent but almost every room had a computer server to keep the music going from a digital source as well; monster monoblock power amplifiers were represented as much as the flea-watt group with their monster horns. But these trifling divisions are cast aside for the two-day festival, during which everyone is just happy to meet other people who are as devoted to high quality music reproduction as they are, and not have to explain why Bose isn't the pinnacle of a good sound system.
ADVERTISEMENT - CONTINUE READING BELOW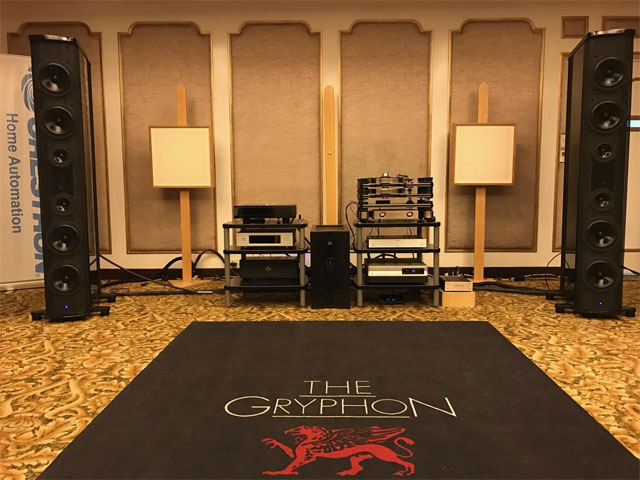 CONTINUE READING BELOW
Recommended Videos
VTL Sound Labs driving Gryphon loudspeakers
After getting a head start with the mad rush for good vinyl, and escaping with only a midly battered pocketbook, I dropped by the DIY rooms. I have a soft spot for homespun audio, which can be literally as cheap or as expensive as you want it to be. Rene Rivo's Music Haven was playing a Lenco turntable through an all-tube phono preamplifier and EL34 monoblocks through Goodman horns, all hand-wired. In the other room the setup was still ongoing (at almost noon) on a homemade linear-tracking arm mounted on a Garrard 301, with an amp of 6C33Cs—many will know this vacuum tube as the one found in a Russian fighter that was shot down, used instead of semiconductors in order to withstand an EMP pulse—in a Futterman OTL configuration (designed by Tony Tecson) driving Altec 802 horns with an Altec 414 woofer. For those who like their hi-fi artisanal, handmade, and locally sourced, this is where you want to look.
ADVERTISEMENT - CONTINUE READING BELOW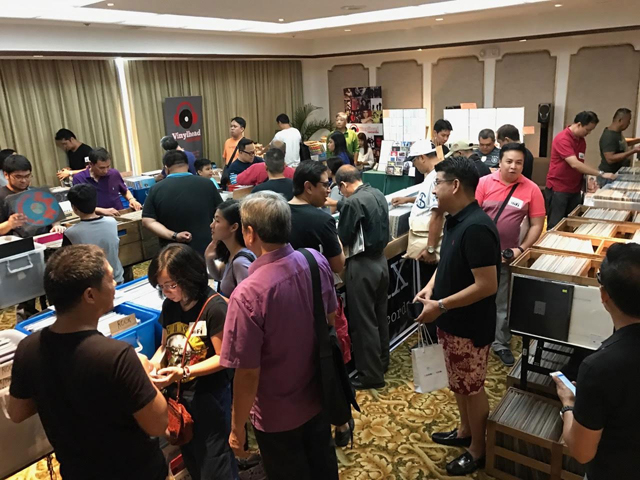 Crate digging time — elbows out!
Of the commercial amplifiers, the sound at the KEF room was impressive, even more so because they were coming from the LS50 speakers, tiny "bookshelf" speakers that were mounted on stands, which are a bargain by hi-fi terms by selling for just under P60,000 a pair—this is one of the best bargains in audio. I also shocked myself by enjoying the sound of the Devialet Phantom all-in-one sound systems. Each is a small capsule the size and shape of a King Charles spaniel, though weighing considerably more. Just one of them goes surprisingly loud and throws a wide monophonic soundstage with the stereo-ness generated by generous amounts of digital signal processing; two of them make for a surprisingly and immersively deep soundstage.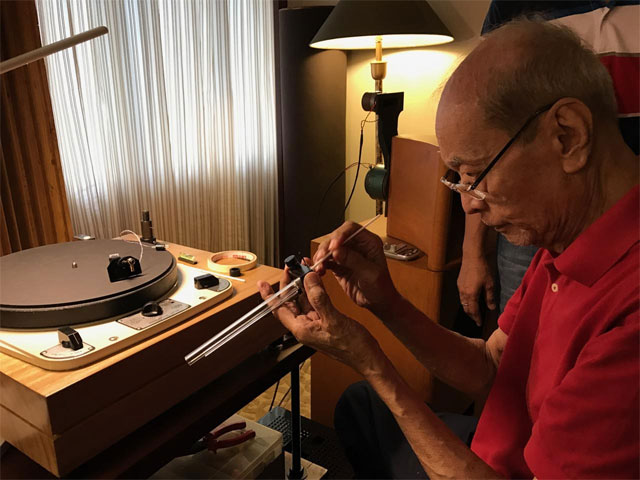 ADVERTISEMENT - CONTINUE READING BELOW
The 'Wizard' Mandy Marino setting up his own creation
The category which has grown exponentially since I started attending these gatherings is the headphone section. Sennheiser was fully stocked, with the HD800S, their incremental upgrade to the phenomenally successful HD800 (a little over P80,000 per pair). The competition took the form of AKG, Audio-Technica's glorious wooden earcup series, and Bowers and Wilkins. Notably absent from the headphone lineup was Audeze, whose distributor had a conflict of schedule—their planar magnetic headphones are, arguably, the state of the art of personal audio today.
After so many rooms of giant speakers with the best room treatments being run by giant amps and silver-plated cables, it all gets a bit much. If the prices and the setups seem excessive, that's because they are: this is the audio world's equivalent of a supercar demo, and most of us come home to a system that's a fraction of the price and has to fit in a house along with a spouse and children. The best part of the Hi-Fi Show, apart from meeting people you usually only get to interact with online or catching up with fellow enthusiasts, is coming home to your own, much more modest set-up, and putting on the new LP finds from that day. It might be the least impressive system you've heard all day, but it's yours, and your love it for no other reason.
Share this story with your friends!
---
Help us make Spot.ph better!
Take the short survey
Load More Stories