10 Pinoy Indie Films for All Your Feelings
Get the tears flowing.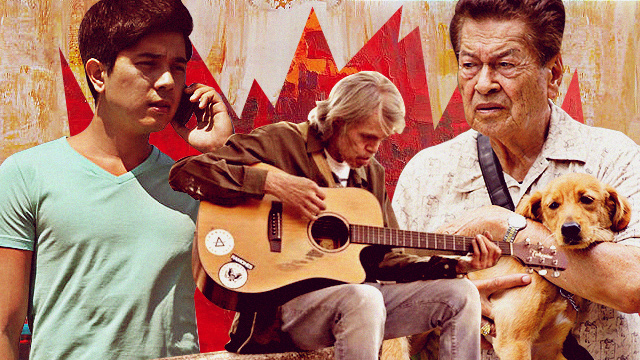 (SPOT.ph) Pinoys love a good, tear-jerking drama, so much so that our nightly teleseryes and mainstream box-office are full of them. Even the local indie scene has plenty of tears in store for its more discerning audience. Whether you're in the mood for an emotional family drama or a hugot-inducing love story, these 10 indie films will give you a good cry or two.
Six Degrees of Separation From Lilia Cuntapay (2011)
Directed by: Antoinette Jadaone
The late Lilia Cuntapay is quite possibly the most familiar yet nameless face in Pinoy cinema, appearing in over 40 films and TV shows through many years. Antoinette Jadaone's mockumentary pays tribute to Lilia's life as a professional extra by deftly blending (and blurring) fact and fiction. It doesn't matter whether it's real or reel: the beauty and tragedy of Lilia's colorful career will have viewers rooting and crying for the real-life protagonist.
Muli (2010)
Directed by: Adolf Alix Jr.
It's hard to let a good or constant thing go, and no film understands that pain quite like this 2010 gem from Adolf Alix Jr. Sid Lucero plays Jun, a former seminarian-slash-communist who runs a hotel in Baguio City; Cogie Domingo is Errol, a law student who stays in the hotel once a year. Their yearly trysts go on for over a decade, despite many other love affairs that come and go. Think of it as a very drawn out will-they-won't-they relationship that will have you reaching for tissues.
ADVERTISEMENT - CONTINUE READING BELOW
Bwakaw (2012)
Directed by: Jun Lana
This critically acclaimed dramedy stars Eddie Garcia as Rene, a grumpy loner who comes out at the age of 60. Resigned to a life of loneliness as he enters his twilight years, Rene befriends an ailing stray dog. In his quest to find a cure, he finds a renewed sense of purpose in life. Writer and director Jun Lana tugs at heartstrings with familiar yet poignant themes like mortality, missed opportunities, romantic longing, and friendship.
Sana Dati (2013)
Directed by: Jerrold Tarog
If you've ever cried about the one that got away, this indie fan-favorite is worth a watch (or re-watch). The film follows Lovi Poe as Andrea, who is all set to walk down the aisle but still pines for her late boyfriend. When a mysterious photographer (Paulo Avelino) shows up at her wedding, she suddenly feels a deep connection to him. Mild spoiler: You'll need to brace yourself when Up Dharma Down's "Indak" starts playing.
CONTINUE READING BELOW
Recommended Videos
Forever Natin (2016)
Directed by: Cyrus Valdez
This 2016 Cinemalaya short film revolves around a lesbian couple, Pat and Karen, whose love story begins as a limited contract with a month-long expiration date. Months quickly become years and on their seventh anniversary, Pat prepares a special bucket list as a surprise. Along the way, they reminisce about their heartwarming milestones and relive their journey as a couple.
Mrs. (2016)
Directed by: Adolf Alix Jr.
Two lives intertwine in this 2016 Sinag Maynila Best Picture winner. Seventy-year-old Virginia (Elizabeth Oropesa) shares a decrepit ancestral home with her loyal maid, Delia (Lotlot de Leon). Virginia spends her days longing for the return of her long-lost son, but her world comes crashing down when Delia confesses her plans to leave and start a family with her long-time boyfriend. Mrs. is an emotional, character-driven tale on the ties that both bond and trap us—a theme that will speak to any viewer.
ADVERTISEMENT - CONTINUE READING BELOW
I Love You, Thank You (2015)
Directed by: Charliebebs Gohetia
This film gives audiences a glimpse at the tangled affairs among its characters: Paul (Joross Gamboa) is hopelessly in love with Red (Prince Stefan), who in turn, is dating Paul's childhood friend, Ivan (CJ Reyes). If you're familiar with the perils of unrequited love, chances are, you'll see yourself in this heartbreaking drama.
Transit (2013)
Directed by: Hannah Espia
Stories centering on OFWs are often heart-wrenching, as they hit very close to home. One such film is 2013's Transit, as it follows a single father (Ping Medina) working as a caregiver in Israel. When the government decides to deport children of immigrant workers, he and his Filipino neighbor (Irma Adlawan) must find a way to hide their children from the police. Transit deftly juggles multiple social issues, from Filipino identity to familial sacrifice—without losing its larger-than-life emotion.
1st Sem (2016)
Directed by: Dexter Hemedez and Allan Ibanez
Part-satire and part-drama, this film zeroes in on the complicated mother-and-son relationship of Maru (Darwin Yu) and Precy (Lotlot de Leon). Their relationship falls apart when the indecisive Maru decides to forego his promising college education in the big city and return home. For anyone who has struggled to live up to parental expectations, 1st Sem will speak volumes—satire and all.
Singing in Graveyards (2016)
Directed by: Bradley Liew
Screened at the 2016 Berlin International Film Festival and Venice Film Festival, Singing in Graveyards is a touching character study about a washed-up musician desperate for a big comeback. Pinoy rock icon Pepe Smith plays the musician, who also happened to spend most of his career impersonating—wait for it—Pepe Smith. It's all very meta with plenty of tongue-in-cheek humor, but watching Pepe's grandiose delusions crumble around him is beyond heartbreaking.
ADVERTISEMENT - CONTINUE READING BELOW
Share this story with your friends!
---
Help us make Spot.ph better!
Take the short survey
Load More Stories