MOVIE REVIEW: Moana is a tropical blend of Disney's best ingredients
Disney's latest animated feature continues its anti-princess trend with this high-seas adventure.
(SPOT.ph) "I'm not a princess! I'm a chief!" the spirited Moana defiantly states when her companion, the demigod Maui, calls her such. This is a mantra repeated several times throughout Disney's latest animated feature, Moana. She's not a damsel in distress; she is a future chief and leader. This continues Disney's very self-conscious decision to introduce more women that aren't dreaming of a prince to save them. Frozen not only broke box-office records and had every child singing "Let it Go" for months; it introduced the independent ice queen Elsa and told a story of familial love. Moana builds on this trend with its adventurous, take-no-crap lead character and a story about female empowerment and finding your true self.
Moana, which takes inspiration from Polynesian culture, is a film steeped in mythology. Its main myth is about a goddess named Te Fiti who created life. When her "heart" (represented by a green stone) is stolen by the demigod and magical-hook wielding Maui (Dwayne Johnson), evil monsters awoke hoping to use the power of life for their own purposes. One such monster is a lava behemoth named Te Ka, who causes Maui to lose his magical hook, as well as Te Fiti's heart in the ocean.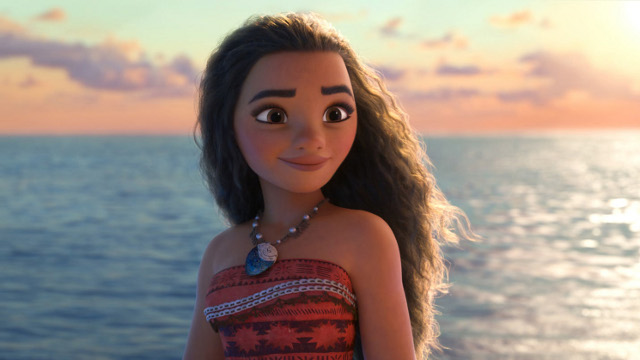 ADVERTISEMENT - CONTINUE READING BELOW
A thousand years later, the Chief's daughter, Moana (newcomer Auli'i Cravalho), is told of this legend. Their people have never left the island due to fear of what lies beyond the beach, but Moana deeply believes that she was destined for more than this island. With the help of her grandmother (a delightful Rachel House), Moana discovers that her ancestors were voyagers who sailed across the seas. When darkness and famine start threatening the island, Moana believes that as her island's future leader, she must find and return the heart of Te Fiti with the help of the man who stole it in the first place, the charming yet cocky demigod Maui. Together, they must sail the high seas and fight the monsters who crave the heart's power to restore life.
CONTINUE READING BELOW
Recommended Videos
The tropical world Disney builds is beautiful and refreshing to look at, but Moana is more than just sky, sea, and trees. This expansive and immensely detailed look into the culture and beliefs in Moana's world is what really makes the film engaging and memorable. It begins with the Te Fiti myth, followed by several other rich and imaginative stories about gods, creatures, and magical worlds. Disney has always succeeded in interweaving cultures we may not be as familiar with and making them feel wonderfully familiar, like in Mulan or Aladdin. While these cultures are definitely "Disney-fied," they often feel respectful to the origins and never derogatory.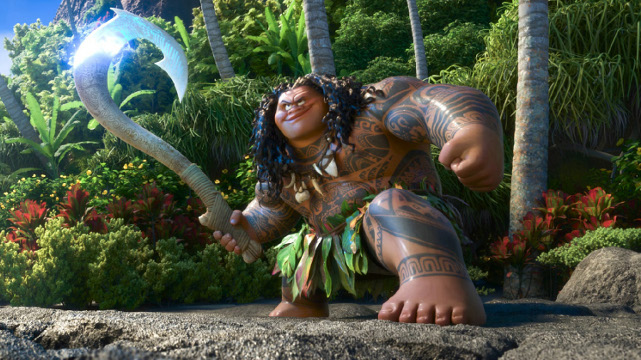 ADVERTISEMENT - CONTINUE READING BELOW
Without this very colorful world and its cultural beliefs, Moana is very much your typical Disney movie. Because the culture is so special and vividly-realized in both visuals and in writing, it raises Moana above many of Disney's other prototypical tales. Chop Moana up and you're left with all the great parts of other Disney films. You've got the adventurous lead, a quirky or cute animal sidekick (Moana has an idiot chicken named Heihei and a criminally-underused adorable piglet named Pua), a tragic event that pushes the story, a disappointed dad, a supportive mother, a "crazy" old lady (think the old lady from Mulan or Pocahontas' Grandmother Willow), cool-looking villains (who also have a song number!), a magical friend (like Olaf), and more. It's Disney's greatest hits under one sunny package.
What this film doesn't have that other previous Disney films do is a love interest. Moana and Maui's relationship is completely platonic (don't even think about the age gap there), and Moana never once even entertains the need of a husband. Again, this is a story of finding your true self, not your true love. Moana sings (in the powerful ballad "How Far I'll Go") about breaking from typical roles. Moana is a chief, a leader, and a learner, breaking down Disney's own barriers surrounding its female characters. And while there is still a long way to go, it's a step in the right direction.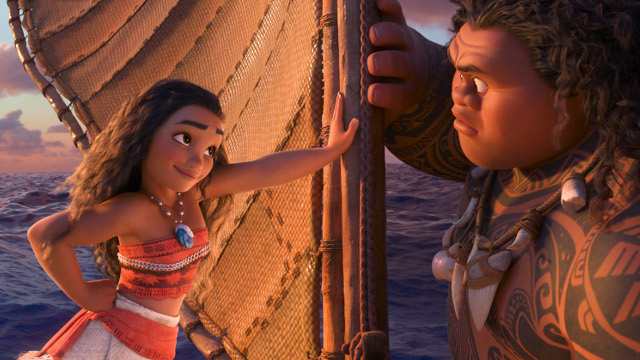 ADVERTISEMENT - CONTINUE READING BELOW
Johnson, who voices Maui, is terrific and perfect for this role, exuding an effortless confidence and charm for his character. The debuting Cravalho is a wonderful discovery as well, giving an emotional but lively voice to the lead. Directors and co-writers Ron Clements and Jon Musker (who also wrote and directed Disney classics like The Little Mermaid and Aladdin) are also a perfect fit for the project. Much of the buzz, however, will be around the songwriters, which includes Mark Mancina (who worked on The Lion King), and Hamilton creator Lin-Manuel Miranda. The latter's playful wordplay is evident in the few songs in the film, and while these songs probably won't populate the airwaves like Frozen, they still are quite wonderful.
After Frozen, and then Zootopia (and you can even throw in Big Hero 6), female leads in Disney films are seen as empowered, independent, motivated, and passionate. Moana is a really solid example of modern Disney, and even with its new look, it still has those old-school, classic elements that make Disney films great.
RATING: 4.5 out of 5 spots
Moana is now showing in theaters. Photos courtesy of Walt Disney Studios.
Share this story with your friends!
---
Help us make Spot.ph better!
Take the short survey
Load More Stories