10 Family-Friendly Pinoy Indie Films
Yes, they really exist!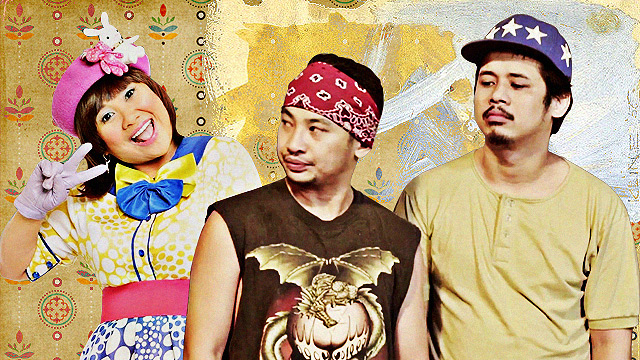 (SPOT.ph) Contrary to certain beliefs, indie films aren't always dark, depressing, and controversial. As director Erik Matti puts it succintly: "Ang indie, tulad ng mainstream, ay pwedeng malalim o mababaw, matalino o stupido, nakakatawa o nakakaiyak, commercial o artistic, pambata o pangmatanda o pang-hugot, cheap o big-budget."
Sure enough, there are actually plenty of lighter indie films that cater to audiences of all ages. From gut-busting comedies to heartwarming tales, we round up 10 movies fit for the family.
Patintero: Ang Alamat ni Meng Patalo (2015)
Directed by: Mihk Vergara
Patintero was warmly received by critics and audiences in the 2015 QCinema Film Festival. Like your favorite underdog sports film, the movie revolves around Meng (Nafa Hilario-Cruz), an avid patintero player who never seems to win a single game. Determined to prove her neighborhood wrong, she rounds up a quirky team to join the upcoming tournament. Patintero proves that local films genuinely geared for kids can still be a thought-provoking yet entertaining romp for all audiences.
Ang Babae sa Septic Tank (2011)
Directed by: Marlon Rivera
This side-splitting Cinemalaya entry tells the (very meta) story of three ambitious but misguided film school graduates who are dead-set on making an award-winning movie. Eugene Domingo plays Mila, the main protagonist, and a fictionalized version of herself. Meanwhile, JM De Guzman portrays the producer and Kean Cipriano is the director. The comedy's sequel is set for release in this year's MMFF, and features a bigger, star-studded cast.
Senior Year (2010)
Directed by: Jerrold Tarog
ADVERTISEMENT - CONTINUE READING BELOW
Think of this film as a very relatable (and nostalgic) take on the coming-of-age story. Director Jerrold Tarog recruits real high school students to depict a group of kids who are down to their last handful of months in senior year. It capitalizes on familiar high school tropes, yet weaves in plenty of funny banter, poignant moments, and heartfelt stories.
Pepot Artista (2005)
Directed by: Clodualdo Del Mundo Jr.
Set in the '70s, Pepot Artista captures the Filipinos' love for showbiz and cinema through the eyes of its young, titular character. Pepot wants nothing more than to hit it in big in showbiz, despite the problems within his family and the turbulent decade. There's plenty to dissect in the film for adults, but it's the humor and Pepot's earnest perseverance that speaks universally to its audience.
CONTINUE READING BELOW
Recommended Videos
Ang Bagong Pamilya ni Ponching (2016)
Directed by: Inna Salazar and Dos Ocampo
Any Pinoy who has ever owned a phone has most likely been on the receiving end of text scams. This movie pokes fun at the concept with Ponching (Janus Del Prado), a scammer who accidentally cons someone into believing he's the bastard son of a dead relative. When he finds out he's all set to receive a P2 million inheritance, the dim-witted but likable hero must now play the part to the family. Equal parts hilarious and heartwarming, Ponching is proof that indie films are not synonymous to heavy and taboo topics.
1st Sem (2016)
Directed by: Dexter Hemedez and Allan Ibanez
ADVERTISEMENT - CONTINUE READING BELOW
This film is about the complicated (and admittedly relatable) mother-and-son relationship of Maru (Darwin Yu) and Precy (Lotlot de Leon). Their relationship falls apart when the indecisive Maru decides to forego his promising college education in the big city and return home. For anyone who has struggled to live up to parental expectations, 1st Sem will speak volumes—hilarious satire and all.
Star Na Si Van Damme Stallone (2016)
Directed by: Randolph Longjas
Inspired by director Randolphy Longjas' late cousin, this CineFilipino entry puts the spotlight on a young boy with Down's Syndrome (Jadford Dilanco) who has dreams of becoming an action star. Don't write it off as too melodramatic; in fact, viewers are treated to an utterly charming and tender portrait of a family who will do anything and everything to help him fulfill his dream. 
Manang Biring (2015)
Directed by: Carl Joseph Papa
It's no surprise that Manang Biring went home with the Best Picture award at the 2015 CinemaOne Originals. Told in an animated, black-and-white format, the film tells the story of Biring, who is diagnosed with cancer and is only given six months to live. When she receives a letter from her estranged daughter, she decides to concoct the craziest plans to celebrate the latter's return. There's never a dull moment in this film, thanks to its sharp and witty script, irresistibly likable characters, and striking animation.
ADVERTISEMENT - CONTINUE READING BELOW
Patay Na Si Hesus (2016)
Directed by: Victor Villanueva
Think of this 2016 QCinema entry as a very Filipino take on Little Miss Sunshine. Jaclyn Jose plays Iyay, a single mother who learns that her estranged husband has passed away. With very great effort, she drags her children to an epic road trip from Cebu to Dumaguete in an old and cramped multicab. 
Kimmy Dora: Kambal Sa Kiyeme (2009)
Directed by: Joyce E. Bernal
Before the quirky misadventures of Kimmy and Dora became a nationwide sensation that spawned multiple sequels, it all began as a little indie movie from Spring Films. By now, you've likely memorized many quotable quotes by heart, but Kimmy Dora is one of those comedies that will always be funny with every rewatch. It's a joy to watch Eugene Domingo switch between her completely opposite characters—proof that yes, indie films are capable of appealing to everyone. (Just look at its box-office numbers.)
---
Help us make Spot.ph better!
Take the short survey
Load More Stories