10 Picturesque Places to Visit for the Movie Fan
If you love films and travel, book a trip to any of these scenic spots!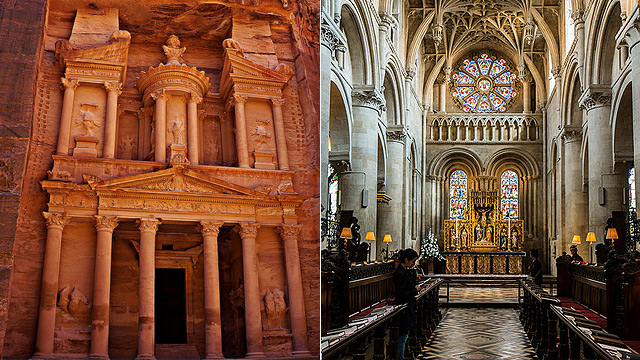 (SPOT.ph) By now, you've seen enough films that either explore the bustling streets of New York City or tear down its towering skyscrapers via CGI. You've probably also dreamt of seeing Notting Hill or the Vatican a la Angels and Demons, but this time, we set our gazes on the roads less traveled. We're talking picture-perfect destinations that go off the beaten path, but will still give movie fans some major deja vu.
Petra in Jordan
As seen in: Indiana Jones and the Last Crusade (1989)
In the third outing of Indiana Jones, Indy (Harrison Ford) sets off to the Canyon of the Crescent Moon to save his father (Sean Connery) and retrieve the Holy Grail. The fictional canyon is actually the pre-historic Jordanian city of Petra, which was lost to Western civilization for hundreds of years. Anyone can visit the UNESCO World Heritage site and see scenes from the film, including the Siq—an awe-inspiring, 76-meter high entrance intricately carved directly into red and pink sandstone—and the Al Khazneh or Treasury, a hall that was once used as a royal tomb.
ADVERTISEMENT - CONTINUE READING BELOW
CONTINUE READING BELOW
Recommended Videos
Oxford in England
As seen in: The Harry Potter series (2001 to 2011)
If you still dream of going to Hogwarts, Muggles are very much welcome in Oxford. The medieval Christ Church College is a familiar sight for Potterheads: its cavernous architecture is evident in the Great Hall scenes, as well as the grand stairway seen in the series. You can also head to New College, whose lush grounds were heavily used as the filming location in Goblet of Fire. Luckily for tourists, they can book walking tours for their own magical escapade.
ADVERTISEMENT - CONTINUE READING BELOW
Matamata in New Zealand
As seen in: The Lord of the Rings trilogy (2001 to 2003)
Hobbits of all ages can actually see The Shire with their own two eyes in Matamata, New Zealand. Think quaint cottages in the idyllic countryside which fans can freely explore with their cameras ready. For the serious LOTR fans, you can book extensive tours that will take you across New Zealand, highlighting sprawling, stunning scenery straight from Middle Earth. Some packages include accommodations, too!
Montmartre in Paris, France
As seen in: Amelie (2001)
Films like The Da Vinci Code and Midnight in Paris have transported many audiences to the sights and sounds of Paris. Amelie sets its sights on Montmarte, where director Jean-Pierre Jeunet is from. The charming location becomes a brightly hued cobblestone wonderland, from the lovely Art Deco-themed Café des Deux Moulins (they reportedly have crème brulée aptly named "Amelie") down to the familiar Maison Collignon, a grocer's store that also sells posters and postcards of the film.
ADVERTISEMENT - CONTINUE READING BELOW
Saint Vincent and the Grenadines in the Carribean
As seen in: The Pirates of the Carribean series (2003 to 2011)
Many scenes from the swashbuckling Pirates installments were filmed at Walliabou Bay in Saint Vincent; in fact, the island actually retained many set pieces for curious fans. You can take photos inside the actual coffin where Jack Sparrow (Johnny Depp) famously escaped in, as well take a look at photos and shooting schedules of the cast. Meanwhile, Petit Tabac in the Grenadines is right out of a postcard with its white coastline, turqoise waters, and virtual lack of tourists. In the films, this was where Captain Jack and Elizabeth (Keira Knightley) were shipwrecked and seen drinking rum by the beach.
ADVERTISEMENT - CONTINUE READING BELOW
Tunisia in North Africa
As seen in: The Star Wars installments (1977 to 2005)
In the mood for a galactic adventure? Head to the real-life Tatooine: Tunisia, North Africa. Fans will immediately recognize the vast and dusty deserts where we were first introduced to Luke Skywalker (Mark Hamill). Book a room at Hotel Sidi Driss in Matmata (also known as the Star Wars Hotel), where Luke grew up with his aunt and uncle. (You can even have dinner in the original dining room!) To really live like Obi Wan Kenobi and the gang, you'll need to book a tour or a rental car across Tunisia.
James Bond Island in Phang Nga Bay, Thailand
As seen in: The Man With The Golden Gun (1974)
The James Bond films are practically synonymous to exotic and far-off locations. (Remember the Taj Lake Palace in 1983's Octopussy or the Giza Plateau in 1977's The Spy Who Loved Me?) For fans of the suave British spy, Tapu Island in Phang Nga Bay is a must-see. Now known as James Bond Island, it's best known as the evil lair of Christopher Lee's Francisco Scaramanga. Prices for tour packages vary, but either way, make room to see Ko Tapu—it's the 20-meter tall limestone rock that "powered" Scaramanga's fictional laser guns.
ADVERTISEMENT - CONTINUE READING BELOW
Ouarzazate in Morocco
As seen in: Lawrence of Arabia (1962), The Mummy (1999), Gladiator (2000), and Alexander (2004)
Although Ouarzazate is only a small town in Morocco, it's been home to many Hollywood blockbusters over the decades. Its first film appearance began in 1962's Lawrence of Arabia, which highlighted a fortified village (and UNESCO World Heritage site) called Aït Benhaddou. Today, it's mostly uninhabited but tourists can freely explore its rocky terrains and fascinating history. Just five miles outside Ouarzazate is the Atlas Film Studios, the largest film studio in the world that houses many old movie sets, including the Colosseum from 2000's Oscar-winning Gladiator.
ADVERTISEMENT - CONTINUE READING BELOW
Kauai in Hawaii
As seen in: Jurassic Park (1993)
Jurassic Park's fictional Isla Nublar is actually the lush, green slopes of Kauai's Na Pali Coast, where you can get a spectacular shot of the coastline via helicopter or boat tour. (Na Pali Coast was also a stand-in for Skull Island in 1976's King Kong.) For the extra adventurous, you can see the breathtaking Manawaiopuna Falls (as seen in the film) with an aerial tour. For folks who prefer solid ground, you can take a Jurassic Park jeep tour, which includes stops at several famous movie locations.
Siem Riep, Angkor Thom, and Angkor Wat in Cambodia
As seen in: Lara Croft: Tomb Raider (2001)
For the kickass adventurers, make like Lara Croft (Angelina Jolie) and head to Cambodia's majestic temple ruins. Drop by the ancient city of Angkor Thom and get lost within its sacred Bayon Temple, composed of 54 towers bearing intricately carved smiling faces. Another must-see temple is Ta Prohm, with its surreal ruins intertwined within enormous trees. The film also puts the spotlight on other jaw-dropping sights, such as Siem Riep and Angkor Wat.
ADVERTISEMENT - CONTINUE READING BELOW
---
Help us make Spot.ph better!
Take the short survey
Load More Stories