10 Timeless Christmas Films You Can Stream Now
Get into the holiday spirit with these picks!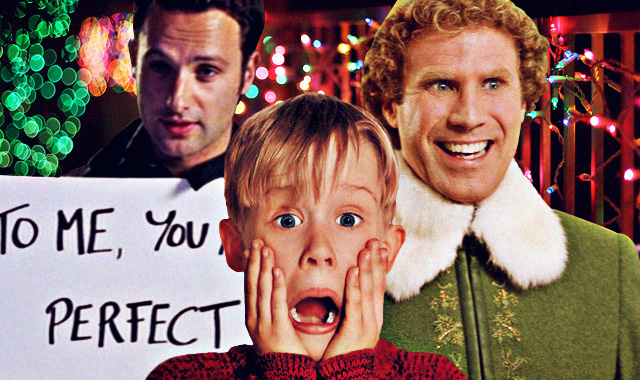 (SPOT.ph) You know it's Christmas when your days are filled with cramped malls (and even more cramped highways), last-minute holiday shopping that's quickly depleting your annual bonus, and unending deadlines up to your neck. If you need a good dose of cheer, break out these 10 Christmas-themed movies. From old favorites to swoon-worthy romance, these films are just what you need for some holiday spirit. Don't forget the popcorn!
Love Actually (2003)
Stream it on: Netflix
Part-uplifting Christmas movie and part-sappy romance, Love Actually is a holiday film staple for a good reason. Starring a very familiar U.K. cast that includes Emma Thompson, Alan Rickman, Hugh Grant, Colin Firth, Liam Neeson, and Keira Knightley, the plot interweaves between multiple (and relatable) love stories—from friends to long-time partners and even sweet puppy love. For the sawi folks out there, there's a bit of heartbreak thrown in, too.
Home Alone (1990)
Stream it on: iflix
Home Alone's far-fetched concept may be absurd now—especially with the advent of social media and technology—but there's nothing quite like a laugh-out-loud comedy for the whole family. Directed by Chris Columbus and written by John Hughes, this beloved film stars Macaulay Culkin as Kevin, who is accidentally left at home when his family rushes off for the holidays. When two bumbling burglars attempt to break in, it's up to Kevin to ingeniously plant a series of creative booby traps to scare them off.
Arthur Christmas (2011)
Stream it on: HOOQ
ADVERTISEMENT - CONTINUE READING BELOW
Featuring the voice talents of James McAvoy, Hugh Laurie, Bill Nighy, and Jim Broadbent, Arthur Christmas revolves around Santa's clumsy son, Arthur. When he learns that a little girl isn't getting a present this year, he sets off on a crazy mission to deliver her gift before the crack of dawn. Filled with witty writing and wacky, colorful characters (which should remind you of your own wacky family), this 2011 gem is entertaining for audiences of all ages.
While You Were Sleeping (1995)
Stream it on: iflix
Much like Love Actually that came several years later, this 1995 film starring Sandra Bullock blends an immensely likable rom-com with a snowy Christmas setting. She plays Lucy, a lonely transit worker who saves her long-time crush, Peter (Peter Gallagher) from being run over by a train. When she follows a comatose Peter to the hospital, she's mistaken by his lovable family as his fiancée. If the plot isn't enough to win you over, there's also Bill Pullman as the super-charming third wheel.
CONTINUE READING BELOW
Recommended Videos
Elf (2003)
Stream it on: Netflix
Buddy (a delightful Will Ferrell) is an orphaned human who grew up believing he is an elf in the North Pole. Ostracized because of his human size, he travels to New York to find his real father, who turns out to be a jaded businessman (James Caan) on Santa's "Naughty" list. There's plenty of comedic chaos and heartwarming familiar love to go around, making Elf a must-watch for any Christmas movie marathon.
ADVERTISEMENT - CONTINUE READING BELOW
The Polar Express (2004)
Stream it on: iflix
Set in the mid-'50s, a young boy doubting the existence of Santa is taken on an extraordinary journey to the North Pole via a mysterious train. His magical adventure leads to self-discovery, friendship, bravery, and plenty of Christmas spirit. Written and directed by Robert Zemeckis, The Polar Express boasts stunning visuals that were a technological breakthrough at the time of its release.
How The Grinch Stole Christmas (2000)
Stream it on: Netflix
For the real-life Grinches out there, this live-action adaptation of the beloved children's book should be right up your alley. (Let's be honest; there's nothing more relatable than watching Jim Carrey complain about noise and going out of the house.) Fed up with the cheery citizens of Whoville, the reclusive Grinch sets off to ruin the holiday season for them. His plans are foiled, however, when he meets the super cute Cindy Lou Who (a much-younger Taylor Momsen).
Miracle on 34th Street (1994)
Stream it on: iflix
At the very last minute, a department store supervisor named Dorey (Elizabeth Perkins) hires an elderly gentleman (Richard Attenborough) to play the store's Santa. When he reveals that he believes himself to be the real Santa, authorities threaten to throw him into asylum. It's up to Dorey and her precocious daughter (Mara Wilson) to come to his defense. Based on the 1947 film of the same name, this sentimental, feel-good remake is still a must-see to this day.
ADVERTISEMENT - CONTINUE READING BELOW
The Family Stone (2005)
Stream it on: iflix
If you've ever gone to family reunions and felt like you don't belong, you'll relate to this 2005 comedy-drama. The film follows Everett (Dermot Mulroney), who decides to bring home his cold and uptight girlfriend (Sarah Jessica Parker) for the holidays. The only problem? His free-spirited family might not take so warmly to her. Blending slapstick humor with awkward moments only familial gatherings can offer, the film also stars Diane Keaton, Claire Danes, Rachel McAdams, and Luke Wilson.
Serendipity (2001)
Stream it on: Netflix
In the mood to swoon or fall in love? This 2001 rom-com is all about the fated love story between Jonathan (John Cusack) and Sara (Kate Beckinsale). They meet by chance while Christmas shopping in New York, which soon turns into a romantic evening of testing whether or not they're destined to be together. The film follows their many near-miss moments over the years; it's charming, frustrating, and sweet all at the same time.
---
Help us make Spot.ph better!
Take the short survey
Load More Stories