(SPOT.ph) In the first handful of minutes in Die Beautiful, we are greeted with a montage of a beaming and utterly fabulous young boy as he struts down a makeshift pageant runway. It's all hilarious and entertaining—until it isn't; his father storms into the frame, interrupting his moment and setting the tone for the rest of the film.
We quickly learn that the young boy, Patrick, eventually grows up to be Trisha (Paolo Ballesteros), a transgender woman who still determinedly pursues her pageant dreams with her best friend, Barbs (a scene-stealing Christian Bables). The film interweaves between her past and present, introducing its audience to the many people that add color to Trisha's life, as well as the many other people who try to dim her shine.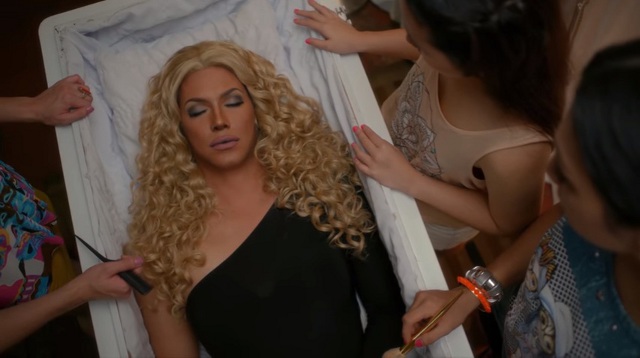 Director Jun Robles Lana and scriptwriter Rody Vera thankfully veer away from the cinematic LGBT stereotypes we so often witness. There is no crass and loud-mouthed beki often relegated to the sidelines to deliver snappy one-liners, nor is there a one-dimensional BFF ready to be the butt of the next tired joke. There is only Trisha and her friends, whose characterizations are treated with rare dignity, honesty, and compassion. Ballesteros shines in his role with remarkable subtlety and vulnerability, bolstered by equally believable performances from an excellent Bables, Joel Torre, Gladys Reyes, and Luis Alandy.
ADVERTISEMENT - CONTINUE READING BELOW
When Die Beautiful chooses to be funny, it's a riot—going far and beyond the slapstick, ridiculing humor that plagues many local comedies. We laugh (loudly) because it's a genuinely funny situation, familiar in its very Pinoy novelty and sharply witty in its satire. And when it chooses to be dramatic, it hits where you won't expect. The film deftly navigates the flashy and fascinating pageant sub-culture, while tackling themes of resilience, self-acceptance, homophobic prejudice, and the perils of a patriarchal society. At the same time, we see the enduring friendship between two trans women, bound by their common goals, their turbulent childhood, and their yearning for love and acceptance. It's as much Barbs' story as it is her friend's, and her unwavering loyalty resonates well into the end credits.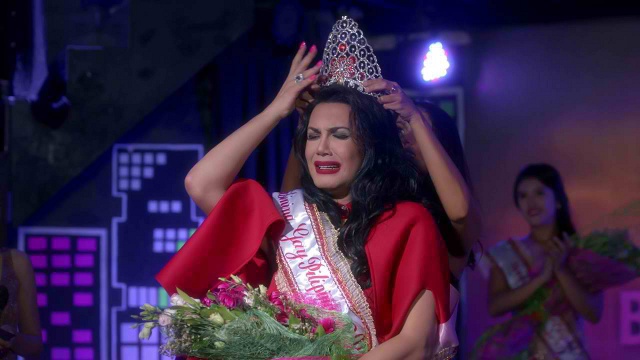 Peel away the gaudy costumes and the layers of makeup and duct tape, and you have an intimate character study that feels real yet larger-than-life. Trisha's journey to proudly proclaiming her body as her own is beleagued with hardships, and we root for her every step of the way. More importantly, choice plays a big role in her narrative. We see it in the way she walks away from her painfully conservative home or when she decides to bear the brunt of horrifying brutality because of who she is. We see it in smaller, more nuanced moments too, like when she tells Barb how she'd like to be buried someday, or when she chooses (and fights) to use the women's rest room.
CONTINUE READING BELOW
Recommended Videos
Die Beautiful leaves plenty of room for valuable discussion, particularly in a society that embraces the LGBT community for entertainment value but still struggles in its acceptance or understanding. In a time when we still hear sentences that begin with "I have gay friends but..." and gender identity is still a vague concept to many, it's complex, poignant, and wonderfully human stories like Trisha's that deserve to be heard over and over again.
RATING: 4.5 out of 5 spots
Die Beautiful is currently showing in theaters as part of the 2016 Metro Manila Film Festival.
Share this story with your friends!
---
Help us make Spot.ph better!
Take the short survey
Load More Stories