MOVIE REVIEW: Seklusyon's scares are overshadowed by a clumsy narrative
This initially promising horror delivers thrilling scares, but not much else.
(SPOT.ph) The average Filipino moviegoer has an interesting relationship with homegrown horror films. What typically comes to mind are campy storylines with even campier visuals; at least, that's what people have come to expect from the annual Metro Manila Film Festival. This year, Seklusyon replaced the staple scare series and graced the screen with a different brand of terror. With Erik Matti helming the project, people were quick to expect a good horror movie—and it succeeds, but falls flat with everything else.
Set in post-WWII Philippines, Seklusyon depicts the state of Catholic religiousness in the barrios of Luzon. It follows Miguel (Ronnie Alonte), a young seminarian, as he takes on the final step toward priesthood: He is to stay in seclusion for a week in a convent and do nothing but pray with three others like him. The film unravels into a quick-paced horror drama when they're joined by a young girl named Anghela (Rhed Bustamante), alongside her mysterious protector and devotee Madre Cecilia (Phoebe Walker). Outside the events in the convent, Padre Ricardo (Neil Ryan Sese) seeks to find the truth behind Anghela's incredible miracles.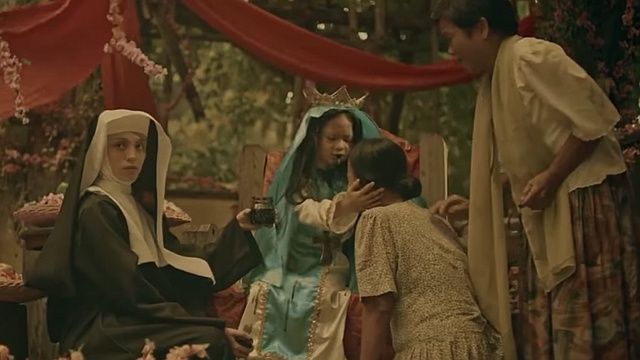 ADVERTISEMENT - CONTINUE READING BELOW
Littered with dimly lit hallways, religious imagery, and warnings of evil and temptation, the sepia-toned film is quick to trigger a fear with which Filipinos are well-accustomed. Veering away from jump scares, the horror sequences not only effectively send chills down the spine, but also flesh out interesting character backstories by capitalizing on their suppressed guilt.
Orchestrated with expert camerawork and a very solid atmosphere, thanks to production designer Ericson Navarro and cinematographer Neil Derrick Bionn, the film immerses the audience in the fear of being unable to tell good and evil apart. Among the generally average performance of her cast mates, Bustamante carries the movie on her tiny shoulders with her arrestingly eerie portrayal from her first scene until the very last.
CONTINUE READING BELOW
Recommended Videos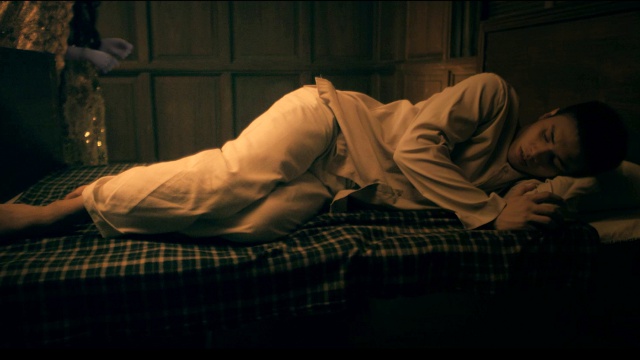 Despite locking in on the spooks, the pic falls short on a number of aspects. Padre Ricardo's investigative storyline becomes absolutely secondary when the big reveal happens early inside the convent walls. This error completely soils what would've been the crux of the story, wasting the promising tension it builds in the first half. From then on, the storytelling falls apart into a sloppy race toward the climax littered with thoughtless details that pass off as unimaginative use of church elements and imagery. The text that hovers throughout the movie (unlikely of the setting given the provincial tones) also takes away from the much-needed suspense.
ADVERTISEMENT - CONTINUE READING BELOW
It's clear that Seklusyon aims for something bigger than what it accomplishes, promising lengthy post-viewing discussions on its social commentary. There's much to be said about blind faith, inner demons, and false messiahs atop a pedestal of power, yet its valuable message stumbles alongside the many other—albeit equally compelling—clumsily handled narratives it tries to weave. Its weakness is in a script that tries to do too much and simply doesn't live up to its potential.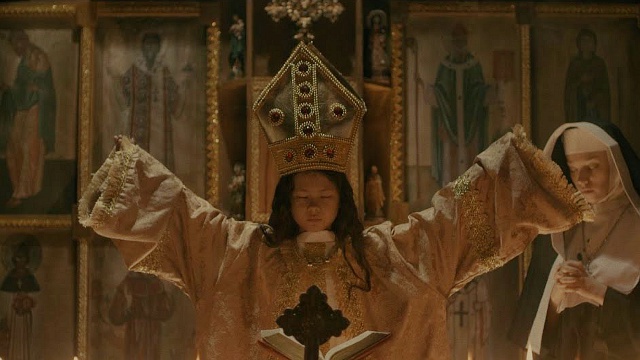 Compared to other allegoric movies of the same nature, this MMFF feature is far ahead of the curve with a film that engages Filipinos but in the end, falls into a trap of over-explanation. What Seklusyon fails to understand is that while appealing to broader audiences is important, it's never just about the horror. 
RATING: 3 out of 5 spots
Seklusyon is currently showing in theaters as part of the 2016 Metro Manila Film Festival.
ADVERTISEMENT - CONTINUE READING BELOW
Share this story with your friends!
---
Help us make Spot.ph better!
Take the short survey
Load More Stories