The 20 Must-See Movies of 2017
Sequels, prequels, spin-offs, and reboots dominate the film landscape of 2017!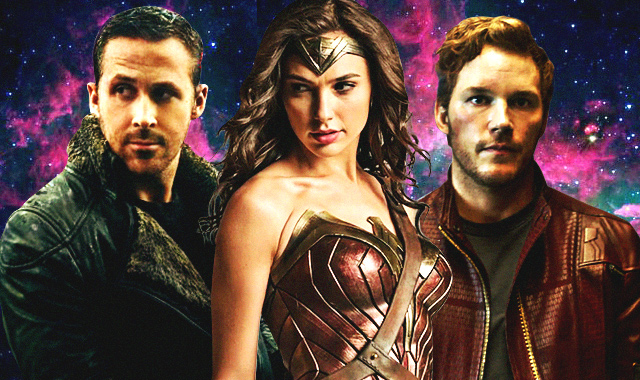 (SPOT.ph) As we say goodbye (and good riddance) to 2016, we look forward to a brighter, more exciting 2017. These new films—mostly sequels, reboots, prequels, and spin-offs—promise to bring us back to many of the fictional worlds we've enjoyed before. Think sequels to 50 Shades of Grey, Trainspotting, Kingsman, and Annabelle, reboots of The Mummy, Stephen King's It, and Jumanji, spin-offs in the form of colorful LEGOs. New work from acclaimed directors such as Luc Besson's Valerian, Gore Verbinski's A Cure for Wellness, Edgar Wright's Baby Driver, and Sofia Coppola's The Beguiled are also coming in 2017.
There are many, many films (both locally and internationally) to look forward to this year, and this is only a small sampling of what's in store. Here are the ones we can't wait to see.
Release dates listed are from the U.S. unless stated otherwise. This list doesn't include 2016 releases that have yet to be shown in the Philippines.
Ilawod
Directed by: Dan Villegas
Release date: January 18
Award-winning director Dan Villegas is mostly known for his critically acclaimed blockbuster rom-coms, but his next intriguing film could not be further from his usual fare. Ditching the fan-friendly genre for jump scares and terrifying imagery, Villegas helms Ilawod, a horror about a family dealing with demonic attacks. Starring Ian Veneracion and Iza Calzado (who adds another to her long list of horror flicks), this is sure to start your year with a frightening bang.
The Lego Batman Movie
Directed by: Chris McKay
ADVERTISEMENT - CONTINUE READING BELOW
Release date: February 10
When The Lego Movie proved that everything is indeed awesome in 2014, a sequel almost seemed like a sure thing. Lo and behold, we now have a spin-off about its breakout character, Batman (voiced by Will Arnett). Judging by the trailers, The Lego Batman Movie is going to be even wilder, funnier, and more absurd than its predecessor. Batman regulars Robin (Michael Cera), Alfred (Ralph Fiennes), and The Joker (Zach Galifianakis) also join the wacky, brick-building adventure.
Logan
Directed by: James Mangold
Release date: March 3
Announced as the final solo film of the fan-favorite superhero, Logan shows an older Wolverine (Hugh Jackman), now a shell of his former brute self as his healing powers no longer work. Mutants are once again in danger, and Wolverine must protect a sick Professor X (Patrick Stewart) and a mysterious young girl from an evil corporation. The moody and somber Johnny Cash-infused trailer seems to hint at a much more melancholy feel as compared to the previous Wolverine films.
CONTINUE READING BELOW
Recommended Videos
Kong: Skull Island
Directed by: Jordan Vogt-Roberts
Release date: March 10
Kong: Skull Island is both a reboot of the King Kong franchise, as well as the next step in a future Godzilla-King Kong film (presumably where the two mammoth monsters meet). Set during the 1970s, director Jordan Vogt-Roberts takes cues from the classic war film Apocalypse Now, showcasing a more war-torn, gritty Kong film, while also featuring the largest Kong we've ever seen on screen. Tom Hiddleston, Brie Larson, and Samuel L. Jackson lead the team that will discover Kong this time around.
ADVERTISEMENT - CONTINUE READING BELOW
Beauty and the Beast
Directed by: Bill Condon
Release date: March 17
The latest film in Disney's ongoing live-action adaptations is the much-beloved Beauty and the Beast. The said adaptation is left to the hands of The Perks of Being a Wallflower author Stephen Chbosky and Dreamgirls and The Twilight Saga: Breaking Dawn director Bill Condon. Naturally, expectations are very high that they'll be able to translate the lovely animated classic into a success. Harry Potter's Emma Watson plays Belle, while Dan Stevens, Ewan McGregor, Emma Thompson, and Ian McKellen lend their voices.
Power Rangers
Directed by: Dean Israelite
Release date: March 24
Power Rangers reboots have come and gone on TV, but their colorful costumes haven't been seen on the silver screen since 1997. Five new young actors wear the same red, blue, yellow, pink, and black, but familiar faces play some of the series' iconic characters: Elizabeth Banks takes over as the evil Rita Repulsa, Bill Hader voices the robot Alpha 5, while Breaking Bad's Bryan Cranston plays the Rangers' mentor, Zordon. The film looks to be a gritty Batman Begins style reboot, which may just bring the Power Rangers back into the superhero mix.
Ghost in the Shell
Directed by: Rupert Sanders
Release date: March 31
In any other world, hiring resident badass Scarlett Johansson to play an ass-kicking cyborg seems like perfect casting. However, this live-action adaptation of the popular Japanese manga has stirred up controversy, as many believe the role should have gone to an actress of Asian descent. (It's worth noting that the film also boasts incredibly gorgeous visuals and insane production design.) Either way, Ghost in the Shell will make waves once it's out, and it'll be interesting to see how they handle the tricky situation.
ADVERTISEMENT - CONTINUE READING BELOW
The Fate of the Furious (aka Fast & Furious 8)
Directed by: F. Gary Gray
Release date: April 14
"Family no more," threatens the poster for the eighth installment of the Fast & Furious series, a rare franchise that has gotten better with age. This time, The Fate of the Furious looks to bring in more prestige, with Ocar-winning actresses Charlize Theron and Helen Mirren joining the gang and Straight Outta Compton director F. Gary Gray behind the camera. Expect the return of Vin Diesel and Dwayne Johnson, too.
Guardians of the Galaxy Vol. 2
Directed by: James Gunn
Release date: May 5
Dust off your casette players, because 2017 brings the return of the galaxy's unlikeliest heroes. Chris Pratt reprises his role as Star-Lord, alongside Batista (Drax), Zoe Saldana (Gamora), Bradley Cooper (Rocket Raccoon) and many more familiar faces from the hugely entertaining Vol. 1. This second volume also, maybe more importantly, marks the return of the adorable Baby Groot (Vin Diesel). More cool music, more witty jokes, and a story that will look deep into Star-Lord's past? Marvel's craziest crew is sure to be welcomed back with open arms.
Pirates of the Caribbean: Dead Men Tell No Tales
Directed by: Joachim Rønning and Espen Sandberg
Release date: May 26
Just when you thought this franchise was dead in the water, it rises up once more to brave the seas. The fifth in the Pirates franchise, Dead Men Tell No Tales has the wily Jack Sparrow (Johnny Depp) going face-to-face with an old rival, Captain Salazar (a terrifying Javier Bardem), who hopes to kill every pirate that sails the seas. It's up to Sparrow to hunt for the Trident of Poseidon in the hopes of defeating Salazar. Orlando Bloom also returns to the franchise as Will Turner after skipping the last film.
ADVERTISEMENT - CONTINUE READING BELOW
Baywatch
Directed by: Seth Gordon
Release date: May 26
Expect plenty of TV and movie reboots this 2017, from Tom Cruise in the new Mummy to Dwayne Johnson revisiting the classic Jumanji. While those films pay tribute to its original source material, the reboot of the '90s series Baywatch skips the drama altogether and instead, goes all-out bro-comedy. This R-rated reboot features crass humor, all the sexy slow-motion running you can handle, and the lead duo of Dwayne Johnson and Zac Efron. This isn't the David Hasselhoff series you or your parents remember.
Wonder Woman
Directed by: Patty Jenkins
Release date: June 2
While DC has struggled in solidifying their cinematic universe, people still come in droves to watch Batman fight Superman. With Wonder Woman, DC has another shot at making something successful both critically and commercially. As the first major superhero film featuring a female lead since 2005 (and directed by Patty Jenkins, a female director, a first for any superhero film), a lot of eyes are on Gal Gadot and the beginnings of her famed character.
Spider-Man: Homecoming
Directed by: Jon Watts
Release date: July 7
Yes, this is the third reboot of the web-slinging superhero, but this is the first under the Marvel Studios banner (along with Sony)—thus putting Spider-Man in the same universe as Iron Man and Captain America. After making a brief but scene-stealing appearance in 2016's Civil War, this new, quippy Spider-Man (Tom Holland) looks to be the most faithful adaptation of the comics. With a much younger lead, Spider-Man: Homecoming has Peter Parker tackling the perils not just of crime-fighting against Michael Keaton's Vulture, but also dealing with Iron Man (Robert Downey Jr.), and just getting through high school unscathed.
ADVERTISEMENT - CONTINUE READING BELOW
Dunkirk
Directed by: Christopher Nolan
Release date: July 21
Foregoing mind-bending stories for a more straightfoward historical war epic, Christopher Nolan hopes to bring the story of Dunkirk on the big screen. The real-life Dunkirk evacuation during World War II is a great story in itself, but with Nolan behind the camera, it's sure to be more than that. The visuals already look beautiful, and Nolan fills the cast with heavy hitters, including Tom Hardy, Cillian Murphy, Mark Rylance, Kenneth Branagh, and most surprisingly, One Direction's Harry Styles in his acting debut.
Blade Runner 2049
Directed by: Denis Villeneuve
Release date: October 6
French-Canadian director Denis Villeneuve is on a roll, with films like Prisoners, Sicario, and the alien drama Arrival showcasing his talents. If his previous works are anything to go by, he seems like a perfect fit to revisit the Blade Runner world created back in 1982. Harrison Ford returns as Rick Deckard, while Ryan Gosling takes the lead as a blade runner who is searching for the lost Deckard in the hopes of preventing a mass catastrophe. Villeneuve has a tough task in his hands, but luckily, he has the directorial chops to succeed.
Thor: Ragnarok
Directed by: Taika Waititi
Release date: November 3
Marvel Studios has a full plate this year, but this is ever-expanding superhero universe is no slouch. Their third 2017 film is also the third in the Thor franchise. New Zealander Taika Waititi has a very distinct, quirky style (as seen by the wacky and hilarious short teaser they created to promote the film) so it will be interesting to see how different his Thor movie will be. Chris Hemsworth returns as the God of Thunder, joined by Mark Ruffalo's Hulk, alongside new faces such as Cate Blanchett and Jeff Goldblum.
ADVERTISEMENT - CONTINUE READING BELOW
Justice League
Directed by: Zack Snyder
Release date: November 17
The Avengers did incredibly well for Marvel (an understatement, really) and DC hopes its superhero team-up will be just as, if not more successful. The highly anticipated Justice League finally brings together Superman (Henry Cavill), Batman (Ben Affleck), The Flash (Ezra Miller), Wonder Woman (Gal Gadot), and Aquaman (Jason Momoa) in one film, this time with the Justice League facing off against the supervillains Steppenwolf and Darkseid.
Coco
Directed by: Lee Unkrich
Release date: November 22
Pixar has been producing a lot of sequels as of late, but it's in their original fare where they really shine. Coco takes place in a world celebrating Dia de los Muertos. Twelve-year-old Miguel (Anthony Gonzalez) is banned from playing any music, but he still dreams of becoming a musician. In the hopes of figuring out the reason for the ban, Miguel jumps into the Land of the Dead as he traces his family's history. Colorful, magical, and full of hope, Coco features the voice talents of Gael Garcia Bernal, Benjamin Bratt, and Renee Victor.
Star Wars: Episode VIII
Directed by: Rian Johnson
Release date: December 15
After being loved by both critics and fans, Star Wars: Episode VII was a right step back into buiding the expansive Star Wars world. After a brief stop with Rogue One, we're back to the main story, as Rey (Daisy Ridley) continues to dig deep into her history with the help of a returning Luke Skywalker (Mark Hamill). This also marks the final appearance of the beloved Carrie Fisher as Princess Leia, following her untimely death in December. Episode VIII is sure to be special in more ways than one.
ADVERTISEMENT - CONTINUE READING BELOW
Smaller and Smaller Circles
Directed by: Raya Martin
Release date: TBA
Smaller and Smaller Circles is about a Filipino serial killer murdering young children and leaving their bodies in landfills. This gruesome, disturbing tale is adapted from the best-selling and internationally published novel of F.H. Batacan, which is said to be the first full-length Filipino crime novel. Starring TJ Trinidad, Bembol Roco, Carla Humphries among others, this film feels even more relevant today than when the novel was first written in 1999 and published in 2002.
---
Help us make Spot.ph better!
Take the short survey
Load More Stories