10 Fresh Tunes to Listen to This January
The year's off to a good start with songs by Lady Gaga, London Grammar, UDD, and more!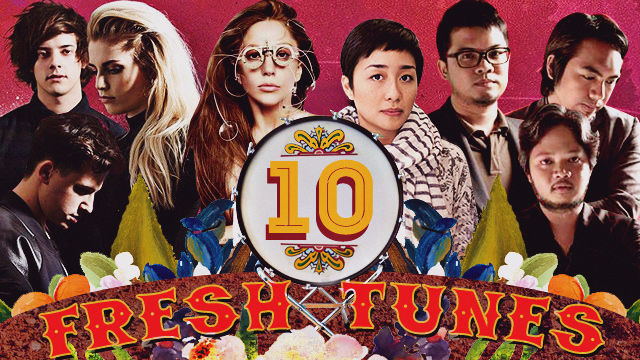 (SPOT.ph) Kick off 2017 with a brand spankin' new playlist! After all, there's nothing like a fresh set of tracks to keep you company as you work on those resolutions. Listen to the latest from international artists Lady Gaga, London Grammar, ZAYN with Taylor Swift, Anne-Marie, and Stevie Wonder featuring Ariana Grande. Our very own UDD, Ang Bandang Shirley, Taken By Cars, Musical O, and Autotelic also have hot new songs for you. 
Song: "Million Reasons"
Artist: Lady Gaga
Lady Gaga's emotional, country-pop single off her fifth studio album tackles heartbreak in a very all-American, folky way. The artist continues to impress listeners as she delivers something a little more stripped down. Her growls and raw vocals are definitely the star here.
Fun fact: The "Million Reasons" music video is the sequel to the "Perfect Illusion" music video. 
Song: "Sigurado"
Artist: UDD
Need another reason to celebrate the new year? How about a new single from everyone's favorite local band? "Sigurado" is funky from start to finish (watch for that head-bopping bass). Don't let the dance-y arrangement fool you, though. The lyrics—all about love, of course—is nothing less than what you'd expect from UDD: honest and relatable.
Fun fact: "Sigurado" was released on January 1st and is from the band's forthcoming fourth album. 
Song: "Rooting For You"
Artist: London Grammar
The British trio is out with a stirring ballad that puts the spotlight on lead singer Hannah Reid's vocals. The first two minutes of the live version highlights her soaring voice, thanks to the stirring lack of accompaniment. The track slowly picks up and reveals a lush symphony in the background.
ADVERTISEMENT - CONTINUE READING BELOW
Fun fact: "Rooting For You" is London Grammar's first new single since 2013.
Song: "Siberia"
Artist: Ang Bandang Shirley
The well-loved act's latest release is a sweet and hopeful tune, something we all need as we face 2017 as we aspire for love and happiness. The band sticks to their winning formula—a dreamy, indie-rock arrangement plus poetic lyrics—and nails it.
Fun fact: "Siberia" is the second single from the band's upcoming third album, Favorite.
Song: "I Don't Wanna Live Forever"
Artists: ZAYN and Taylor Swift
Pop stars ZAYN and Taylor Swift team up for this sexy number; he showcases his distinct falsetto, while Swift sounds breathy in most parts. The song isn't particularly spectacular, but it's catchy enough to get stuck in your head for days.
CONTINUE READING BELOW
Recommended Videos
Fun fact: The song is part of the official soundtrack for the upcoming sequel, Fifty Shades Darker.
Song: "Soothsayer"
Artist: Taken by Cars
"Soothsayer" is soothing and kickass at the same time, and it's the perfect addition to your road trip playlist. The single, from the band's forthcoming album, makes us excited to hear what else they have to offer.
Fun fact: The band's third full-length album will be called Plagues.
Song: "Peak"
Artist: Anne-Marie
The English singer-songwriter, who was formerly part of the English drum-and-bass band Rudimental, recently shared a stripped version of her song "Peak." Here, Anne-Marie demonstrates the many ways she can bend and stretch her vocals. The finger snaps are a nice touch, too.
Fun fact: "Peak" is one of the artist's favorite original songs, as she confessed in the video description.
ADVERTISEMENT - CONTINUE READING BELOW
Song: "You People"
Artist: Musical O
The indie rock band has just released a teaser for their second record. The first single, "You People," contrasts lethargic vocals with a rich instrumental section that perfectly captures the angst in the lyrics.
Fun fact: Musical O's self-titled sophomore album drops on iTunes and Spotify on January 23.
Song: "Faith"
Artists: Stevie Wonder feat. Ariana Grande
Music legend Stevie Wonder and pop star Ariana Grande collaborate for "Faith," a feel-good ditty you'll need to hear if you lack motivation for the new year. Grande's high register keeps up with Wonder's signature soulful vocals and awe-inducing piano.
Fun fact: "Faith" is from the official soundtrack of the animated musical-comedy film, Sing.
Song: "Laro"
Artist: Autotelic
Autotelic isn't fooling around. The pop band's latest single is a radio-friendly and hugot-filled song that quickly grows on you. It's an endearing piece, mostly because of the playful melody and the thoughtful lyrics.
ADVERTISEMENT - CONTINUE READING BELOW
Fun fact: The lyric video for the song features artwork submitted by fans. 
---
Help us make Spot.ph better!
Take the short survey
Load More Stories