10 Up-and-Coming Indie Artists to Watch in 2017
These local and foreign acts are all set to make noise.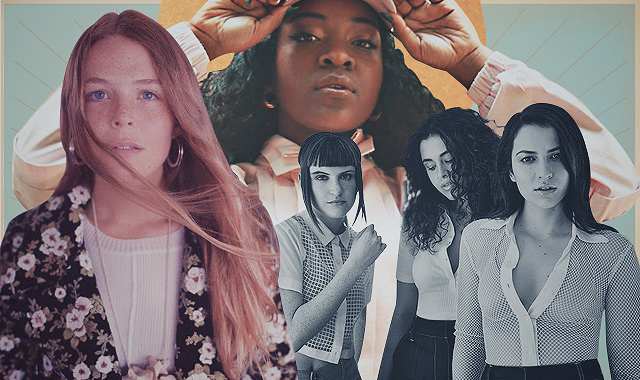 (SPOT.ph) There's great joy in finding music that speaks to you, or at least makes you tap your feet. And when a gem of a song is found by chance or in the most unlikely of places, it becomes all the more precious. We're sure you've had your fair share of favorite artists that you all-out supported when no one else seemed to have heard of them.
This 2017, we're hoping for more fresh names to wow us, hence this list. Note that we're not using "indie" in the strictest sense here. We're looking at promising local and international musicians from across different genres that have yet to achieve mainstream popularity but totally deserve the attention.
MUNA
Los Angeles-based trio MUNA got together in 2013 and is set to release their debut album, About U, this February. Katie Gavin, Josette Maskin, and Naomi McPherson's brand of dark pop and unforgettable hooks are hard to ignore. Their sound marries '80s goodness with funky electronics. Plus, the ladies, who all identify as queer, tackle issues of gender and sexuality through their music.
Must-listen: "Loudspeaker" and "Winterbreak" 
Asch
Remember the name Asch because it's set to conquer the local electronic music scene very soon. The young producer creates magic with his dreamy and head-bobbing musical creations that are mixed with some jazz and funk. If you want something chill, sexy, rich, and groovy for your next drive or chill-out house party, visit his Soundcloud page, stat.
Must-listen: "Some Kind Of Magic" feat. Clara Benin and "Substance"
ADVERTISEMENT - CONTINUE READING BELOW
Maggie Rogers
Maggie Rogers made noise in 2016 after wowing Pharrell Williams at a masters class listening event at the Clive Davis Institute in NYU. She showcased her song "Alaska," which helped her score a deal with Capitol Records. The flexibility of her vocals and the unique arrangement combining indie, folk, pop, and electronic elements will have you hooked at first listen. She's also set to release a record this year, so we're looking forward to see what she has in store for listeners.
Must-listen: "Alaska" and "Dog Years"
Turncoats
Baguio-based lo-fi band Turncoats (Alain Lim, Troy Esperanza, and En Baniago) shows promise with their rough-around-the-edges music. Their unpolished sound is what makes them endearing and sincere, and their melancholic musings show depth. Thanks to the Internet, we can all stay updated on their new releases.
CONTINUE READING BELOW
Recommended Videos
Must-listen: "People Watcher"
Khalid
Eighteen-year-old artist Khalid gave us all the right vibrations when he released "Location" in 2016. It's a smooth and groovy R&B-soul tune that effortlessly shines even with a very simple and laid-back instrumentation. He followed up "Location" with "Let Go," an upbeat and soulful ditty that doesn't disappoint. With his releases so far, we can say it's worth watching for his debut EP. 
Must-listen: "Location" and "Let Go"
July XIV
We're liking the sound of July XIV's first single, and we won't be surprised if we hear more about this indie-rock act in the coming months. The rich guitars, prominent drums, and mild vocals leave no room for any weak spots in the song. We highly recommend catching one of their gigs if you can.
ADVERTISEMENT - CONTINUE READING BELOW
Must-listen: "Revelations I"
The Aces
Four Utah female musicians make up The Aces, a pop-rock band that might just be your new favorite. They'll remind you of HAIM when you listen to "Stuck," but we're hopeful The Aces will prove to have their own unique flavor when they release new singles. For now, enjoy their sunny and danceable music that's perfect for your summer playlist.
Must-listen: "Stuck"
Devices
It's difficult not to love local indie-new wave band Devices' sound. There's a sugary yet kickass quality to it, thanks to the warm vocals and the thoughtful instrumentation. They're able to demonstrate their ability to produce repeat-worthy tracks with "Flowers" and "Midday," and there's anticipation regarding where they'll take their music.
Must-listen: "Flowers" and "Midday"
RAY BLK
British R&B songstress RAY BLK's lush and textured vocals won't fail you. She's a no-nonsense artist, too, tackling themes of women empowerment and social injustice in her music. Of course, her songs don't fall short on good beats. Have a listen to "My Hood," and you'll know what we mean. Just recently, RAY BLK was named winner of BBC Music Sound of 2017, an honor previously given to Adele, Sam Smith, and Ellie Goulding.
Must-listen: "My Hood" feat. Stormzy and "5050"
Ryoku
Ryoku (Richard Ken Matsuyama) is another electronic artist to watch for this year. The young producer is set to bring you to new dimensions with his dreamy electronic music. He has collaborated with the likes of Clara Benin and Dana Blase, and has always found ways to make both his beats and their vocals soar.
ADVERTISEMENT - CONTINUE READING BELOW
Must-listen: "Here Comes The Feeling" and "Window Seat" both feat. Clara Benin
Share this story with your friends!
---
Help us make Spot.ph better!
Take the short survey
Load More Stories