MOVIE REVIEW: The Great Wall falls flat on story but towers in visual grandeur
This controversial Chinese-US blockbuster epic stars Matt Damon and Pedro Pascal.
(SPOT.ph) China has produced huge Hollywood blockbuster-type films over the years, mostly in the martial arts genre. They rarely bring in Hollywood bigwigs, which is why The Great Wall already had a lot of eyes on it. The film is also said to be the costliest US-China co-production, so expectations were higher than the actual Great Wall of China. Unfortunately, it's been marred by casting controversy, but this shouldn't deter moviegoers from appreciating its inventive visuals—despite being saddled by an unengaging story and a lackluster script.
It is centuries in the past, and the Great Wall of China is standing strong. A few miles off the Great Wall, mercenaries William Garin (Matt Damon) and Pero Tovar (a scene-stealing Pedro Pascal) are on the hunt for black powder (soon to be known as gunpowder) when they get caught in a battle with a man-eating monster. They survive but end up being arrested by the Nameless Order, a group made up of thousands of color-coordinated soldiers that guard the Great Wall.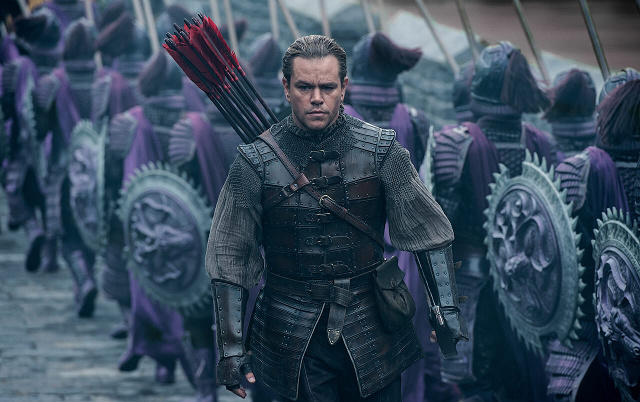 ADVERTISEMENT - CONTINUE READING BELOW
William and Tovar discover that these soldiers are protecting China from an incoming invasion—not by men, but of the aforementioned monsters. Unfortunately for the two, this is a secret that must be kept under wraps, so they are imprisoned. During the first wave of attacks that bring in more monsters than expected, William and Tovar are forced to join the fight. As the monsters climb the Wall, the Nameless Order along with the mercenaries must fight the beasts to keep China—and the world—safe.
Director Zhang Yimou is one of the most artistic visual directors out there, whether working on small intimate stories like Raise the Red Lantern and To Live, or big martial arts wuxia films like Hero. He has a really great eye for visual detail, giving rise to memorable images, eye-popping costumes, and intricate production design. The Wall itself, especially when it's blended with fighting soldiers, is quite wondrous. The Nameless Order, dressed in colorful armor that signify different military roles, look like they're out of a really cool video game. Their weapons are as eye-catching as they are dangerous-looking, and when we get a peek at the Emperor's golden palace, it's absolutely stunning. There are scenes that are just instantly memorable for its look and style, such as a sky full of lanterns as drums beat in the background, or an invasion sequence that takes place inside a tower full of stained-glass windows.
CONTINUE READING BELOW
Recommended Videos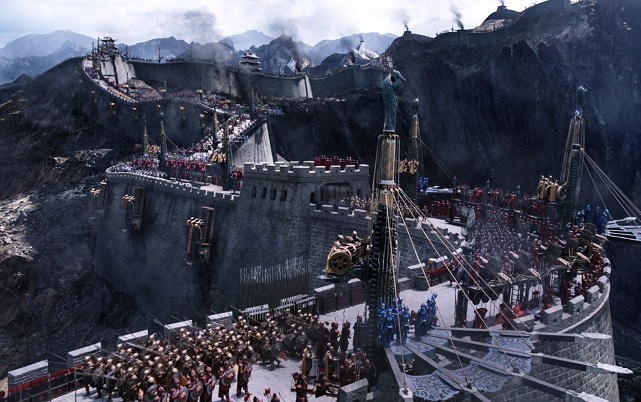 ADVERTISEMENT - CONTINUE READING BELOW
While its idea of the Great Wall being used to keep out monsters is fairly original, the film struggles with conjuring an engaging story or at the very least, something unique outside of just being a monster movie. You could have replaced its monsters with any form of alien, beast, or even zombie (the story does partly come from World War Z author Max Brooks), and it would have made little difference. The characters are all bland and the story follows the same path as many monster films. Other than its look, there's nothing that sets it apart from a typical Hollywood blockbuster. In that respect, if the filmmakers wanted to make something akin to a Hollywood epic, they didn't fail—for better and for worse.
Much of the controversy surrounds the casting of Matt Damon, and while the film makes an effort to explain why his character needed to be white, the way he's used is quite misguided, as he comes off as the incredibly unnecessary "white savior" stereotype. There's a plot of keeping the existence of alien-monsters a secret and while Damon's William is perfect as the outsider looking in, he doesn't necessarily need to be the hero everyone bows down to. William isn't even the most exciting or engaging lead. It could be the strange accent or the writing but either way, he just doesn't do much for the film.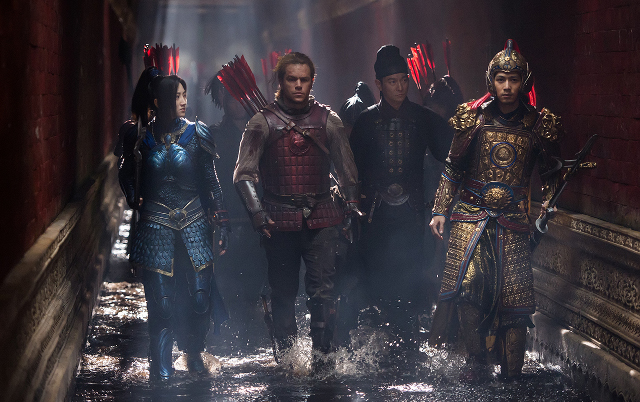 ADVERTISEMENT - CONTINUE READING BELOW
Pascal, playing the sidekick, is the best part of the film. Harkening back to his Game of Thrones days as Oberyn Martell, Pascal's Tovar is sarcastic and funny, but also incredibly badass when the time comes for it. The large Chinese cast is also hindered by lack of characterization, but Chinese superstar Andy Lau (as the war strategist), singer Luhan (as a scared soldier), and Jing Tian (as one of the Commanders of the Nameless Order) do the best they can with some shades of characterization and a few emotional scenes.
Zhang Yimou showcases his skills in creating a visually vibrant world, and there is great Chinese talent here—both behind and in front of the camera—that deserves to be seen. However, the story itself is too empty to really be as great as the wall, and having a "white savior" lead does contribute to its lackluster. The Great Wall will not break down the barriers of an epic monster movie as it very much stays within the genre's constraints and clichés, but at the very least, it looks and moves like a Hollywood blockbuster, proving that Chinese filmmakers are well-prepared to take on the cinematic world.
RATING: 2.5 out of 5 spots
The Great Wall is now showing in theaters.
---
Help us make Spot.ph better!
Take the short survey
Load More Stories