MOVIE REVIEW: Why Him? is perfectly cast but lacks originality
Bryan Cranston and James Franco go head-to-head in this smartly cast comedy.
(SPOT.ph) When Bryan Cranston ended his run as Walter White on Breaking Bad, it was fairly obvious he would rarely ever have as good a role. Even after scoring Oscar and Emmy nods for playing the likes of Hollywood screenwriter Dalton Trumbo and former U.S. President Lyndon B. Johnson respectively, nothing really compares to the complex Mr. White. Cranston's straitlaced father-figure in his latest film Why Him? isn't going to win him any awards, nor is it a very good role at that, but it's such a joy to watch him do comedy again. It has been years since Cranston entertained audiences in Malcolm in the Middle, and he flexes his perfectly timed comedic muscles in this new film.
Cranston plays Ned Fleming, an old-fashioned and hardworking 50-something, with an ever-supportive wife Barb (the always reliable Megan Mullally), an incredibly smart and go-getting daughter Stephanie (Zoey Deutch), and an ambitious, business-minded younger son Scotty (Griffin Gluck). The film begins with Ned's birthday party, with a Skype video call with his daughter. In a series of unfortunate events that includes frozen screens and rear ends, the Fleming family is introduced to Stephanie's secret boyfriend, Laird (James Franco doing his best crazy James Franco impression).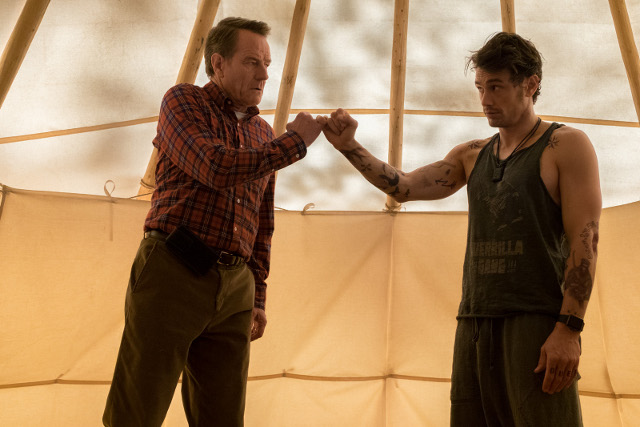 ADVERTISEMENT - CONTINUE READING BELOW
A video game company mogul and hipster-millionaire, Laird is an unfiltered and foul-mouthed free spirit. With tattoos all over his constantly bare chest, Laird isn't the goody-two-shoes Ned expects for his prim daughter. Despite all the good deeds, molecular food, and kind-heartedness that Laird shows, his f-bomb-filled talk, high-tech (and paperless) mansion, and eccentric immaturity don't click with Ned. When Laird asks Ned for his daughter's hand in marriage, it drives Ned even crazier.
The producers of Why Him? could not have found a more opposing pair of actors. While Franco gets the more fun role as Laird, Cranston is absolutely terrific as he's both emotional and hilarious without trying hard at all. Subtle facial expressions, quick reactions, and choice body movements brought Cranston the biggest laughs; he doesn't need to be saddled with crass humor when he's able to elicit laughs with just a change of facial expression. Franco, on the other hand, goes very big all the time. He tries hard to be too weird and strange, but it works because he's got charm to back it up. Laird is like the kinder, non-drug dealing version of his character from Spring Breakers, or one of his pothead characters without the pot. Both are perfectly cast for the roles they need to play, with Cranston elevating material that wouldn't translate to comedy gold when just on a script.
CONTINUE READING BELOW
Recommended Videos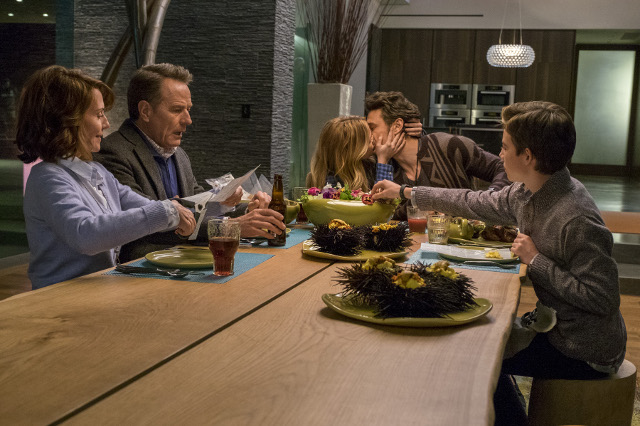 ADVERTISEMENT - CONTINUE READING BELOW
The rest of the cast fill in very nicely, too—though they're underused. Deutch is one of those actresses on the brink of a breakthrough role and while this isn't quite it, the film makes wonderful use of her natural charisma. Mullally is given a couple of different facets of one character. One is the meekish housewife, the other the boozed-up wild child; she's terrific at both, and she is given enough moments to showcase her talents. Keegan-Michael Key is given a strangely written Euro-type character with a funky beard and an even funkier accent, but Key is talented enough for it to not be completely stereotypical or dumb. The cast shines so brightly in this film, that even side-players are wonderful. When we're gifted with a quick scene that features hilarious actor-comedians like Adam DeVine, Casey Wilson, and Andrew Rannells joining in on the fun, it's magic.
While the cast is the main reason why the material makes the audience laugh, the film itself seems mishandled. The editing isn't snappy or fun; instead it draws out familiar and unimaginative scenes for far too long. One extended scene with Cranston on a Japanese toilet is only funny because of Cranston's expressions, but it goes on for an extraordinarily long amount of time with various gags. People on toilets have been done in better ways many times before, and it doesn't end there. There are even cruder scenes, a raucous party sequence, and one where someone accidentally takes drugs. Very rarely does the film feel original or new, and it would feel even less so if it weren't for the cast.
ADVERTISEMENT - CONTINUE READING BELOW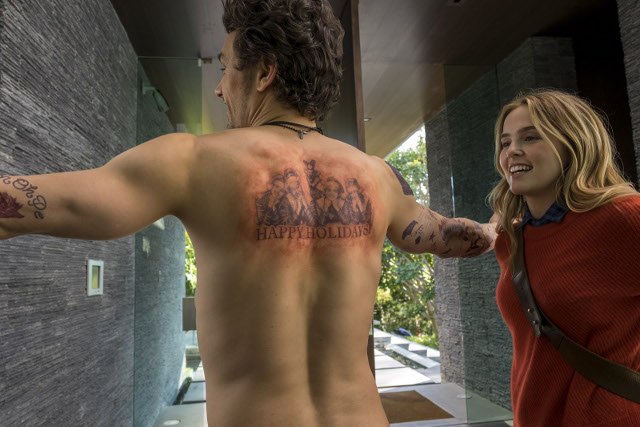 Director John Hamburg wrote all three Meet the Parents films, which is the most direct comparison to Why Him?—except Ben Stiller is played by James Franco and Robert De Niro is played by Bryan Cranston. It's basically the same stern father meets eccentric son-in-law story...except with technology and millennials. Why Him? doesn't try hard enough to add anything new to its predictable structure. It even goes too on-the-nose with its "opposites" story by having Cranston as a man with a printing business and Franco as a man whose job doesn't ever require paper. By the end, you'd likely be asking, "Why watch this film?" You have the cast to thank for getting you that far.
RATING: 2.5 out of 5 Spots
Why Him? is now showing in theaters. Photos courtesy of 20th Century Fox.
Share this story with your friends!
---
Help us make Spot.ph better!
Take the short survey
Load More Stories