10 Fresh Tunes to Listen to This February
Listen to Jamiroquai, Ed Sheeran, Reese Lansangan, Pedicab, and more!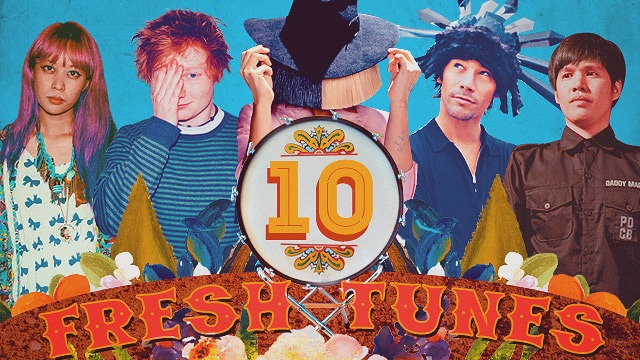 (SPOT.ph) Turn up these tunes for your next gym session or upcoming summer road trip. We've got Jamiroquai's comeback track, Ed Sheeran's dancehall-inspired hit, Missy Elliot's rap single, Sia's club banger, and BANKS's dark anthem. Our local favorites—Reese Lansangan, Pedicab, Lenses, Carlos Castaño, and Callalily—add their own unique flavors to the mix. Happy listening!
Song: "Automaton"
Artist: Jamiroquai
The title track for British band Jamiroquai's eighth studio album is bringing back the funk. The comeback piece features hypnotic disco-funk beats and futuristic electronic sounds, and it might just remind you of Daft Punk. Its cinematic sci-fi music video is also a must-see.
Fun fact: Automaton the album, Jamiroquai's first full record in seven years, is set for release by the end of March.
Song: "St. Petersburg" (Live Session)
Artist: Reese Lansangan
We love the live session recording of Reese Lansangan's "St. Petersburg." Her guitars and vocals sound sunny and soothing, but we can't help but be completely enamored by the humming of the birds in the background.
Fun fact: The video was shot in a botanical garden in Auckland, New Zealand.
Song: "Shape Of You"
Artist: Ed Sheeran
British singer-songwriter Ed Sheeran has just released the official music video for "Shape Of You." The single, with its seductive tropical flavor and sharp lyrics, isn't fading in popularity anytime soon. The more you listen to it, the more of it you want.
Fun fact: Sheeran reportedly had Rihanna in mind while he was writing the song, but he decided to keep it for his own record.
ADVERTISEMENT - CONTINUE READING BELOW
Song: "What's The Algorithm?"
Artist: Pedicab
Another science fiction-influenced track this month is Pedicab's "What's The Algorithm?" The well-loved band's electronic-rock song features kickass guitars, repetitive lyrics, and even robotic vocals (keeping in line with the theme, of course).
Fun fact: The song is from Pedicab's forthcoming vinyl LP, Remuda Triangle, which comes out on February 25.
Song: "I'm Better"
Artists: Missy Elliott feat. Lamb
Rapper Missy Elliott just dropped a fresh single, and we're hoping this means a new album will finally be in the works. In "I'm Better," her verses are slow and conversational but never lazy. Instead, she exudes confidence but never complacency.  Overall, "I'm Better" is a sophisticated, must-listen number.
CONTINUE READING BELOW
Recommended Videos
Fun fact: The last time Elliott released an album was in 2005 (The Cookbook).
Song: "Pagbisita Mo" 
Artist: Lenses
Local act Lenses made "Pagbisita Mo" really easy to love. The indie and jazz elements come together seamlessly for a feel-good tune that perfectly captures the anticipation of seeing the one you love.
Fun fact: The music video features cameos by other local musicians.
Song: "Move Your Body"
Artist: Sia
Australian songstress Sia kicked off her 2017 with the release of her fourth single. "Move Your Body" is a dance floor anthem with strong club and tropical vibes, much like "Cheap Thrills." The song shifts from slow to fast beats and can no doubt get you moving.
Fun fact: According to reports, the song was originally intended for Shakira.
Song: "WHY/WHYNOT"
Artist: Carlos Castaño
ADVERTISEMENT - CONTINUE READING BELOW
Carlos Castaño's latest release is a groovy creation with a secret backstory. While it's completely up to listeners to interpret the lyrics, there's no question as to how pleasant it feels to listen to this upbeat, indie-electro masterpiece.
Fun fact: "WHY/WHYNOT" is the first single off Castaño's upcoming fourth record, Scratch.
Song: "Trainwreck"
Artist: BANKS
BANKS provides an overall sensory experience with the release of the music video for "Trainwreck." The melody is dark, the lyrics are emotive, and the visuals are unsettling. The creepiness isn't a turn-off, though. In fact, it is the wretchedness that makes the song strangely endearing.
Fun fact: "Trainwreck" is from BANKS's latest album, The Altar.
Song: "Sa'n Ako Magsisimula?"
Artist: Callalily
Callalily's "Sa'n Ako Magsisimula?" is a radio-friendly rock ballad that sounds familiar and safe. It showcases the tried-and-tested formula of relatable lovesick lyrics and an easy-to-recall chorus.  
Fun fact: The band is composed of Kean Cipriano (vocals), Tatsi Jamnague (guitars), Aaron Ricafrente (bass), and Lemuel Belaro (drums).
Share this story with your friends!
---
Help us make Spot.ph better!
Take the short survey
Load More Stories