MOVIE REVIEW: Andrew Garfield gives a career-best performance in Hacksaw Ridge
Mel Gibson returns to filmmaking with a better-than-ever Andrew Garfield.
(SPOT.ph) "With the world so set on tearing itself apart, it don't seem like such a bad thing to me to want to put a little bit of it back together." These are the words spoken by the lead character of Hacksaw Ridge, a biopic about a pacifist who signs up to be a combat medic in World War II. It's with this story that Mel Gibson, returning to the director's chair after 10 years, pulls out some of the most beautiful work he's ever done. Gibson hasn't had the smoothest time in the past decade, with his public image marred by controversy, so having Hacksaw Ridge as his big comeback seemed like the right choice. 
In the wake of the Pearl Harbor attacks, young men sign up to join the U.S. army to help fight the war in Japan. One of them is Desmond Doss (an outstanding Andrew Garfield), a religious and self-proclaimed pacifist who strictly adheres to the "Thou shall not kill" commandment,  but with a natural talent of being a medic. We get several flashbacks detailing how Desmond became a pacifist (through some traumatic experiences growing up), as well as how he found his love for helping the injured. Desmond marches out to army training, but is ridiculed and punished by his fellow soldiers for not wanting to fire, let alone hold a gun.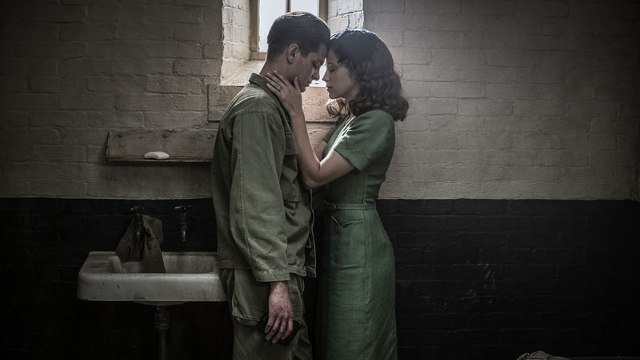 ADVERTISEMENT - CONTINUE READING BELOW
He and his crew are eventually shipped off to Japan, to a place they call "hacksaw ridge," a 400-foot cliffside that American soldiers have to climb to reach the battlefield. Desmond still won't fire a gun but is put in the thick of the action, helping the wounded and bringing as much as he can to safety. With a climbing body count and not much place to hide, Desmond must prove that his faith is as strong as any gun or bomb out there.
Gibson and his team show great talent behind the camera, with operatic battle sequences that are both beautiful and brutal. Kudos should go to cinematographer Simon Duggan, who makes what you've probably already seen in other war films look unique and stunning. Gibson blends his action bravado in films like Braveheart with the religious imagery he showcased in Passion of the Christ very well, with sequences and shots featuring Doss in religious imagery. Amidst all the war-torn imagery and flying limbs, Gibson still manages to portray really breathtaking images. They may not be subtle and frankly, this whole entire film isn't subtle at all, but it somehow works.
CONTINUE READING BELOW
Recommended Videos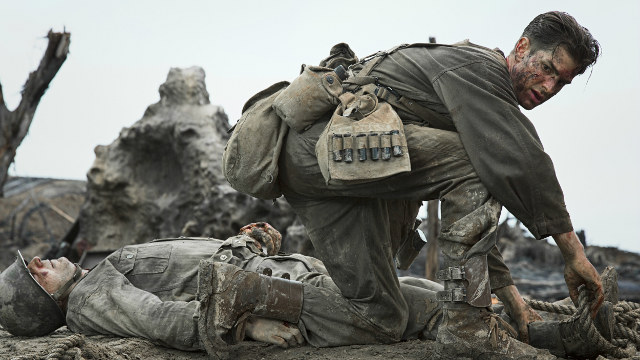 ADVERTISEMENT - CONTINUE READING BELOW
Doss is a religious man, but he is never written as better or more righteous than others. This is simply a true story about a man who didn't want to fight. He is heroic, not because of his values, but because of the lives he saved. The ever-reliable Andrew Garfield is magnificent in a role that's physically demanding as it is spiritually. Along with Silence, another film where he plays a religious man tortured by the world around him, Garfield really has raised his own already-high bar.
The (mostly Aussie) ensemble cast is generally great, including Hugo Weaving as Desmond's drunk ex-military dad who lost all his friends, Teresa Palmer as Desmond's love back home, Rachel Griffiths as Desmond's supportive mother, Sam Worthington as a no-funny-business army man, and a surprising Vince Vaughn as Desmond's witty but stern sergeant. It's worth noting that the latter at times feels like genius casting, and then in other scenes looks completely out of place.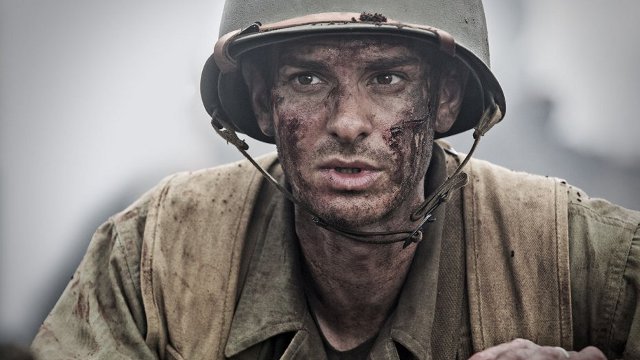 ADVERTISEMENT - CONTINUE READING BELOW
The film likes to think of itself as anti-war, but it often still relishes in the brutality of it with explosive body parts and expertly crafted war scenery. It also writes the Japanese as if they were monsters or zombies, often popping out of the shadows and are portrayed as murderous and traitorous. "No one can survive that," a newbie soldier says as bombs rain on the Japanese soldiers. "They can," a survivor of a previous battle mutters. In fact, the Japanese are portrayed so negatively that triumphant music is played during a scene where the Americans get the upper hand.
Structure-wise, Hacksaw Ridge still works as a typical war movie, but with a central figure who never shoots a gun—which really is the only thing that sets this film apart. However, with Garfield's beautiful performance, as well as expert direction, the film often feels like it's on the level of Saving Private Ryan. Even with an extremly heavy-handed score and problematic writing, it's an engaging, well-made experience that puts Gibson back into the limelight...controversies and all.
RATING: 3.5 out of 5 spots
Hacksaw Ridge is now showing in theaters. Photos courtesy of Columbia Pictures.
Share this story with your friends!
---
Help us make Spot.ph better!
Take the short survey
Load More Stories