10 Offbeat Movie Love Stories That We Can All Relate To
Fall in love in the most unique way with these unorthodox love stories.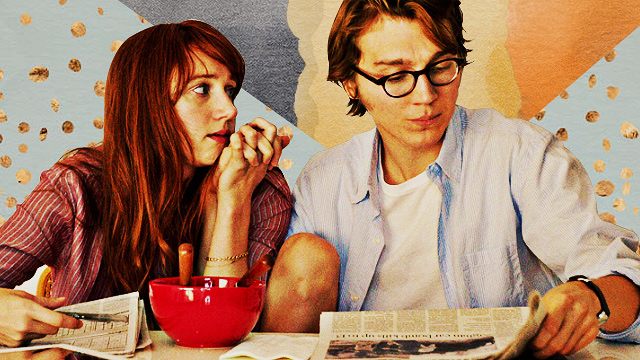 (SPOT.ph) Not every romantic movie starts with a meet-cute and ends with a happily ever after. Sometimes, the best romance films avoid the typical clichés, while still remaining relatable and swoon-worthy. Films like 500 Days of Summer or Eternal Sunshine of the Spotless Mind employ unconventional and unorthodox storytelling that resonates with viewers. Then there are also movies like Scott Pilgrim vs. the World, Amelie, Juno, Punch Drunk Love, Chungking Express, and even La La Land that tread along the same unconventional path.
We round up 10 more (and perhaps, lesser-known) unique love stories that will make you laugh, cry, and fall in love.
The Lobster (2015)
Directed by: Yorgos Lanthimos
Imagine a world where single people are required by law to find a partner they can call their true love within 45 days. If they fail, they are turned into any animal of the person's choosing. While this is all happening, there's also rebel faction who have rejected romance completely and avoided their animal fate. We follow Colin Farrell as an unkempt bachelor who tries to find love in this imaginative dystopian world. This dark, bizarre, and dryly funny film won't be everyone's cup of tea, but for those already intrigued by this strange world, you're in for a treat.
Her (2013)
Directed by: Spike Jonze
The most basic way to understand Her is to ask the question, "What if you fell in love with Siri?" Theodore Twombly (a terrific Joaquin Phoenix) falls in love with an operating system AI named Samantha (Scarlett Johansson, who makes you swoon with just the cool sound of her voice). On a deeper note, it's a heartbreaking little film that deals with the perils of humanity, loneliness, and modern romance. 
ADVERTISEMENT - CONTINUE READING BELOW
The Handmaiden (2016)
Director: Park Chan-Wook
Con-men, pickpockets, heiresses, asylums, an octopus, and...a collector of antique erotica. What doesn't Park Chan-Wook's provocative thriller have? Amid outrageously daring sequences is a surprisingly beautiful romance between two female characters. Dripping in gorgeous, grandiose production design and costumes that help tell this twisted tale, The Handmaiden is both amazing to look at and to experience, as two lonely characters find love and take the world by storm hand-in-hand (plus other body parts).
Safety Not Guaranteed (2012)
Director: Colin Trevorrow
Most people would be confused if they read an ad in the newspaper that said "Wanted: Somebody to go back in time with me. This is not a joke. I have only done this once before." This is the bizarre story of Safety Not Guaranteed, where a man (Mark Duplass) claims he can time-travel, and a writer (New Girl's Jake Johnson) investigates his story alongside his intern (Aubrey Plaza). The intern falls for the weird man who thinks he can time-travel, and a sweet and quirky love story is born.
CONTINUE READING BELOW
Recommended Videos
Ang Manananggal Sa Unit 23B (2016)
Director: Prime Cruz
More Let the Right One In than Twilight, this film tackles the monster-falls-in-love-with-human story but with a distinctly Filipino point of view. Ryza Cenon plays the titular manananggal (named Jewel) who lures drunk men to her apartment and seduces them before killing them. When a kind and sweet guy moves in next door, Jewel falls for him and must curb her basic manananggal needs. This film is beautifully made, features an incredible lead performance from Cenon, and houses a very clever romance at the center of it.
ADVERTISEMENT - CONTINUE READING BELOW
Lars and the Real Girl (2007)
Director: Craig Gillespie
Awkward in all the best ways, Lars and the Real Girl is about a reclusive man named Lars (Ryan Gosling), who believes a sex doll is his girlfriend. He soon forms a real romantic (but ironically not sexual) relationship with "Bianca." Everyone around him is concerned about his mental health so they treat Bianca like a real person; soon, Lars finds himself interacting with more and more people. Led with an excellent performance by Gosling, the film is a pure and innocent look at love, striking a wonderful balance of comedy and charming sincerity.
Ruby Sparks (2009)
Director: Jonathan Dayton and Valerie Faris
If you're looking for unconventional love stories, look no further than Zoe Kazan's filmography in the late 2000s and early 2010s. Playing girls more quirky than Zooey Deschanel, Kazan cornered the market on offbeat romances, beginning with Ruby Sparks. An author (Paul Dano) in the middle of writing his novel invents a woman who comes to life. This Pygmalion for the modern age is both touching and tragic, bending rom-com conventions to fit its strange set-up. (While you're at it, check out other Kazan-led films in the same field such as What If, In Your Eyes, and The Pretty One.)
Maggie's Plan (2015)
Director: Rebecca Miller
Maggie's Plan is a bit complicated to describe, but at its core, it's about Maggie (Greta Gerwig), a single woman who suddenly wants to have a child. When she finds a sperm donor in her friend (Travis Fimmel), she falls in love with John, a married man (Ethan Hawke). Along the way, she also tries to get John and his ex-wife (Julianne Moore) back together. There are several love stories at play here, making for a smart and complex love story that feels all sorts of real and relatable.
ADVERTISEMENT - CONTINUE READING BELOW
Obvious Child (2014)
Director: Gillian Robespierre
If Juno found love in an accidental teenage pregnancy, Obvious Child finds it in an abortion. A comedian named Donna (Jenny Slate), who is more confident onstage than in her real life, finds herself pregnant after a mistaken one-night-stand with a guy named Max (Jake Lacy). The only date she can have an abortion is, of course, on Valentine's Day. When Max tracks her down, a complicated and awkward love story blossoms.
Celeste and Jesse Forever (2012)
Director: Lee Toland Krieger
Unlike many romance films that follows a new and blossoming love story, Celeste and Jesse Forever begins where it ends. After the long-term relationship of Celeste (Rashida Jones) and Jesse (Andy Samberg) falls apart, the two promise to stay friends. Despite trying very hard to navigate their newly single lives, they still find comfort in their complicated friendship. Soon, lines are blurred and the film gets all too painfully realistic.
Share this story with your friends!
---
Help us make Spot.ph better!
Take the short survey
Load More Stories