10 Badass Women in Filipino Movies
You don't have to wait till Women's Month to celebrate girl power.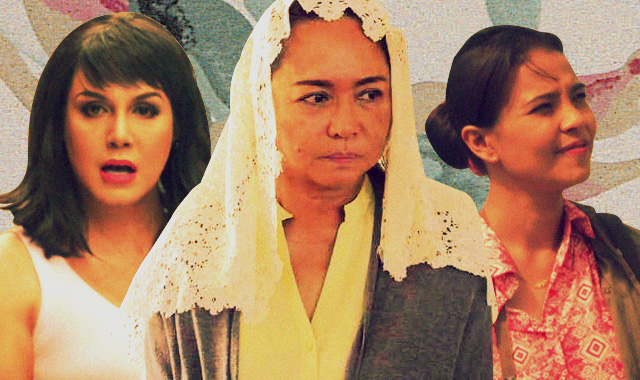 (SPOT.ph) Being "badass" could mean many things. On the surface, it refers to butt-kicking heroines along the same lines of Uma Thurman in Kill Bill, Carrie Fisher in Star Wars, or Scarlett Johansson in the Marvel Universe. At the same time, being a kick-ass female character doesn't necessarily have to be taken literally.
Female characters don't have to wield weapons or defeat the bad guys to be fearless, empowering, and inspiring. Here, we list 10 Filipino movies that feature women who are brave, independent, and best of all, wonderfully real and complex.
Trisha in Die Beautiful (2016)
Played by: Paolo Ballesteros
Patrick's story—like many trans men and women—begins with him as a young boy struggling to be accepted by his homophobic father. She leaves home, gives herself a new name, and struts her way down runways to fulfill her pageant dreams. Trisha's extraordinary life is constantly plagued by hardships, but it's inspiring to watch her pick herself up every time. Despite everything she goes through, she's always ready to give everyone the love and acceptance she yearns for herself. Trisha is far from perfect, but what makes her so badass is her strong-willed determination to live her life on her own terms—even until the very end.
Mariel in Madrasta (1996)
Played by: Sharon Cuneta
This 1996 film debunks the evil stepmom stereotype with a story that explores the complexities of marriage and motherhood. In this movie, Mariel's loving and nurturing personality is no match for her step-husband's kids; try as she might, she just can't seem to fit in with the family, much less connect with them. A few years pass, and she's stilll under the first wife's shadow. Mariel's ultimate badass moment is when she finally learns to choose herself before she can love anyone else.
ADVERTISEMENT - CONTINUE READING BELOW
Stella in Sister Stella L. (1984)
Played by: Vilma Santos
It's only natural that one of Vilma Santos' most memorable roles is set in one of the darkest political climates in our history. In this film, she plays Sister Stella, a politically indifferent nun who gradually learns of the government's injustice and oppression. She then bravely takes to the streets to fight for the poor and working class. Stella's courageous awakening to political consciousness is an important message that goes beyond her gender and still needs to be heard today.
Lorna in Lorna (2014)
Played by: Shamaine Buencamino
CONTINUE READING BELOW
Recommended Videos
Despite her many failed relationships, 60-year-old Lorna is still desperately looking for true love. Her quest is filled with hilarious antics, but look beyond the laughs and you'll find a woman whose loneliness and vulnerability will break your heart. Lorna is simply afraid of growing old alone and yet, the film never judges nor belittles her for her choices. Instead, you'll find yourself rooting for Lorna every awkward step of the way. The film is a surprisingly poignant celebration of the journey to finding love—no matter how strange, ridiculous, or swoon-worthy it can be.
Josie in Anak (2000)
Played by: Vilma Santos
Heart-tugging stories about OFWs are nothing new to Filipino cinema, but Anak puts the spotlight on the sacrifices they make to give their kids a better life. After spending many years in Hong Kong as a domestic helper, Josie returns home and realizes she is a stranger to her own family. The film doesn't shy away from portraying Josie's constant struggles, whether it be with abusive employers or a teen daughter filled with anger and resentment at her absence. Josie's strength, endurance, and sheer love for her children are a hard-hitting combo that will resonate with audiences long after the credits roll.
ADVERTISEMENT - CONTINUE READING BELOW
Insiang in Insiang (1976)
Played by: Hilda Koronel
If you've never seen Lino Brocka's 1976 masterpiece, think of it like a Gone Girl or Basic Instinct before its time. Insiang starts off timid, innocent, and pinned under the abusive thumb of her mother. Her sexuality is constantly used against her: She's forbidden from looking at men on the street and when she asks for new slippers, she is immediately accused of "nagpapaganda." Eventually, Insiang learns to wield her sexuality like a weapon, taking her hopeless situation into her own hands and exacting revenge on the people who have tormented her for years.
Rosario in Rosario (2010)
Played by: Jennylyn Mercado
Set in the '20s, Jennylyn Mercado plays a liberal woman ahead of her time. Rosario is a woman unafraid to go after who and what she wants, no matter the societal conventions or the consequences that would follow. Her turbulent life is marked with scandalous relationships, whether it be with older men or even her cousin's boyfriend. Despite being caged by moral restrictions constantly placed upon women (sadly, even to this day), Rosario freely embraces her sexuality and all her choices—no matter how poor or ill-fated—which are made purely for herself.
Marilou in Barber's Tales (2014)
Played by: Eugene Domingo
Marilou's story begins in the sidelines as a subservient spouse often relegated to house work. Things change when her husband suddenly dies and she takes over his barbershop in the small, rural town. Marilou's narrative is told with a bigger backdrop: Martial Law, which gives her a chance to find her independence. More than just Marilou's personal story, Barber's Tales is also a valuable tale of sisterhood, depicting genuinely touching female friendships, as well as women's resilience against all patriarchal odds.
ADVERTISEMENT - CONTINUE READING BELOW
Cielo in Sakaling Hindi Makarating (2016)
Played by: Alessandra de Rossi
Sakaling Hindi Makarating is unafraid to portray breakups in their most painful and heartbreaking moments. We see Cielo wallowing in misery, isolating herself from the world, and reliving memories from an 11-year-relationship that crumbled before her eyes. Eager for a distraction, she sets off on a trip around the Philippines, which inadvertently becomes a journey of self-discovery and personal growth. Most importantly, Cielo learns to define herself beyond her decade-long relationship.
Horacia in Ang Babaeng Humayo (2016)
Played by: Charo Santos-Concio
Lav Diaz's latest film centers on Horacia, a school teacher who is wrongfully imprisoned for 30 years. Upon her release, she decides to exact revenge on the man who framed her. It's fascinating to watch her hide in plain sight, take on a new identity, and plan her redemption, but the film thankfully goes beyond her vengeful anger. At her very core, Horacia is kind-hearted, as seen in the affecting friendships she initially forges for her own means. Humayo is a story about a woman who willfully loses her humanity in order to regain some control over her life.
Share this story with your friends!
---
Help us make Spot.ph better!
Take the short survey
Load More Stories