MOVIE REVIEW: Beauty and the Beast will satisfy fans of the original film
Disney revives its tale as old as time starring Emma Watson, with varying levels of success.
(SPOT.ph) The first bars of the score are sure to send shivers down the spine of anyone who's ever loved Disney's 1991 film. Alan Menken, Howard Ashman and their teams created elegant, captivating music that continues to be among Disney's best. In the current boom of reboots and reimaginations, this tale as old as time seemed like the easiest pick. Celebrating its 25th anniversary in 2016, the animated Beauty & the Beast is a straight-up classic, so the pressure is on for Disney to avoid messing up one of their biggest successes. With its lovable cast, nostalgic feel, and absolutely stunning production and costume design, the 2017 version of Beauty and the Beast dances away to avoid cataclysmic failure.
Audiences probably already know the story and while the 2017 version does flesh out some backstories such as Belle's mother, Gaston's history, and the Beast's family, this new film rarely strays off the already-known path. Obviously different from almost all the people in her quaint, provincial town, Belle (Emma Watson) dreams of something bigger. She helps her inventor-father (Kevin Kline) and dreams about adventure and romance, but doesn't think she'll find it in the small town.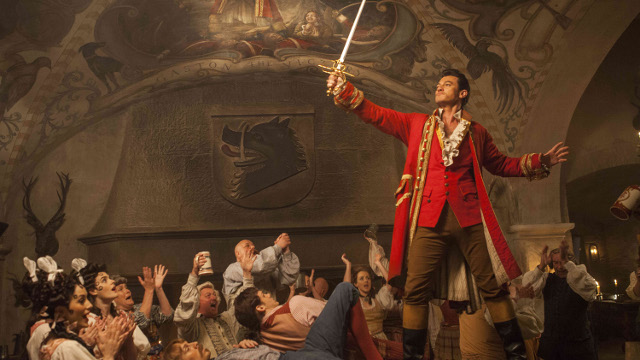 ADVERTISEMENT - CONTINUE READING BELOW
Clearly, the music is hard to beat. While the new film slightly tweaks the songs from the original ("Gaston" gets a whole bunch of new lyrics, while the cadence of "Belle" is changed for a bit of musical creativity), they mostly stay faithful. The new songs aren't the most ear-catching, though, and they can be quickly forgotten for the classic songs we already know. It's an absolute joy to hear these songs again but done in an even grander way, with a larger orchestra, more voices, and more showmanship. In fact, the whole film seems to operate on that thinking—take the original animated film but make it bigger and grander.
CONTINUE READING BELOW
Recommended Videos
The production design and the costumes are exquisite. There is so much attention to detail in the sets which were mostly built to avoid as much green screen as possible, and the costumes are cute versions of the animated get-ups. Director Bill Condon doesn't exactly shoot them in the best way (it's most evident in the opening number "Belle", where what seems like a drone shot captures absolutely no gorgeousness in the set and costumes), but when the camera catches it, it's absolutely stunning.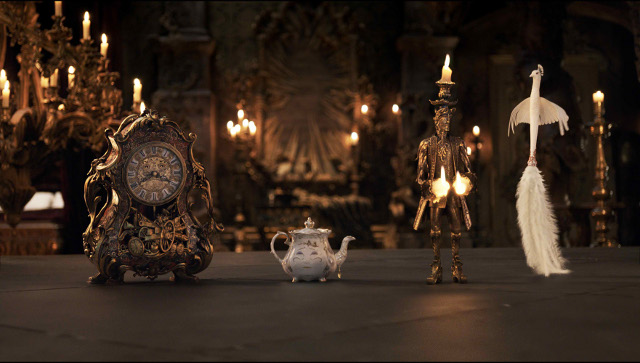 ADVERTISEMENT - CONTINUE READING BELOW
The film's most impressive and absolutely best sequence is "Be Our Guest,"—a mostly-CGI sequence where the kitchen cutlery perform a showstopping dinner for Belle. It's stunning and magical, and you'll find yourself smiling and clapping along. On the opposite end, the supposedly key scene of Belle and Beast dancing in the memorable yellow gown lacks the grandness of the animated film, making it a disappointing number despite Emma Thompson's (Mrs. Potts) Lansbury-like vocals.
Luckily, the good outweighs the disappointing, with the "Gaston" and "Mob Song" numbers being especially fantastic. Speaking of Gaston-centric numbers, Luke Evans steals the show. He's an incredible singer and wonderfully captures the essence of Gaston. Josh Gad as Gaston's sidekick LeFou is perfectly cast as well. The voice cast also shines, with Ewan McGregor overcoming a ridiculous French accent by just being gosh-darn charming as Lumiere, Thompson having just the right voice to be motherly and protective, then you have Ian McKellen and Gugu Mbatha-Raw doing equally great work. Also in the awesome voice cast are Stanley Tucci and Audra McDonald, with the latter's voice being so perfect, it's spine-chilling in the best way. Even their character designs are eye-catching, so much so that the scenes that elicit some of the most heart-tugging emotions feature the objects, not the people.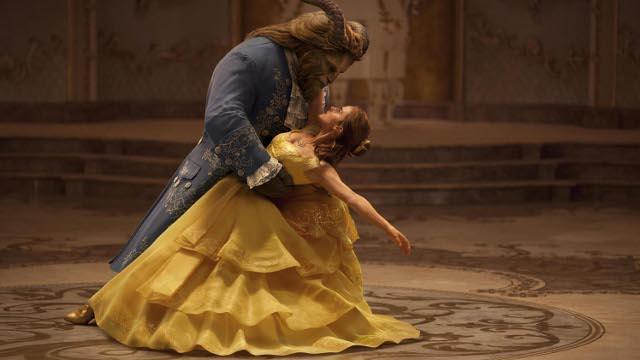 ADVERTISEMENT - CONTINUE READING BELOW
Of course, the toughest act was for leads Emma Watson and Dan Stevens. While Stevens gets to hide behind some spotty CGI as the Beast (he looks amazing in some, and then in some scenes looks flat and unfinished), he does give a powerful vocal performance. Watson, on the other hand, has little to hide behind. She's often acting alone, with no one to trade feelings with. She certainly looks the part—looking intelligent, beautiful, and confident, but she doesn't have the strongest singing voice. When she acts with things that aren't there, it's not her best work. Watson's best known for playing another famous bookworm in Hermione, and she did excellent work there, as well as in post-Potter roles like Bling Ring and The Perks of Being a Wallflower, but her most high-profile role to date is also her most challenging.
With the help of Perks author Stephen Chbosky, the screenplay is given some jokes and a bit of liveliness, giving Beauty and the Beast a bit more fun and silliness. Luckily, this new version transforms the original to something modern and fresh, while retaining plenty of the old-school magic that made it such a favorite. At its worst, Beauty and the Beast can be an overly garish, emotionally lacking take on a Disney classic, but thankfully there is little of that. And at its best, it is an enchantingly gorgeous retelling of an animated classic with the same wonderful music that makes you want to sing.
RATING: 3.5 out of 5 spots
ADVERTISEMENT - CONTINUE READING BELOW
Beauty and the Beast is out in theaters March 16. Photos courtesy of Walt Disney Pictures.
Share this story with your friends!
---
Help us make Spot.ph better!
Take the short survey
Load More Stories