10 Movie Adaptations We Can't Wait to See (2017 Edition)
There's so much in store for movie fans this year!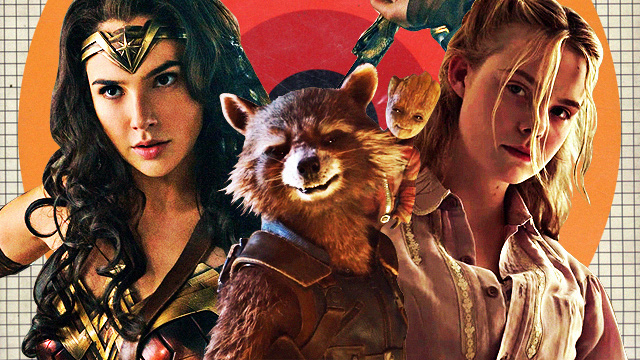 (SPOT.ph) For better (Civil War, The Jungle Book, and Fantastic Beasts) or for worse (Suicide Squad, Assassin's Creed, and Inferno), the movie adaptation trend is here to stay. When done right, it's a nostalgic and visual treat to see your favorite stories come to life on the silver screen. There are plenty of new movies this 2017, but we set our gazes on just some of the exciting adaptations headed our way.
From new superhero flicks to intriguing novels, these 10 adaptations will have any movie fan pumped for 2017 and beyond.
This list only includes films with a tentative release date from mid-2017 onwards.
The Circle
Release date: April 2017
Emma Watson ditches her yellow ball gown for a thrilling adaptation of Dave Eggers' 2013 novel. She plays Mae, a young woman who lands a job at a renowned but mysterious tech company led by Tom Hanks' character. She joins a groundbreaking experiment that pushes the boundaries of ethics and privacy, which begins to affect everyone around her. The cast also includes Bill Paxton, Patton Oswalt, Star Wars: The Force Awakens' John Boyega, and Doctor Who's Karen Gillan.
Guardians of the Galaxy Vol. 2
Release date: May 2017
Ready your headphones for more playlist-worthy music with GotG's Awesome Mixtape #2. Set a few months after the events of the first film, the colorful gang of misfits returns to unravel the mystery behind Peter Quill's (Chris Pratt) parentage. Zoe Saldana, Dave Bautista, Vin Diesel, and Bradley Cooper all reprise their roles with director James Gunn back at the helm.
ADVERTISEMENT - CONTINUE READING BELOW
The Beguiled
Release date: June 2017
We haven't seen Oscar winner Sofia Coppola's impeccable aesthetic since 2013's Bling Ring. This time, she ventures into a period novel by Thomas Cullinan to tell the story of an isolated women's boarding school in 1864 Virginia. In the creepy trailer, we see Nicole Kidman as the headmistress of the school, where Kirsten Dunst plays a teacher and Elle Fanning is one of the students. The arrival of a wounded soldier (Colin Farrell) kicks off a juicy tale of seduction, jealousy, and betrayal.
Wonder Woman
Release date: June 2017
To say DC has had a rough time in the movie landscape would be an understatement, but the standalone Wonder Woman film could actually turn things around. Before Justice League hits theaters this 2017, Gal Gadot's solo movie explores Diana Prince's origin story from the island of Themyscira to her decision to leave home and fight in World War I. The movie also stars Chris Pine, Connie Nielsen, and Robin Wright.
CONTINUE READING BELOW
Recommended Videos
The Dark Tower
Release date: July 2017
Much to the delight of fans, Stephen King's popular saga is finally coming to life, although it will reportedly be a "continuation" of the books rather than a straight-up adaptation. It boasts some serious star power, including Idris Elba as gunslinger Roland Deschain, Matthew McConaughey as the vicious antagonist Walter Padick, and Tom Taylor as Roland's son-like figure Jake Chambers. Expect stunning visual effects as the film explores the Mid-World, an other-wordly dimension that's on the brink of extinction, and the "Dark Tower," which could be the key to saving them all.
ADVERTISEMENT - CONTINUE READING BELOW
It
Release date: September 2017
The Dark Tower isn't the only Stephen King novel headed to the big screen. Prepare to be terrified of clowns all over again with the return of Pennywise (now played by Bill Skarsgard) as he terrorizes children (including Stranger Things star Finn Wolfhard) in a small town. The story and screenplay are written by King, and the promising film is helmed by Andres Muschietti (who helmed the 2013 horror, Mama).
Murder on the Orient Express
Release date: November 2017
The last time audiences saw Agatha Christie's 1934 classic in cinemas, it was in 1974. This time, Kenneth Branagh is doing double-duty by directing the new adaptation and playing the central detective of the story, Hercule Poirot. The supporting cast is pretty amazing, too as it features Johnny Depp, Daisy Ridley, Michelle Pfeiffer, Penelope Cruz, Willem Dafoe, and Judi Dench.
The Little Mermaid
Release date: TBA 2017
Be warned: This is nothing like the redhead mermaid you grew up watching. In fact, it's nothing like the animated Disney film we all know. Instead, this live-action version is based on the Hans Christian Andersen 1837 fairytale. A young girl (Loreto Peralta) and her older brother (Narnia's William Mosely) travel to a small-town circus to find a beautiful woman believed to be a mermaid (Poppy Drayton).
Annihilation
Release date: TBA 2017
Director Alex Garland did some phenomenal work in 2014's Ex Machina, so it's pretty easy to see why movie fans are excited for his next project. Based on a book by Jeff Vandermeer, the sci-fi thriller is about a biologist (Natalie Portman) who joins an environmental expedition to search for her missing husband. What follows is a trip into a bizarre territory where everything is unlike what it seems. Garland recruits Ex Machina star Oscar Isaac for the film, as well as Jane the Virgin star Gina Rodriguez, Tessa Thompson, and Jennifer Jason Leigh.
ADVERTISEMENT - CONTINUE READING BELOW
Smaller and Smaller Circles
Release date: TBA 2017
Said to be the first full-length Filipino crime novel, Smaller and Smaller Circles revolves around a serial killer preying on young children and leaving their defiled bodies in landfills. This gruesome and intriguing tale is adapted from the best-selling and internationally published novel of F.H. Batacan and stars Sid Lucero, TJ Trinidad, Bembol Roco, Ricky Davao, Christopher De Leon, and more. It's even more exciting if you remember that it's from TBA, the production company behind many acclaimed indie films today.
Share this story with your friends!
---
Help us make Spot.ph better!
Take the short survey
Load More Stories