Top 10 Superhero Movies of All Time
It's a bird! It's a plane! No, it's a great superhero movie!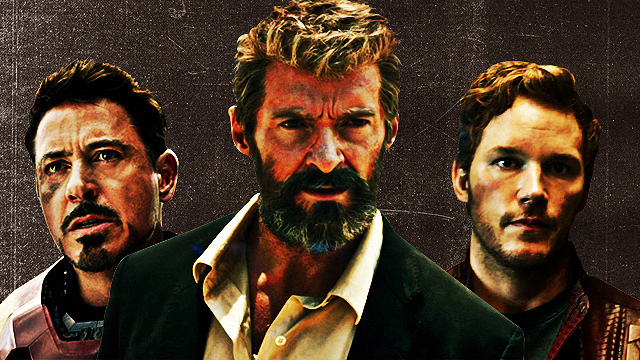 (SPOT.ph) The world is obsessed with superheroes. Whether it's the cool powers, awesome costumes, bone-crunching action, or the great characterization, tons of people love seeing their favorite comic book heroes come to life on the big screen. With so many superhero films from the past decade or so, there have been plenty of decent ones, a handful of cringe-worthy ones, and some that stand out from the pack.
Here, we compile a handy list of the best of the best. These 10 smashing films are the best examples of what makes a superhero movie spectacular.
This list only considers comic book adaptations. We still love you, The Incredibles.
10. Iron Man (2008)
Directed by: Jon Favreau
Marvel took a huge risk by launching the Marvel Cinematic Universe with a movie about a somewhat unpopular comic book hero-slash-conceited playboy billionaire. They then cast Robert Downey Jr.—an actor with infamous real-life issues who, at the time, had never really been in a "blockbuster" film nor really shown he was a box-office draw—as Tony Stark. Jon Favreau's film was a fresh take on the superhero genre; this wasn't Superman or Batman (whom we've seen in many iterations). It was about an imperfect smart-ass who cracked jokes and charmed audiences as he saved the world. To this day, Iron Man continues to be a staple in the MCU, despite a few stumbles in his solo films.
9. Deadpool (2016)
Directed by: Tim Miller
Deadpool was the little film that could. After spending years in development hell (not to mention a silly incarnation in X-Men Origins: Wolverine), Ryan Reynolds finally managed to convince Marvel to make this movie. Deadpool, a wisecracking comic book character known for his colorful antics and his tendency to "break the fourth wall," seemed like it would be a tough adaptation. Fortunately, this gloriously R-rated adventure succeeded. Hilarious, whip-smart, and self-deprecating, but also foul-mouthed and violent, Deadpool turned the superhero genre on its head.
ADVERTISEMENT - CONTINUE READING BELOW
8. X-Men: Days of Future Past (2014)
Directed by: Bryan Singer
After taking a decade-long break, Bryan Singer returned to the universe that he helped launch with the best X-Men-focused film. The franchise had lost its way with the third X-Men film, and the uninteresting Wolverine sequels didn't help. Luckily, the excellent prequel X-Men: First Class introduced us to a young Professor X (James McAvoy), Magneto (Michael Fassbender), and Mystique (Jennifer Lawrence). Its sequel, Days of Future Past impressively managed to merge two timelines and two major ensemble casts for an epic face-off. Just seeing McAvoy and Stewart share the screen is goosebump-worthy but all in all, it's a beautifully made film with an intelligent script and the most memorable Quicksilver (Evan Peters) scene in history.
CONTINUE READING BELOW
Recommended Videos
7. Captain America: Civil War (2016)
Directed by: Joe and Anthony Russo
What felt like a satisfying season finale of Marvel's well-constructed franchise, Captain America: Civil War was a culmination of eight years of intricate world-building. This wasn't just Team Iron Man (Robert Downey Jr.) vs. Team Captain America (Chris Evans), nor just a stellar introduction for Black Panther (Chadwick Boseman) and Spider-Man (Tom Holland). It also brought together most of the storylines from the previous films, tackling the effects of destroyed cities on governance and everyday people, as well as delving into the characters' complex experiences. The airport sequence stands out as one of the best superhero fight scenes ever, and major twists in the latter half make Civil War one of the best of the entire MCU.
ADVERTISEMENT - CONTINUE READING BELOW
6. Guardians of the Galaxy (2014)
Directed by: James Gunn
When Marvel announced that they were doing a film about a band of misfits that included an outlaw, a green-skinned alien, a talking raccoon, and an anthropomorphic tree, eyebrows were raised. How would this even work? Surprising just about everyone, Guardians of the Galaxy is probably the studio's best "origin story" effort yet. With a badass cast (Chris Pratt, Zoe Saldana, Bradley Cooper, Vin Diesel, and Batista among others), funny banter amongst its lovable heroes, a fresh story, a very unique look, and a blast of a soundtrack, Guardians had us hooked on so many good feelings.
5. Captain America: The Winter Soldier (2014)
Directed by: Joe and Anthony Russo
Captain America (Chris Evans) isn't exactly everyone's cup of tea, especially in an era of dark superhero films featuring quippy playboys and emo batmen. How can you make the Captain interesting? Strip him of his more ridiculous elements, build his narrative around new and uncharted territory, and create a proper action movie that's exhilarating, terrifically filmed, and features incredible fight sequences. The film didn't just introduce the Winter Soldier (Sebastian Stan) into the mix; it was also an expertly crafted political thriller with a solid, insightful exploration of espionage, heroism, and the government.
4. Logan (2017)
Directed by: James Mangold
Wolverine has had a rocky cinematic road. While his solo films haven't been the greatest, the character itself is one of the most well-written. It's also an added bonus that Hugh Jackman still embodied the clawed hero so well after almost 17 years. It was only fitting that Jackman's final stand as Wolverine would be the best of the franchise. Set at a time where he's older and losing some of his regenerative powers, Logan does away with the fancy costumes and goes for a more story-driven tale about an old man trying to get by. More western than straight-up action, it's an engaging, poignant, and touching send-off to everyone's favorite mutant.
ADVERTISEMENT - CONTINUE READING BELOW
3. Spider-Man 2 (2004)
Directed by: Sam Raimi
Arguably the best film to center on the Webslinger so far, Spider-Man 2 was a near-perfect superhero film. Coming after the successful first iteration of our friendly neighborhood Spider-Man, the sequel continued the story of Peter Parker (Tobey Maguire) as he faces off with a more complex supervillain in Doctor Octopus (Alfred Molina) and figures out his relationships with Mary Jane Watson (Kirsten Dunst) and his best friend, Harry Osborn (James Franco). The runaway train scene still remains one of the best fight sequences in superhero history. More than that, the film blended human emotion with stunning visual effects and showed everyone how to make a sequel that not only built on the previous film, but was actually even better.
2. The Avengers (2012)
Directed by: Joss Whedon
At the time, this was the biggest event in superhero movie history. After carefully crafting the MCU with Iron Man, Iron Man 2, The Incredible Hulk (sort of), Thor, and Captain America: The First Avenger, this would be the first film that would bring them all together. What could've been an incredible mess became a high-octane and entertaining blockbuster. Not only does Joss Whedon manage to give everyone their time in the spotlight and create an actually engaging story, the film embodies the comic book movie. It's action-packed, tragic, powerful, smartly written, and also really funny. It's safe to say that The Avengers nailed the superhero mash-up better than anyone else.
1. The Dark Knight (2008)
ADVERTISEMENT - CONTINUE READING BELOW
Directed by: Christopher Nolan
Christopher Nolan reinvented the cinematic Batman with Batman Begins, and then perfected it in the follow-up, The Dark Knight. In his unforgettable version, the Batman universe is a gritty, brutal, and dark place, and Batman (Christian Bale) is a growly vigilante with personal issues. In The Dark Knight, the Caped Crusader faces off against The Joker (an incredible and iconic Academy Award-winning role for the late Heath Ledger) in a crime saga as good as the mobster and crime films of the past. Not only is The Dark Knight the best example of a great superhero film, it's one of the best examples of a great film amongst all genres, period.
Share this story with your friends!
---
Help us make Spot.ph better!
Take the short survey
Load More Stories