Best in Show: The Night Coldplay Lit Up the Manila Sky
A sky full of...confetti and fireworks!
(SPOT.ph) It all started with an image barely registering within a two-second gif teaser that went viral November 2016. Coldplay had announced an Asian leg of their A Head Full of Dreams Tour and the flicker of an image of the Philippine map as one of the stops became whispered questions, became murmured confirmations, and finally, became a roar. This was not a hoax. This was not fake news. They were finally coming to Manila!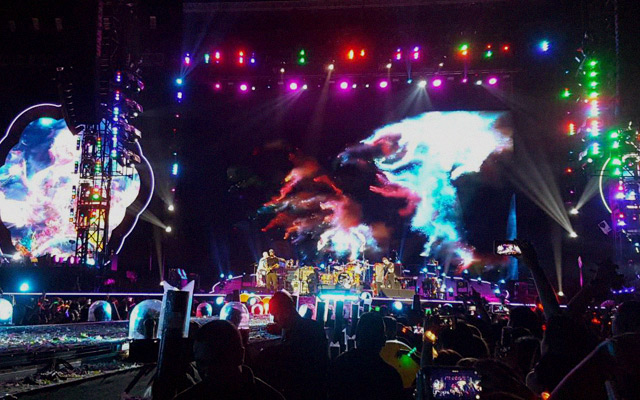 ADVERTISEMENT - CONTINUE READING BELOW
For Filipino fans, this had been a long time coming. Coldplay visits Asia nearly every tour but we had to settle for watching from the sidelines—like a ship sailing past our shores. Put together years of pining, coupled with anticipation for what's been touted as "a larger-than-life" visual feast of coordinated lights, confetti, balloons, and pyrotechnics. The end result? Epic lines on pre-sale and sale dates and 35,000 tickets sold out in a couple of days—never mind the exorbitant price tag.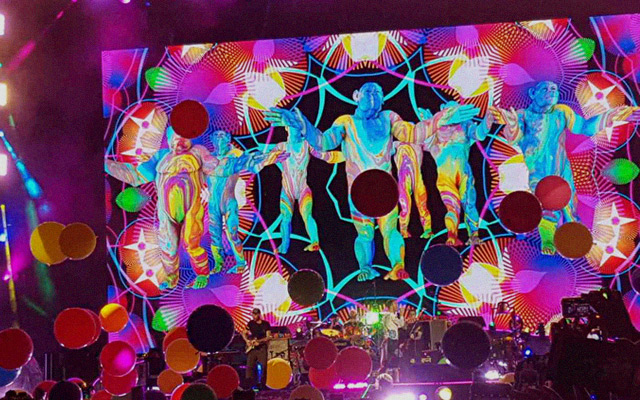 ADVERTISEMENT - CONTINUE READING BELOW
From start to finish, it was a spectacle to behold. The band opened with "A Head Full of Dreams" complete with fireworks, laser lights, and a shower of confetti that set the tone for an exhilarating night. Xylobands turning yellow signaled the seamless transition to everyone's favorite love song. Two songs in, and Chris Martin promised that "this is gonna be the best concert we ever played." He did not disappoint.
From then on, the crowd was treated to a roller coaster of jump-inducing, dance-generating songs ("Every Teardrop is a Waterfall," "Paradise" with a Tiesto remix outro, "Clocks," "Hymn for the Weekend," and "Adventure of a Lifetime") alternated by quieter tracks with Chris Martin crooning in earnest ("Magic," "The Scientist," "Always in My Head," "Everglow," "Fix You," and "In My Place").  The band explained why it had taken them so long to drop by, saying that they've been practicing for 17 years and making sure "we have enough good songs to come to Manila." Following the collective swoon, all was forgiven.
ADVERTISEMENT - CONTINUE READING BELOW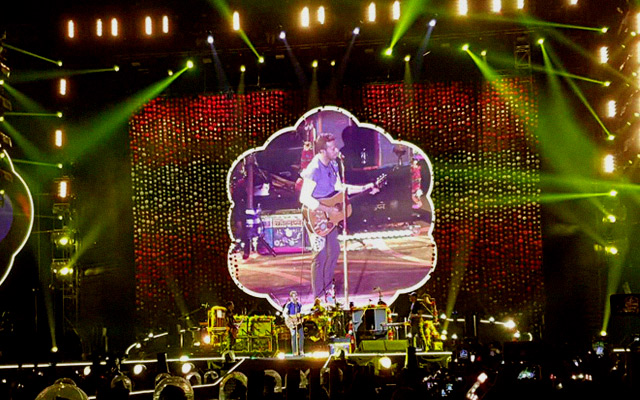 Several times during the show, Martin apologized to the fans "back there," asking if they can hear him and expressing the hope that they're having a good time ("I see you back there!"  he kept saying). The stage design alone proved that the show was meant to be inclusive. The main stage extended outward to a 30-meter long runway leading up to a second stage where they played more intimate songs. Martin worked the runway often—skipping, dancing, running as if preparing to fly—trying to afford many fans more than a thumbnail size's view of him. If that wasn't enough, the xylobands worked their magic to reduce the 35,000 strong to a unified, pulsating, and partying mass. The audience was not there just to be entertained: we were all part of the entertainment. At one point, with the xylobands twinkling like 35,000 stars, Martin gushed, "I wish you could see what I'm seeing now."
ADVERTISEMENT - CONTINUE READING BELOW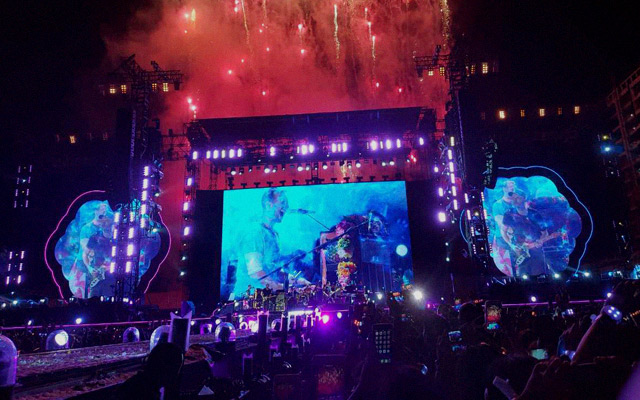 And therein lies a big part of the band's appeal: An authenticity, an unassuming quality, an almost anti-celebrity attitude. This was a band who cared. During the fan request, Coldplay sang and dedicated "Ink" to a Filipino fan diagnosed with cancer and unable to attend the concert, whom Martin visited earlier in the day. At another point of the show, he urged the crowd to "send good energy anywhere in the world that might need it. Someone you love or a place that you think needs love and care. "
ADVERTISEMENT - CONTINUE READING BELOW
The concert reached fever pitch as the band played the first strains of "Charlie Brown," displaying their penchant for lifting the crowd with frenzied guitar and bass rifts, only to quietly bring them down to haunting piano solos to end the song.  "Adventure of a Lifetime" transformed the concert grounds into a massive playground with giant balloons being tossed about. "Viva La Vida" was, arguably, the anthem and highlight of the night. Drummer Will Champion commanded the massive drum set, throwing all of his might behind the pounding while Martin led the crowd chanting like he was a maestro conducting an orchestra. Later on, the same chant became the crowd's desperate plea for an encore.
Martin delighted the crowd with an on-the-spot rendering of what he called "The Manila Song," cleverly rhyming "A Head Full of Dreams" with "the Philippines," and complimenting the crowd in Manila for being "such a thriller." To please older fans, guitarist Jonny Buckland and Campion sung "Don't Panic," plucked from the album Parachutes released over 17 years ago.
ADVERTISEMENT - CONTINUE READING BELOW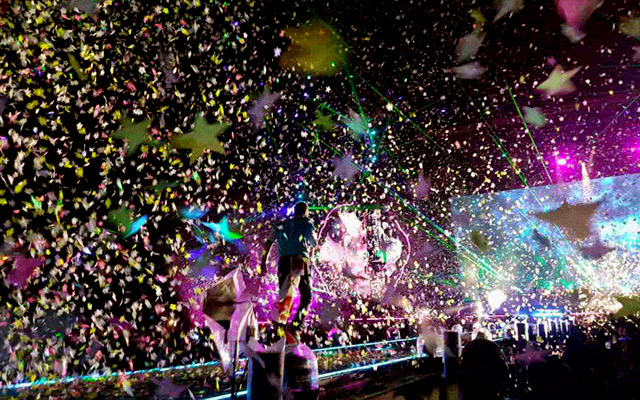 Coldplay ended the night with a selection of upbeat and hopeful songs: "Something Just Like This," "Sky Full of Stars," and "Up and Up." The crowd yelled for more as the foursome took their final bow. "Based on tonight, we'll definitely go back," Martin had promised the fans. Most of us had been waiting 17 years for last night. For the moment, we were satiated, and all set to wait another couple of years til the next.
ADVERTISEMENT - CONTINUE READING BELOW
Load More Stories