10 Fresh Tunes to Listen to This April
Summer anthems brought to you by Calvin Harris, Ariana Grande, Kendrick Lamar, and more!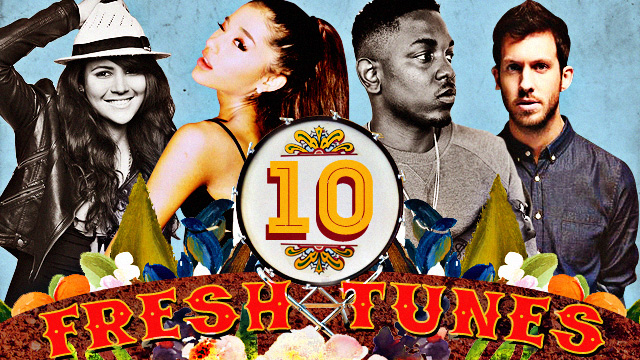 (SPOT.ph) This April, we have some hot tracks to match the summer heat. Calvin Harris just released a funky dance anthem with the help of Ariana Grande, Pharrell Williams, and Young Thug. Also listen to Kendrick Lamar's hot new banger, Ed Sheeran's Ireland-inspired tune, Feist's comeback track, and Massari's R&B number (featuring Pia Wurtbach on video).
Locally, we have original collaborations between Kiana Valenciano and Curtismith, as well as Dane Hipolito and Clara Benin. Also, don't miss out on the latest from SUD, Jensen and The Flips, and Sirens.
Song: "Heatstroke"
Artists: Calvin Harris feat. Young Thug, Pharrell Williams, and Ariana Grande
For Scottish artist Calvin Harris' latest single, he enlisted the help of rapper Young Thug and pop stars Ariana Grande and Pharrell Williams. "Heatstroke" is a radio-friendly summer ditty that's funky and playfully sexy. Young Thug dominates the track with his soulful warbles, while Williams and Grande provide a refreshing sound as they assist in the refrain and chorus.
ADVERTISEMENT - CONTINUE READING BELOW
Fun fact: "Heatstroke" is the second of 10 singles that Harris is planning to release this year.
Song: "Does She Know"
Artists: Kiana Valenciano feat. Curtismith
Two of local music's incredible young talents have collaborated to produce "Does She Know," an impressive hip-hop and R&B track you can't ignore. Kiana's opening vocals will remind you of BANKS, but she quickly owns the song and demonstrates she's a gifted artist in her own right. Curtismith joins her and adds more spice and substance with his rhymes.
Fun fact: In the music video, directed by Kiana's older brother Gab Valenciano, Kiana shows off her moves along with hip-hop dancer MJ Arda of the A-Team.
Song: "HUMBLE."
Artist: Kendrick Lamar
Kendrick Lamar's "HUMBLE." is one of summer's biggest and most daring hits. Today's most exalted rapper fills his three-minute single with striking imagery and sharp commentary delivered in a monotonic (but never boring) manner.  The music video, which features plenty of religious imagery, doesn't hold back either.
Fun fact: "HUMBLE." is presumed to be the first single from Lamar's highly anticipated album expected to drop this month.
Song: "Plastic Bag"
Artists: Dane Hipolito feat. Clara Benin 
Dane Hipolito and Clara Benin have performed together many times during gigs and jam sessions, but this is the first time they have released an original collaboration. "Plastic Bag" is a lush, slow-tempo song featuring relaxed rhymes by Hipolito and soothing croons by Benin.
Fun fact: The music video was produced by Stronghold MNL Studios.
Song: "Galway Girl"
ADVERTISEMENT - CONTINUE READING BELOW
Artist: Ed Sheeran
Ed Sheeran is just the gift that keeps on giving. His latest single, "Galway Girl," is an upbeat Gaelic rap that might sound confusing at first. But keep at it, and you'll find that the fusion of sounds and Sheeran's ever-reliable storytelling and charm make this tune so easy to love.
Fun fact: The song, recorded with the Irish trad/folk group Beoga, reportedly almost didn't make it to Sheeran's latest album. We're glad it did!
Song: "Show Me"
Artist: SUD
Alternative soul band SUD is making us feel ace with their latest single. "Show Me" is a straightforward love song with a lot more to offer, from the saxophone solo to the addition of female backing vocals.
Fun fact: SUD band members include Sud Ballecer (vocals and guitar), Marc Reyes (bass), Jimbo Cuenco (drums), Kohl Aguilar (keyboard), and Carlos Dela Fuente (saxophone).
Song: "Pleasure"
Artist: Feist
Feist's comeback track, also the lead single off her forthcoming fifth album, had everyone rejoicing upon its release. The guitar-led number takes a blues-y influence and shows some varied vocal stylings from the artist. Here, she croons, drawls, shouts, and chants.
Fun fact: "Pleasure" is the title track of Feist's first album in six years.
Song: "BDYTLK"
Artist: Jensen and The Flips
Jensen and The Flips have just unveiled the music video for their new single, "BDYTLK." Expect their usual festive and danceable sound combining pop, soul, motown, and R&B influences. Watch for the standout guitars, too.
Fun fact: The "BDYTLK" music video, directed by Mike E. Sandejas, is the first music video for the band's new album.
ADVERTISEMENT - CONTINUE READING BELOW
Song: "So Long"
Artist: Massari
Lebanese-Canadian singer Massari has released the first single off his forthcoming album. "So Long" is a smooth R&B track with strong tropical vibes, perfect for your next escape to the beach.
Fun fact: Our very own Pia Wurtzbach stars in the music video for "So Long."
Song: "Drive"
Artist: Sirens
Summer is the time for road trips, and here's a track you can add to your driving playlist. "Drive," with its kickass riffs and feel-good lyrics, can inspire some spunk and fun in you this sunny season.
Fun fact: The independent band hails from Cebu City.
Load More Stories