10 New TV Shows We Can't Stop Talking About
Prepare to never leave your house.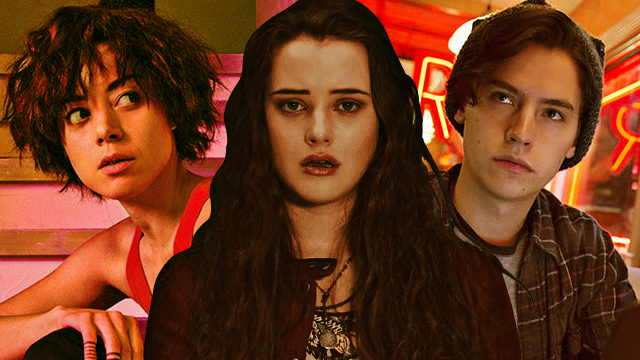 (SPOT.ph) It's been an exciting time for TV fans, with returning shows that continue to wow us and a new breed of series all vying for your attention. With so many new shows being released (and so little time to watch all of them), we decided to make things a little easier for you. Here, we narrow everything down to 10 series—whether currently airing or still about to air—that you shouldn't miss. After all, there must be a good reason why everyone can't stop talking about them! Go ahead, press "play" and prepare to never leave your house.
ADVERTISEMENT - CONTINUE READING BELOW
Riverdale
High school may be long over by now, but that doesn't mean you won't be completely invested in all the drama. This Netflix series isn't the Archie Comics you grew up with, but its ridiculously attractive cast—and addictively dark storyline—will have you hooked. Think an intriguing murder-mystery, some juicy high school hookups, and all the scandalous secrets a small town can possibly have. Be prepared to love Cole Sprouse's turn as Jughead; he's a fan-favorite for a reason!
13 Reasons Why
We wouldn't be surprised if you've been seeing this show all over your Facebook feed. Aside from its totally playlist-worthy soundtrack, the breakout series is based on the popular YA novel of the same name. After Hannah (Katherine Langford) decides to end her life, she leaves behind 13 tapes that are each addressed to one person who somehow contributed to her death. It's definitely not an easy show to watch—especially because it deals with suicide in a graphic and very controversial way—but it does leave room for a lot of important conversations.
ADVERTISEMENT - CONTINUE READING BELOW
Big Little Lies
Based on the 2014 best-selling novel, Big Little Lies follows three mothers (Nicole Kidman, Shailene Woodley, and Reese Witherspoon in her sassiest role to date) whose seemingly perfect lives are tainted by secrets and murder. HBO's latest hit doesn't just feature an all-star cast; it also boasts some impressive heavyweights from behind the scenes, including Dallas Buyers Club director Jean-Marc Vallée at the helm, as well as Homeland producer Barbara Hall.
Legion
Trust us, you won't find another new show as visually arresting as this gem from FX. Fargo creator and writer Noah Hawley weaves a non-linear origin story for Marvel's somewhat obscure X-Men character (played by Downton Abbey alum Dan Stevens) named David Haller. After spending most of his life in and out of psychiatric hospitals for his paranoid schizophrenia, David learns that the voices he hears and visions he sees are real. There are lots of twists and turns, as well as trippy and stunning visuals, Legion is easily one of the best superhero shows of late.
ADVERTISEMENT - CONTINUE READING BELOW
Feud: Bette and Joan
Ryan Murphy of Scream Queens, American Crime Story, and American Horror Story fame is doing a new anthology series, this time focusing on the most epic and memorable feuds in history. The first season takes viewers back to 1962 and the very public rivalry between two Hollywood divas: Joan Crawford (Jessica Lange) and Bette Davis (Susan Sarandon). Filled with fantastic performances from its two Oscar-winning leads, Feud is a juicy look at how aging women struggle to hang on to their Tinseltown careers.
The Handmaid's Tale
Although this highly anticipated adaptation of the 1985 Margaret Atwood novel isn't out until April 26, it's already receiving plenty of positive buzz from critics who have seen its first season. Former Mad Men star Elisabeth Moss plays Offred, who lives in a totalitarian future where fertile women—called Handmaids—are forced to bear children for men and their wives. The cast also includes Alexis Bledel, Yvonne Strahovski, Max Minghella, Joseph Fiennes, and Samira Wiley.
ADVERTISEMENT - CONTINUE READING BELOW
American Gods
Neil Gaiman's novel is about to become an epic TV series co-headed and co-written by former Hannibal showrunner, Bryan Fuller. Expect the same dazzling visuals paired with a fascinating story about the battle between Old Gods (gods of ancient mythology) and New Gods (borne out of modern society's love for media and technology). The eight-episode series is already critically acclaimed and officially starts on April 30.
Marvel's The Defenders
It's been several years in the making, but Netflix's version of The Avengers should satisfy fans who were eagerly awaiting the superhero team-up of Daredevil (Charlie Cox), Jessica Jones (Krysten Ritter), Luke Cage (Mike Colter), and Iron Fist (Finn Jones). It will be interesting to see if the show retains the same team dynamic from the comics, especially because it will run only for eight episodes—far less than the usual number of episodes for Marvel's standalone series. Thanks to a now-viral teaser clip, we now know that the show is slated for August 18.
ADVERTISEMENT - CONTINUE READING BELOW
The Deuce
James Franco returns to TV by playing twins at the center of New York's emerging porn industry during the '70s and '80s. The show is expected to touch on the rise of HIV, the cocaine "epidemic," and the New York mob. Oh, and here's something to get TV fans even more excited: the show is co-written by executive producer David Simon, who was also behind one of HBO's greatest shows ever, The Wire.
Mindhunter
The director of Fight Club, Gone Girl, The Girl With the Dragon Tattoo, and The Social Network is headed to Netflix! Based on a 1996 book, the show follows two FBI agents who must interview former serial killers in order to solve their cases. The haunting first trailer gives audiences a glimpse of its solid cast, which includes Jonathan Groff and Anna Torv. The show is expected to start streaming this October.
ADVERTISEMENT - CONTINUE READING BELOW
Load More Stories