10 Must-See Movies This May
Bliss, Alien: Covenant, Pirates of the Caribbean: Salazar's Revenge, and more!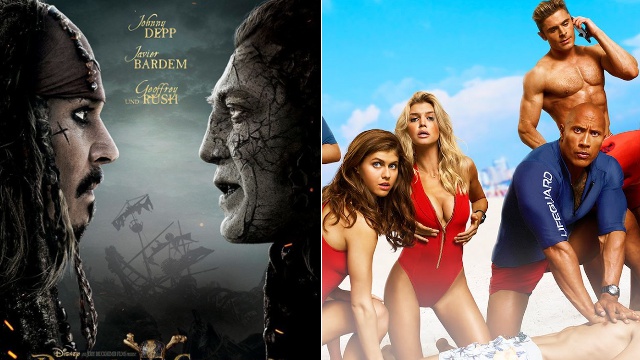 (SPOT.ph) And just like that, we're already halfway through summer! Don't fret if you're spending it in the Metro, because there are plenty of new movies to keep you occupied all season. This month, we have some exciting Filipino films, a new Pirates of the Caribbean movie, and a raunchier reboot of Baywatch.
ADVERTISEMENT - CONTINUE READING BELOW
Gifted
Release date: May 3
Captain America star Chris Evans momentarily drops his star-spangled shield to star in this family drama from 500 Days of Summer director, Marc Webb. Evans plays Frank, a single man raising his spirited niece who also happens to be a child prodigy. His plans to give her a normal childhood are thwarted when his estranged mother suddenly pays them a visit.
Luck At First Sight
Release date: May 3
Director Dan Villegas returns to the rom-com genre with a new film starring an unlikely pairing: Jericho Rosales and Bela Padilla. The pair play two characters who both have very different opinions on luck.
Alien: Covenant
Release date: May 10
Ridley Scott's beloved sci-fi franchise is back, and you can expect more heart-thumping gore and action than ever. In this new installment, the crew of a colony ship discover an uncharted paradise that holds a deadly secret. The star-studded cast includes Michael Fassbender, Katherine Waterson, Noomi Rapace, Demian Bichir, and more.
ADVERTISEMENT - CONTINUE READING BELOW
Bliss
Release date: May 10
Heneral Luna director Jerrold Tarog returns to the horror genre with a new psychological thriller. Iza Calzado plays a seasoned actress who tries to stage an acting comeback with a new movie; things take a very crazy turn when she is bedridden after befalling an accident while on set. 
Diary of a Wimpy Kid: The Long Haul
Release date: May 17
Don't worry, there's something for the kids this movie month, too! In this sequel, a family road trip to grandma's 90th birthday goes hilariously awry when Greg (Jason Drucker) hatches a scheme to attend a nearby gamer convention.
King Arthur: Legend of the Sword
Release date: May 17
The legend of King Arthur is headed to the big screen, with Charlie Hunnam playing the titular character who is robbed of his birthright by his uncle, Vortigern (Jude Law). Once he pulls the legendary sword from the stone, however, he is forced to reclaim his legacy. The film is directed by Guy Ritchie, best known for action-packed films such as the Sherlock Holmes franchise and The Man From U.N.C.L.E.
ADVERTISEMENT - CONTINUE READING BELOW
Colossal
Release date: May 17
This is an Anne Hathaway you've never seen before. In this sci-fi comedy, she plays hard-partying Gloria, whose one night of binge-drinking results in a strange reptilian monster ravaging Seoul, South Korea...and she may have something to do with it.
Everything, Everything
Release date: May 18
Based on a 2015 YA novel of the same name, this romantic drama stars Amandla Stenberg as Maddy, an imaginative teenager who is unable to leave home because of an illness. But even that won't stop her neighbor (Nick Robinson) from being with her.
Pirates of the Caribbean: Salazar's Revenge
Release date: May 24
Captain Jack Sparrow is back, and he's bringing all your favorite characters! In an all-new adventure, a down-on-his-luck Jack (Johnny Depp) must come face-to-face with an old but deadly nemesis, Captain Salazar (Javier Bardem). Orlando Bloom, Keira Knightley, and Geoffrey Rush all reprise their roles, alongside Pirates newcomers Kaya Scodelario and Brenton Thwaites.
ADVERTISEMENT - CONTINUE READING BELOW
Baywatch
Release date: May 31
The sexy red swimsuits return to your screens, but in a funnier and raunchier way. Two mismatched lifeguards (Dwayne Johnson and Zac Efron) must set aside their differences to stop a drug trafficking operation. Priyanka Chopra and Alexandra Daddario also star, with cameo appearances from original Baywatch castmembers, David Hasselhoff and Pamela Anderson.
Load More Stories