10 New Songs to Add to Your Playlist This May
Make the most of the remaining summer with music by Paramore, Foster the People, and more!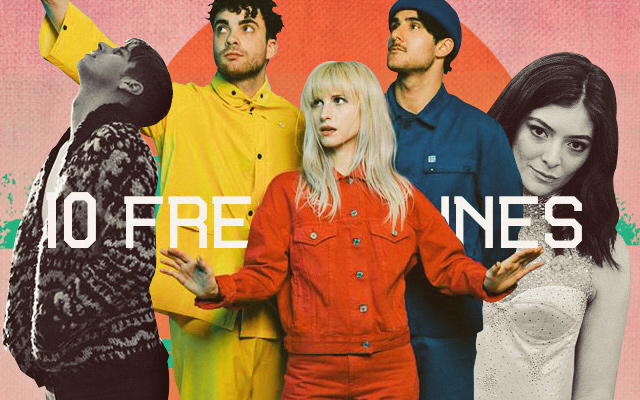 (SPOT.ph) Summer isn't over yet, and it's about to heat up even more with these hot tracks. Take a listen to comeback singles by Paramore and Foster the People, a fresh tune by Lorde, plus the latest by Shout Out Louds and MØ. We also have local aural masterpieces courtesy of Moonwlk, Banna Harbera, Ben&Ben, Zsaris, and December Avenue. Happy listening!
ADVERTISEMENT - CONTINUE READING BELOW
Song: "Hard Times"
Artist: Paramore
Paramore is back with a bubbly new sound. "Hard Times," the lead single from their forthcoming album, is more pop than rock. It's very danceable and reminiscent of the '80s. The music video, featuring a blonde Hayley Williams, is also a delight to watch.
Fun fact: The band's new album, After Laughter, is expected to come out on May 12.
Song: "Your Name (Maybe Just Once)"
Artist: Moonwlk
Fans of this duo pretty much know what to expect in terms of sound, but that doesn't mean it gets boring. Moonwlk's summer release is a refreshing electro-pop number that provides an enjoyable, "lose yourself" kind of dance break in between verses.
Fun fact: Moonwlk is Gabbi Buencamino (vocals) and Nicholas Lazaro (synths and vocals).
Song: "SHC"
Artist: Foster the People
Foster the People recently released three new tracks from their upcoming third album. "SHC" is not as LSS-inducing as their first smash hit "Pumped Up Kicks," but it does the job with its rich sound filled with guitars and synths.
ADVERTISEMENT - CONTINUE READING BELOW
Fun fact: The two other singles released are "Doing It For The Money" and "Pay The Man."
Song: "Sorry & Goodbyes"
Artist: Banna Harbera
Slow things down with Banna Harbera's latest offering. The indie-soul band just launched the music video for this ballad; as for the track itself, it's sentimental, but not as mushy as you'd expect.
Fun fact: Banna Harbera is composed of Yzabel Torres (vocals), Jake Masigan (guitar), Josh Planas (bass), Theo Blanch (keys), and Patrick Felipe (drums).
Song: "Sober"
Artist: Lorde
Lorde pleasantly surprised fans when she unveiled "Sober," a new track from her upcoming album, Melodrama. It's everything you'll expect (and already love) from her: snappy, dark, intense, and catchy. 
Fun fact: Lorde debuted the song at a small pre-Coachella gig, and was reportedly her first full concert in nearly three years.
Song: "Ride Home"
Artist: Ben&Ben
Brothers and folk-pop duo Ben&Ben have just released the music video for their single, "Ride Home." The feel-good tune about finding home in the one you love is made more exquisite with the strings.
ADVERTISEMENT - CONTINUE READING BELOW
Fun fact: Ben&Ben, formerly known as The Benjamins, is made up of brothers Paolo and Miguel Guico.
Song: "Oh Oh"
Artist: Should Out Louds
Swedish act Shout Out Louds has finally blessed fans with a new single after being quiet for about four years. "Oh Oh" is a lush, nostalgic, jangly track that's perfect for a carefree summer day. 
Fun fact: The track is from the band's forthcoming fifth studio album.
Song: "Nights With You"
Artist: MØ
This sultry single is more relaxed compared to her previously released upbeat and tropical tracks, but it's just as memorable. Some interpret it as a love song with a sapphic touch. 
Fun fact: The electro-pop artist is reportedly close to finishing her sophomore album.
Song: "Sa Ngalan Ng Pag-Ibig"
Artist: December Avenue 
It's okay to get sappy at times, especially if it's to a well-made soundtrack. For those moments, we recommend December Avenue's indie rock ballad. The radio-friendly track should speak for you in case you can't find the words.
ADVERTISEMENT - CONTINUE READING BELOW
Fun fact: The song was recently launched at 70's Bistro with the support of acts Quest, MilesExperience, and Gab and John of Urbandub.
Recommended Videos
Load More Stories