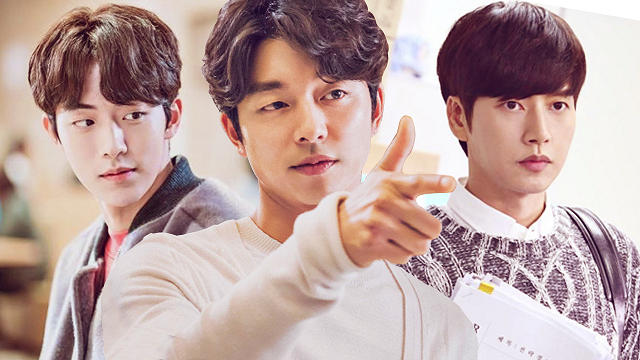 (SPOT.ph) With all the hype surrounding Korean dramas, newcomers may be left in the dust as to what all the fuss is about. From posts about Korean actors and actresses bombarding your Facebook feed to friends getting excited over the latest episode, curious newbies may feel overwhelmed by all the options and unfamiliar faces.
Luckily, we're here to make things a little easier. Here, we list 10 addictive series that span across genres, while introducing you to everything the K-Drama world has to offer. You'll be hooked in no time.
Cheer Up! / Sassy, Go Go
Episode count: 12
Whether you're still in high school or long past it, this drama will bring back memories. It revolves around Kang Yeon Doo (Jung Eun Ji), a girl with an immense passion for dance who also struggles academically despite her best efforts. She and her friends go to a private school where academic competition drives several students to the edge—that is, except for the highest-ranking student, Kim Yeol (Lee Won Keun). Though there is definitely a focus on romance and friendship, this show also highlights how the pressure to attain perfect grades can affect anyone.
ADVERTISEMENT - CONTINUE READING BELOW
Beautiful Mind
Episode count: 14
Although this show was cut down from 16 to 14 episodes, it still serves as an amazing—albeit underrated—drama that's perfect for a good crying session. The story follows an emotionless, unsympathetic neurosurgeon named Lee Young Oh (Jang Hyuk), who ends up involved in mysterious deaths among patients at the hospital. Somewhere along the way, he finds himself discovering more about the inner workings of his own mind, as well as the possibility of experiencing love when given enough time.
Weightlifting Fairy Kim Bok Joo
Episode count: 16
Admit it: Even if you know next to nothing about K-Drama, this series' title sounds pretty familiar. Based on the life story of Olympic Gold medalist Jang Mi-ran, this sweet show follows the joys and struggles of two college athletes: Kim Bok Joo (Lee Sung Kyung), a female weightlifter full of potential, and Jung Joon Hyung (Nam Joo Hyuk), a swimmer who has his own set of problems. There's a good reason why it's so popular (and binge-worthy), especially with its roster of lovable and relatable characters.
Cheese in the Trap
Episode count: 16
Who says you're too old for a little college drama, especially when it's this addicting? This show follows the lives of a group of college students, particularly the complicated relationship between two starkly different people: Hong Seol (Kim Go Eun) and Yoo Jung (Park Hae Jin). Things get even more interesting when they form an unlikely alliance.
W - Two Worlds
Episode count: 16
This love story takes place where you'd least expect. A surgeon named Oh Yeon Joo (Han Hyo Joo) finds herself in the webtoon universe her father created called W. She decides to investigate why her father had gone missing, but instead, she ends up meeting and saving Kang Cheol (Lee Jong Suk), the webtoon's main character.
Strong Woman Do Bong Soon
Episode count: 16 (plus one special episode)
Everybody loves a strong female lead, but this fun drama takes it very literally. Born with superhuman strength that can only be passed down to women in the family, Do Bong Soon (Park Bo Young) dreams of creating a video game with herself as the main character. Her special abilities lands her as the bodyguard of An Min Hyuk (Park Hyung Sik), the wealthy CEO of a gaming company. She also ends up using her powers for good when a series of kidnappings terrorize her neighborhood.
ADVERTISEMENT - CONTINUE READING BELOW
Goblin
Episode count: 16 (plus three special episodes)
Don't dismiss this drama as just another love story; in fact, it deals with rather grim and sobering themes such as death, loneliness, and how fleeting life can be. Kim Shin (Gong Yoo) is an immortal goblin, which he originally sees as a gift but later realizes is a curse. He and the Grim Reaper (Lee Dong Wook) both work to bring the dead to the afterlife. Eventually Kim Shin finds his destined bride, Ji Eun Tak (Kim Go Eun), a woman who could put an end to his immortality.
Legend of the Blue Sea
Episode count: 20
Inspired by a classic Korean legend, this series follows a complicated yet swoon-worthy relationship that stands the test of time, and unfolds in two eras. In 1598, the story is between a governor named Kim Dam Ryeong and a mermaid named Se Hwa; in the present day, Heo Joon Jae (Lee Min Ho) is a sly con-man who meets Sim Chung (Jun Ji Hyun), a mermaid that gets washed ashore near a resort and has to learn how to survive in the modern Seoul. The show touches on intriguing themes like fate, unrequited love, and reincarnations.
ADVERTISEMENT - CONTINUE READING BELOW
Hwarang
Episode count: 20
For those who want a bit of history in their TV, this intriguing political drama is right up your alley. A star-studded ensemble cast (including K-Pop stars Minho from SHINee and Kim Taehyung from BTS) brings to life this epic tale about an elite group of young men called Hwarang, tasked to protect Queen Jiso (Kim Ji Soo) from powerful nobles eyeing her throne.
What Happens to My Family?
Episode count: 53
Family is an essential part of Filipino culture, so you'll find this drama very relatable. However, this family dynamic is a bit more complicated. Cha Soon Bong (Yoo Dong Geun) is a widower and father of three disrespectful, self-absorbed children. He decides to sue them for being undutiful, despite his love and investment in them. As each character undergoes several lessons on gratitude, they slowly learn to piece their family back together.
Share this story with your friends!
---
Help us make Spot.ph better!
Take the short survey
More Videos You Can Watch
Load More Stories