10 New Horror Films to Scare You in 2017
The horror never ends with these frightening flicks coming in the latter half of 2017.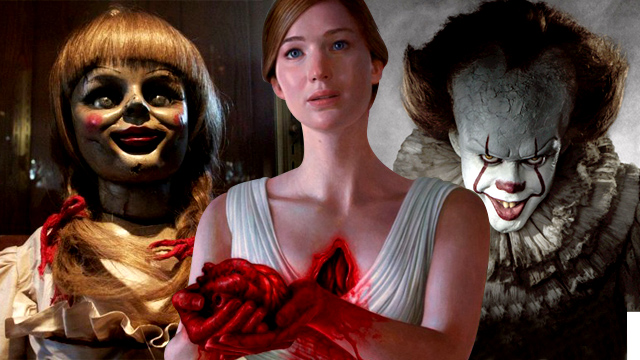 (SPOT.ph) 2017 has been a good year so far for horror fans. Get Out broke conventions and delivered an original and spine-chilling cinematic experience early in the year, while Alien: Covenant brought in some deep-space terror. On the local front, Jerrold Tarog's Bliss was a fresh and frightening Filipino film that had audiences hooked. The genre is always growing, with fresh and unique ideas to terrorize the audience, as well as new technology to make the classics even scarier.
ADVERTISEMENT - CONTINUE READING BELOW
We take a look at 10 more horror films that you can't miss during the rest of 2017...because, well, you just can't have enough nightmares.
Raw
Directed by: Julia Ducournau
Release date: May 23 (iTunes)
When Raw first premiered around the world, there were reports that audiences were so grossed out they were fainting and vomiting. One cinema even handed out sick bags before every screening to prepare viewers for the gore. This gruesome French film is about a vegetarian who—through a hazing ritual—is forced to consume raw meat for the first time. She then experiences unexpected changes due to the meat-eating. Disturbing, brutal, and unflinching, this modern horror flick about cannibalism should be on your arthouse horror must-watch list.
It Comes at Night
Directed by: Trey Edward Shults
Release date: June 9
Modern, artsy, and intelligent horror films like It Follows, The Witch, and Get Out have proven that you can have a successful horror despite the lack of gruesome kills and mind-numbing jump scares. It Comes at Night looks to follow the aforementioned films' footsteps, using atmosphere, terror, and mystery to instill fear in its viewers. It's about a family who has safely locked themselves in the woods as an unnatural event threatens the world. When their perfect, idyllic set-up is shaken by a family seeking refuge, paranoia and fear set in. Joel Edgerton stars in this mysterious horror film that is sure to make you think just as much as it'll creep you out.
ADVERTISEMENT - CONTINUE READING BELOW
Wish Upon
Directed by: John R. Leonetti
Release date: July 14
We all would love to have our wishes granted, but what if they came with a very bloody price? In Wish Upon—helmed by Annabelle director John Leonetti—Clare (Joey King) receives a music box from her father (Ryan Phillippe), and soon after, all her wishes come true. When there are brutal consequences to all her wishes, she and her friends try to survive. Wish Upon also stars Stranger Things' Shannon Purser and The Maze Runner's Ki Hong Lee.
Annabelle: Creation
Directed by: David Sandberg
Release date: August 11
Who knew that a throwaway introductory storyline in the first The Conjuring movie would have a life of its own? The second film in the Annabelle series (and the fourth from the Conjuring franchise) takes us to Annabelle's beginnings. This prequel focuses on a dollmaker and his wife who create a doll in honor of their late daughter named—you guessed it—Annabelle. The first film, while not the most creatively fulfilling, was a huge box-office success. This time around, Creation is being helmed by David F. Sandberg, who burst into the horror scene with last year's extraordinary Lights Out, so expectations are high.
ADVERTISEMENT - CONTINUE READING BELOW
It
Directed by: Andres Muschietti
Release date: September 8
Stephen King has created so much nightmare fuel over the years, including perhaps the most terrifying one of all: the killer clown Pennywise. Now the second adaptation and set in 1989, It focuses on disappearing children that are terrorized by Pennywise. The cast includes Bill Skarsgard as Pennywise and Stranger Things' Finn Wolfhard as one of the kids in this planned first of two films. Director Andres Muschietti is no stranger to the genre, and by the looks of the first trailers, will cause a new generation of viewers who will avoid clowns at all costs.
— Jennifer Lawrence (@JenLawUS) May 14, 2017
Mother!
Directed by: Darren Aronofsky
Release date: October 13
There are very few plot details about Darren Aronofsky's latest film and his return to the genre since the brilliant Black Swan. This psychological horror may not have monsters or the paranormal, but if the poster is any indication, it's going to be an unusual experience. Jennifer Lawrence, Javier Bardem, Kristen Wiig, Domhnall Gleeson, and Michelle Pfeiffer star in a film about a couple whose lives are disrupted when uninvited guests come into their home. Whether or not this is along the lines of Michael Haneke's Funny Games or maybe even Adam Wingard's You're Next or a completely different thing all on its own, Mother! is a film you'll definitely be hearing a lot about.
ADVERTISEMENT - CONTINUE READING BELOW
Saw: Legacy
Directed by: Michael and Peter Spierig
Release date: October 27
For over 13 years, the Saw franchise has thrived on its own brand of sadistic horror. While none of the sequels really matched up to the shock and cleverness of the first film, people still watched in droves. Saw: Legacy takes place 10 years after the supposed death of the original Jigsaw killer. Now, several deaths are being reported all over the United States—and they all match Jigsaw's M.O. The producers have hoped that Legacy will be a sort of reinvention for the franchise, so it'll be interesting to see what insane and twisted games Jigsaw has come up with this time around.
God Particle a.k.a. Cloverfield 3
Directed by: Julius Onah
Release date: October 27
When a JJ Abrams-produced movie suddenly changed its name to 10 Cloverfield Lane right before its 2016 release, it made people wonder whether it was a sequel or the beginning of the Cloverfield universe. While neither was really answered (and it does not help that Abrams and his producing team are notoriously secretive), they've done it again with the mysterious God Particle. The film is also being called Cloverfield 3 by some, so it could be the third installment of the critically acclaimed franchise. Now set in space, the film revolves around a crew of scientists who accidentally cause the Earth to disappear. When a space shuttle suddenly arrives, they must face off with the consequences of their actions.
ADVERTISEMENT - CONTINUE READING BELOW
Leatherface
Directed by: Alexandre Bustillo and Julien Maury
Release date: October TBA
Prequels and reboots are all the rage, even in the horror genre. Up next in the long line of '70s and '80s horror icons with new prequels is the very spine-chilling Leatherface. Set before the events of 1974's The Texas Chain Saw Massacre, the plot revolves around several teenagers who escape from a mental institution. It's then up to the audience to figure out who goes on to don the human-skin mask. Leatherface strays from the 2000s remake and prequel, but the film is said to still respect the seven films that came before it.
Ang Pagsanib Kay Leah Dela Cruz
Directed by: Katski Flores
Release date: TBA
Not much is known about Katski Flores' film, but the caliber behind it screams excitement. From the makers of the hit MMFF film Seklusyon (including Erik Matti) and Viva Films, Ang Pagsanib kay Leah Dela Cruz, starring Shy Carlos and Sarah Lahbati, looks to haunt viewers with another horrifying film about demonic possession. Seklusyon scared audiences and won awards along the way; Ang Pagsanib kay Leah Dela Cruz looks to do the same.
ADVERTISEMENT - CONTINUE READING BELOW
Load More Stories