Want to know how Ronaldo Valdez became the first Filipino Colonel?
KFC's viral video may actually have been inspired by Rob Lowe.
(SPOT.ph) By now, you've probably already heard that Ronaldo Valdez is officially KFC's first Filipino Colonel, besting the likes of Pen Medina and Leo Martinez. (He was sworn in with a hilariously ridiculous ceremony below.)
We chatted with KFC Philippines' General Manager ChaCha Juinio to get the story behind the viral campaign, who says they were inspired by the successful U.S. campaigns about the Colonel. (The latest celebrity to don the all-white suit was Rob Lowe.) "[We wanted] to focus on KFC's heritage and icons while still keeping everything fresh and fun," she said. "We wanted to see how we could take the iconic fried chicken forefather and make him relevant to fried chicken-crazy Filipinos."
When it came to the process of choosing the three veteran actors, Juinio said they initially had a shortlist, but the trio were "definitely on the top," saying, "It was undoubtedly a creative collaboration between KFC, our creative partners at Ogilvy & Mather, the production team, and the three veteran actors."
ADVERTISEMENT - CONTINUE READING BELOW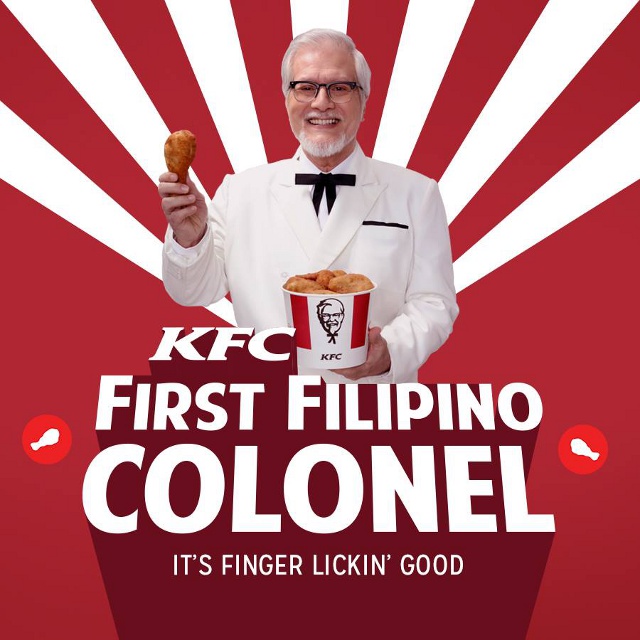 As for the qualities a Filipino Colonel should have? "The Colonel should love fried chicken, first of all, and should be loved by fried chicken fans everywhere," she replied. Based on Internet comments, it seems everyone loves Valdez as the Colonel—so he's got that part down pat.
Load More Stories