10 Must-See Movies This June
Wonder Woman, Despicable Me 3, The Mummy, and more!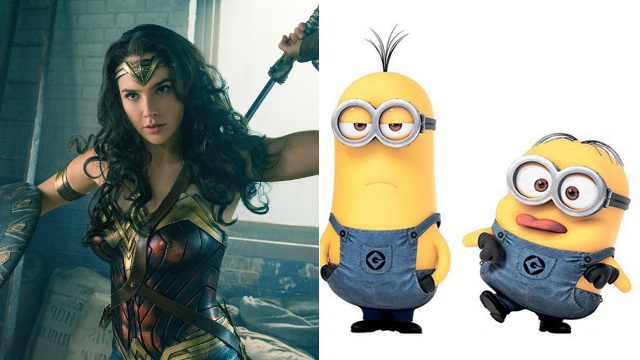 (SPOT.ph) And just like that, summer's over and the rainy season is back. We're giving you more awesome reasons to stay indoors—like a new roster of exciting movies to see in cinemas! This June, see Diana Prince's origin story, watch a mummy come to life, and laugh out loud with your friends. Take note of these release dates, Spotters!
ADVERTISEMENT - CONTINUE READING BELOW
Wonder Woman
Release date: June 1
If you didn't already fall in love with Wonder Woman during the otherwise dreary Batman V Superman, you're about to now! Critics are calling this movie the best DC outing since The Dark Knight, and it currently holds a more-than-impressive rating of 96% at Rotten Tomatoes (higher than any DC or Marvel movie). Trust us: You won't be disappointed.
The Mummy
Release date: June 7
No, this isn't the classic Brendan Fraser franchise you grew up with. Instead, this is the first film in Universal Studios' shared cinematic world of monsters or "Dark Universe." Tom Cruise plays Nick Morton, a soldier who plunders archaelogical sites to sell precious artifacts to the highest bidder. A confrontation during one of his escapades leads to the rise of an Egyptian mummy (Sofia Boutella).
Despicable Me 3
Release date: June 14
Steve Carell returns to voice Gru who, alongside his wife (Kristen Wiig), must stop a former '80s child star from wreaking havoc and achieving world domination. Of course, the Minions are back, too.
ADVERTISEMENT - CONTINUE READING BELOW
Can We Still Be Friends?
Release date: June 14
From the director of successful indie romances such as Sleepless and Ang Manananggal Sa Unit 23B comes this relatable rom-com about two exes (Gerald Anderson and Arci Muñoz) who try to rekindle their friendship.
Once Upon a Time in Venice
Release date: June 14
Bruce Willis makes his return to the action genre as Steve Ford, a private detective who must form an unlikely alliance with the leader of a ruthless gang. The action-comedy also stars Aquaman's Jason Momoa, John Goodman, and Famke Janssen.
Transformers: The Last Knight
Release date: June 21
Ready for another Transformers movie? Now on its fifth outing, Michael Bay's latest explosive outing is set in a world where Optimus Prime is gone and humans are at war with the Transformers. Mark Wahlberg, Stanley Tucci, Tyrese Gibson, John Turturro, and Josh Duhamel reprise their roles, alongside Santiago Cabrera, Laura Haddock, and Anthony Hopkins.
ADVERTISEMENT - CONTINUE READING BELOW
Everything, Everything
Release date: June 21
Based on a 2015 YA novel of the same name, this romantic drama stars Amandla Stenberg as Maddy, an imaginative teenager who is unable to leave home because of an illness. But even that won't stop her neighbor (Nick Robinson) from being with her.
Ang Pagsanib Kay Leah Dela Cruz
Release date: June 28
From the studio that gave you Seklusyon comes this hair-raising, possession-themed horror starring Shy Carlos and Sarah Lahbati. Not much is known about the plot, but the spine-chilling teaser trailer will have you pumped.
Rough Night
Release date: June 28
Up for a night of raunchy laughs? Five college friends (Scarlett Johansson, Jillian Bell, Zoe Kravitz, Kate McKinnon, and Ilana Glazer) reunite for a wild bachelorette weekend in Miami. Things take a hilarious turn for the worse when they accidentally kill a male stripper.
47 Meters Down
Release date: June 28
Two thrill-seeking sisters (Mandy Moore and Claire Holt) fly to Mexico for a sunny and beach-filled vacation. When they decide to go driving in shark-infested waters, their worst fears come to life when the cage breaks away from the boat and they plummet into the ocean with a rapidly dwindling oxygen supply.
ADVERTISEMENT - CONTINUE READING BELOW
Load More Stories