10 Classic K-Dramas That Deserve a Rewatch
Prepare to be obsessed all over again.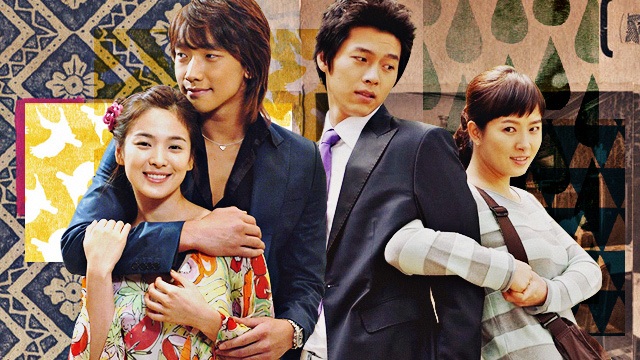 (SPOT.ph) By now, you've already heard of Korean shows like Descendants of the Sun, Goblin, and Weightlifting Fairy Kim Bok Joo. If you ask long-time (or just hardcore) K-Drama fans, however, there's far more to the genre than just these new shows cropping up all over your Facebook feed. Instead, we dial it back to the early 2000s—a time when the Hallyu craze was just beginning and we were being introduced to the likes of Rain and Lee Min-ho.
This isn't comprehensive by any means, but consider it a handy to-watch list, whether you think it's time for a rewatch or you're a newbie looking to expand your K-Drama knowledge.
Full House
Airing date: July to September 2004
Number of episodes: 16
Korean superstar Rain's career was already on the rise by the time Full House began airing, but it's this memorable role that really put him on the map. It stars Song Hye-kyo as Ji-eun, an aspiring writer who clashes with an egotistical actor named Young-jae (Rain). After the latter buys her house without her knowing, she is forced to marry him in order to get her home back. The series paved the way for the rom-com genre in K-Dramas, making audiences swoon with all the bickering and unrequited feelings that came with it.
My Girl
Airing date: December 2005 to February 2006
Number of episodes: 16
Thanks to a lifetime of watching her dad gamble, Joo Yoo-rin (Lee Da-hae) has become a master at lying and scamming people—so much so that she decides to pay off her father's gambling debts herself. A wealthy heir to a hotel fortune named Seol Gong-chan (Lee Dong-wook) hires her to pretend to be his great-grandfather's missing granddaughter. Things take an interesting turn when the sickly old man makes a full recovery, and the two "cousins" are forced to live together under one roof—where they naturally begin to fall for each other. One of the most popular K-Dramas of its time, the series shot its three leads to fame and was remade in Taiwan, Indonesia, and the Philippines (starring Kim Chiu and Gerald Anderson).
ADVERTISEMENT - CONTINUE READING BELOW
Stairway to Heaven
Airing date: December 2003 to February 2004
Number of episodes: 20
The second of director Lee Jang-soo's Heaven Trilogy, this immensely successful melodrama follows the epic and complicated romance between two childhood sweethearts, Han Jung-suh and Cha Song-joo. The two are torn apart after Jung-suh's father remarries and Song-joo is forced to go study abroad. When the latter finally returns home in the hopes of reuniting with his love, he's devastated to find out that a car accident left her with amnesia, and they're left to pick up the pieces of where they left off.
CONTINUE READING BELOW
Recommended Videos
Jewel in the Palace
Airing date: September 2003 to March 2004
Number of episodes: 54
Spanning between the mid-1400s and the 1550s, this historical epic follows the journey of Jang-geum (Lee Young-ae), a brilliant and ambitious kitchen cook who goes on to become the king's first female physician—at a time when women held little to no societal influence. Arguably one of the most recognizable K-Dramas of all time, Jewel in the Palace also propelled the genre to the international stage as it aired in over 60 countries. It was even adapted as a stage musical, as well as an animated spin-off about Jang-geum during her younger years.
My Lovely Sam Soon
Airing date: June 2005 to July 2005
Number of episodes: 16
When an award-winning show has been dubbed the Korean version of Bridget Jones' Diary, you're in for a fun and romantic time. Kim Sun-a plays Kim Sam-soon, a talented pastry chef who is considered to be "average-looking," somewhat heavyset, and an old maid at the age of 30. When she gets dumped by her cheating boyfriend and loses her job, she is hired by Hyun Jin-heon (Hyun Bin), the owner of an upscale French restaurant. Despite their initially antagonistic relationship, Jin-heon convinces her to pose as his girlfriend in order to stop his mother from forcing him to go on blind dates.
ADVERTISEMENT - CONTINUE READING BELOW
What Happened in Bali
Airing date: January 2004 to March 2004
Number of episodes: 20
Also known as Something Happened in Bali or Memories of Bali, this award-winning series revolves around the orphaned Soo-jung (Ha Ji-won), who works as a Bali tour guide to make ends meet for herself and her deadbeat brother. Her life takes an interesting turn when she becomes the tour guide of Jae-min (Jo In-song), an arrogant playboy-slash-heir to a massive fortune. He is arranged to marry an equally wealthy woman named Young-Joo, but she still bears feelings for her poor but ambitious ex-boyfriend. Don't expect a fairytale ending with this K-Drama: Instead, be prepared for shocking plot twists, as well as some social commentary on greed, power, and how money controls our lives.
Boys Over Flowers
Airing date: January 2009 to March 2009
Number of episodes: 25
Based on the Japanese manga of the same name, Boys Over Flowers is its fifth adaptation following Taiwan's immensely popular hit, Meteor Garden. Unlike her wealthy classmates in her prestigious private high school, Geum Jan-Di (Hye-seon Ku) is an ambitious and hard-working scholar. Despite finding her privileged classmates unbearable, she finds herself drawn to the notorious group of handsome boys dubbed F4 (Lee Min-ho, Kim Hyun-joong, Kim Bum, and Kim Joon).  
Coffee Prince
Airing date: July 2007 to August 2007
Number of episodes: 17
Before Gong Yoo charmed audiences in 2016's Goblin, he first captured hearts as Han-kyul, the heir to a major conglomerate who is constantly pressured to settle down and go into the family business. To prove himself capable of running a business, he takes on a run-down coffee shop and decides to hire only good-looking male employees in a bid to attract female customers. Unbeknownst to him, he hires Eun-chan (Yoon Eun-hye), who must hide her real gender to get a job. He then propositions Eun-chan to pretend to be his boyfriend so he can avoid arranged blind dates—but things get interesting when sparks fly, and he begins to question his sexuality.
ADVERTISEMENT - CONTINUE READING BELOW
Lovers in Paris
Airing date: June 2004 to August 2004
Number of episodes: 20
The first of writer Kim Eun-sook's Lovers trilogy, this wildly popular and award-winning show tells the story of Tae-young (Kim Jung-eun), an aspiring filmmaker in Paris who works as a housekeeper for Gi-ju (Park Shin-yang), a divorced businessman. To impress his business partner, he takes her as his date to a party...until their plan backfires and they part ways on bad terms. After crossing paths multiple times, they begin to fall in love—that is, until Gi-ju's father forces him to marry the scheming daughter of a wealthy politician.
Autumn in My Heart
Airing date: September 2000 to November 2000
Number of episodes: 16
Many consider Autumn in My Heart as a pioneer of the Hallyu craze, and for a good reason. The story mainly revolves around two girls born on the same day: Eun-suh (Moon Geon-young) and Shin-ae (Lee Ae-jung), high school rivals who find out that they were accidentally switched at birth. The revelation changes their lives completely, including Eun-suh's close relationship with her brother (Song Seung-heon). Autumn in My Heart was aired in many countries, including Singapore, Philippines, Egypt, and Peru, and is the first show under director Yoon Seok-ho's Endless Love four-part TV series. The second installment, Winter Sonata, was also a massive commercial success, even boosting tourism to the island of Namiseom, where it was filmed.
Share this story with your friends!
---
Help us make Spot.ph better!
Take the short survey
Load More Stories