10 New Songs to Add to Your Playlist This June
Sing along to tunes by Carly Rae Jepsen, Hanson, Radiohead, and more!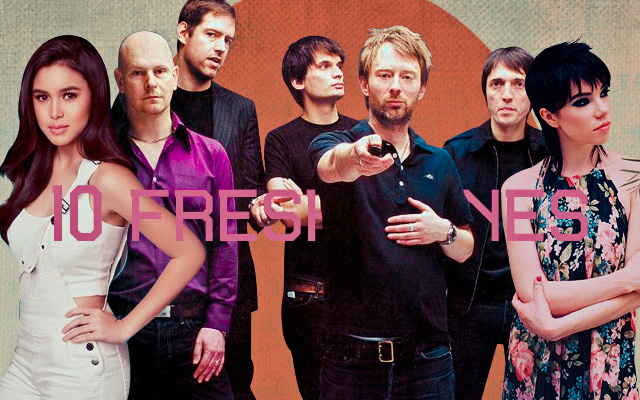 (SPOT.ph) Perk up your rainy days this June with these new additions to your playlist. Listen to Carly Rae Jepsen's power-pop single, Hanson's feel-good tune, Radiohead's underrated gem, Halsey and Lauren Jauregui's hip collab, and Miley Cyrus' new sound. Our local artists have loop-worthy offerings for you, too. Hear the latest from Claudia Barretto, Fools and Foes, Lenses, Chilitees with I-Dren Artstrong, and Nights of Rizal.
Song: "Cut to the Feeling"
Artist: Carly Rae Jepsen
One of today's most underrated artists is out with a new power-pop ditty. Carly Rae Jepsen's "Cut to the Feeling," another track written during her Emotion sessions, is bursting with '80s synths. One listen to the song's explosive chorus will get you hooked.
Fun fact: "Cut to the Feeling" is part of the animated movie Leap's soundtrack. Jepsen also lent her voice to one of the characters.
Song: "Stay"
Artist: Claudia Barretto
Claudia Barretto is making a statement with her debut single. The young singer proves she has something to bring to the table. "Stay" is an enjoyable R&B-pop tune that can easily be the next Manila club anthem.
Fun fact: Claudia's sister Julia tweeted that the singer also received an academic award on the day of her music video's release.
Song: "I Was Born"
Artist: Hanson
The Hanson brothers are here to brighten up the coming rainy days. The feel-good song's life-affirming message, irresistible harmonies, and impressive arrangement certainly prove these brothers are more than just a boy band.
Fun fact: The music video for "I Was Born" was created to celebrate Hanson's 25th anniversary.
ADVERTISEMENT - CONTINUE READING BELOW
Song: "Nocturnal"
Artist: Fools and Foes
Indie post-rock quartet Fools and Foes is out with the music video for "Nocturnal." The sound and visuals are both haunting, with vocalist Isabelle Romualdez shining throughout the track. Listen and let the song's final minute give you the good kind of goosebumps.
Fun fact: The band is currently working on new material for a full-length album to be released late this year or early next year.
Song: "I Promise"
Artist: Radiohead
"I Promise" is an absolute beauty, just like its recently released music video. This gem is melancholic and sincere when it says, "I won't run away no more, I promise." The track opens with a simple acoustic guitar and later flourishes with an orchestra addition and Thom Yorke's falsettos.
CONTINUE READING BELOW
Recommended Videos
Fun fact: "I Promise" is one of three previously unreleased songs from the band's 1997 record, OK Computer, and is part of the album's forthcoming re-issue, OKNOTOK.
ADVERTISEMENT - CONTINUE READING BELOW
Song: "So Take Me to the Sea"
Artist: Lenses
Summer isn't over for Terno Recordings act Lenses. "So Take Me to the Sea" is a sunny indie-jazz number you can easily jam to during that last-minute beach trip. Frontman Aaron Gonzales' cool vocals and the track's groovy arrangement will help you kick back, relax, and enjoy your escape.
Fun fact: The song was actually written during the band's beach trip.  
Song: "Strangers"
Artists: Halsey feat. Lauren Jauregui
Singer-songwriter Halsey duets with Lauren Jauregui of Fifth Harmony, and it's a winning combo. Both artists showcase their distinct raspy vocals that you simply can't ignore. The track, sung by the two openly bisexual women, is also out in time for Pride Month. Halsey was quoted in an interview referring to "Strangers" as a "love song for the LGBTQ community." 
Fun fact: "Stranger" is off Halsey's new album, hopeless fountain kingdom.
Song: "Island Bones"
Artist: Chillitees feat. I-Dren Artstrong
Chillitees and I-Dren Artstrong want us to take advantage of the remaining summer days, too. They're out with the music video for their smooth and soulful single, "Island Bones." I-Dren Artstrong adds a reggae touch to the groovy number, while vocalist Uela Basco sounds enchanting as always.
Fun fact: Scenes from the music video were shot in Manila, La Union, and Boracay.
Song: "Malibu"
Artist: Miley Cyrus
Miley Cyrus shocks music fans again—not with nudity or scandalous antics—but with a wholesome and breezy single. In "Malibu," Cyrus looks and sounds fresh. The stripped-down pop-rock song features prominent guitars and Cyrus' twangy country vocals that remind us of her unique sound.
ADVERTISEMENT - CONTINUE READING BELOW
Fun fact: Cyrus is expected to release a new album later this year.
Song: "Little Ocean"
Artist: Nights of Rizal
Nights of Rizal, a.k.a. Migi de Belen, teases his forthcoming album, summer/salt, with "Little Ocean," and we think it's an indication of good things to come. The artist takes us back to the '80s with his groovy synths and danceable disco beats. Don't let your friends miss out; tell them all about it.
Fun fact: The music video for the track features handycam footage of the artist's family outing to Calaca Beach, Batangas in 1987.
Share this story with your friends!
---
Help us make Spot.ph better!
Take the short survey
Load More Stories