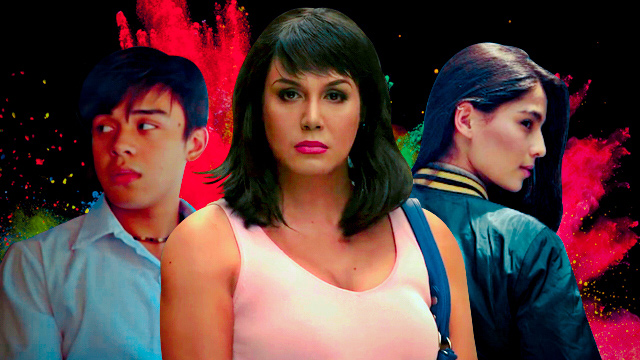 (SPOT.ph) Let's face it: The Philippines still has a long way to go when it comes to LGBTQ+ rights or even basic respect and understanding. And so when real life falls short, we often turn to cinema for stories that bravely explore and delve into the LGBTQ+ experience.
In recent years, local cinema has made great strides in portraying the colorful lives of the LGBTQ+ community, from heart-wrenching classics like Markova: Comfort Gay and Ang Pagdadalaga ni Maximo Oliveros to more contemporary flicks like Bwakaw and Star Cinema's In My Life.
From relatable romances to dramas filled with social commentary, we round up 10 recently released Filipino films that challenge societal norms and push the boundaries in how we see love and our fellow human beings.
This list only considers films released from 2013 onwards.
Die Beautiful (2016)
Directed by: Jun Robles Lana
Easily one of the best and most compelling Filipino films of 2016, Die Beautiful revolves around the colorful life of a transgender woman named Trisha (an excellent Paolo Ballesteros), who dreams of winning a beauty pageant. More than just following her life story, the movie sheds light into the unique and misunderstood struggles of the trans community—all while tugging at your heartstrings and steering clear of the lazy stereotypes that have otherwise plagued the LGBTQ+ genre.
ADVERTISEMENT - CONTINUE READING BELOW
Baka Bukas (2016)
Directed by: Samantha Lee
Baka Bukas centers on Alex (Jasmine Curtis-Smith), a lesbian who is out to everyone except her best friend (Louise delos Reyes). The film is best known for its "hipster" and dream-like aesthetic, from its punchy pastel and neon color palette to the cast's stylish—and reportedly all-homegrown—wardrobes. Beyond its visuals, however, we have a story that breaks the mold of the "tomboy" lesbian stereotype and depicts the difficulties of coming out to the people you care about the most.
Lisyun Qng Geografia (2014)
Directed by: Petersen Vargas
Written and directed by Petersen Vargas (who makes another appearance later in this list), this movie was originally an entry in Cinemalaya's Short Film category in 2015; it also nabbed a Gawad Urian for Best Short Film, and made rounds among the local and international film circuit. Vargas' debut film centers on Tib (Earl Policarpio), who is on the verge of leaving Pampanga for good. He then chances upon an old map that leads him to recall memories with his best friend, Tric (Ross Pesigan). Don't be fooled by its high school setting: Lisyun is a story that deals with relatable—even painful—themes that resonate beyond its 20-minute running time.
ADVERTISEMENT - CONTINUE READING BELOW
Recommended Videos
Ang Babaeng Humayo (2016)
Directed by: Lav Diaz
Charo Santos-Concio's critically acclaimed acting comeback has her playing Horacia, a kind-hearted teacher who is framed and convicted for a murder she didn't commit. Upon her release 30 years later, she decides to plot her retribution on those who have wronged her. Although largely a fascinating revenge film, Lav Diaz's four-hour film paints a grim portrait of inequality and injustice in Filipino society, including the LGBT community. We see their struggle through the eyes of John Lloyd Cruz's character, Hollanda, a transgender woman who—despite her tragic circumstances—leaves a major impact on Horacia's life.
Miss Bulalacao (2015)
Directed by: Ara Chawdhury
In Miss Bulalacao, a sleepy Cebuano town comes alive when a gay teenager named Dodong is somehow impregnated by aliens. Yes, you read that right. This 2015 entry to Cinema One Originals is a mish-mash of drama, sci-fi, and quirky comedy, but at the core of it all is the universal message of acceptance. It's a strange yet engrossing film—one that encourages its audience to rethink how they see gender, religion, and womanhood.
ADVERTISEMENT - CONTINUE READING BELOW
2 Cool 2 Be 4gotten (2016)
Directed by: Petersen Vargas
Petersen Vargas' first full-length feature is the coming-of-age tale of Felix (Khalil Ramos), an intelligent but socially isolated student in a small-town high school. His mundane life takes a dark and exciting turn when he befriends twin brothers Magnus and Maxim (Ethan Salvador and Jameson Blake), and he is awakened to a world he never knew existed. The film took home the Best Picture trophy at the 2016 Cinema One Originals festival.
Ang Huling Cha-Cha ni Anita (2013)
Directed by: Sigrid Andrea Bernardo
Often compared to Ang Pagdadalaga ni Maximo Oliveros, this coming-of-age story is about 12-year-old Anita (Teri Malvar), who develops a crush on an older and worldly woman named Pilar (Angel Aquino). The film largely explores first love through the naïve eyes of a child, but it also bravely tackles heavy themes of teenage pregnancy, abortion, and sexual awakening.
ADVERTISEMENT - CONTINUE READING BELOW
Esprit De Corps (2014)
Directed by: Auraeus Solito
Based on the one-act play of the same name, Auraeus Solito's gripping drama is set in an all-boys school at the height of Martial Law. Two ROTC cadets and best friends (Sandino Martin and Lharby Policarpio) must pass the brutal and physically grueling Hell Week. To survive and go up the ranks, they must navigate Major Mac Favila's (JC Santos) corrupt game of seduction and manipulation. The film nabbed multiple nominations at the 2015 Gawad Urian Awards.
Ned's Project (2016)
Directed by: Lemuel Lorca
Angeli Bayani plays a lesbian tattoo artist who, after a series of tragic events in her life, decides she wants to be a mother. To earn money for her artificial insemination, she turns to joining a reality talent show in the hopes of winning the prize money. The movie was an entry in the 2016 CineFilipino Film Festival, where it won a number of awards including Best Picture, Best Actress, and Best Screenplay.
ADVERTISEMENT - CONTINUE READING BELOW
Jazz in Love (2013)
Directed by: Baby Ruth Villarama
This sincere little film centers on Jazz, a young gay man who is in a long-distance relationship with his German boyfriend. Although they already have big plans to marry in Germany, Jazz has yet to come out to his parents. Written and directed by Baby Ruth Villarama (who also helmed the 2016 MMFF Best Picture winner, Sunday Beauty Queen), this documentary details the cross-cultural romance of two ordinary men and how love is universal—no matter the sexuality.
Share this story with your friends!
---
Help us make Spot.ph better!
Take the short survey
Load More Stories