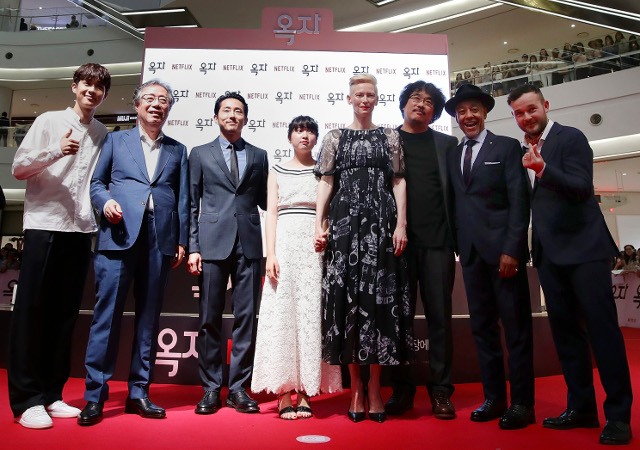 Director Bong Joon Ho with the cast of Okja at the film's red carpet premiere in Korea
(SPOT.ph) There's a lot happening at Netflix. You have your usual original series lineup—and we're sure you have your own personal favorites—but over the past months, they've been steadily beefing up their roster of original films. (The Brad Pitt-led War Machine is one, while the anorexia-themed To The Bone starring Lily Collins is another.)
ADVERTISEMENT - CONTINUE READING BELOW
More recently, another high-profile original film is taking center stage: Okja, starring Hollywood heavyweights like Tilda Swinton, Jake Gyllenhaal, Steven Yeun, Lily Collins, Paul Dano, and Giancarlo Esposito. Its South Korean writer-director, Bong Joon Ho, is equally as impressive, with a filmography filled with ambitious, out-of-the-box thrillers like The Host, Memories of Murder, and Snowpiercer.
And yet, even with a resumé as stacked as his, Bong seems as down-to-earth as he is thoughtful and enthusiastic about film. In SPOT.ph's roundtable interview with the filmmaker, he mentions his friendship with frequent collaborator, Swinton—which also led to her co-producing his latest project.
In the film, the prolific actress plays Lucy, an ambitious CEO looking to turn her company's tarnished image around with a new environmental message. To do so, she decides to breed "healthy" and "all-natural" genetically enhanced pigs all over the world for eventual human consumption...including the film's titular animal character, Okja. Unfortunately for Lucy, Okja's caretaker and best friend (a young girl named Mija, played by Ahn Seo Hyun) will stop at nothing to protect Okja from slaughter.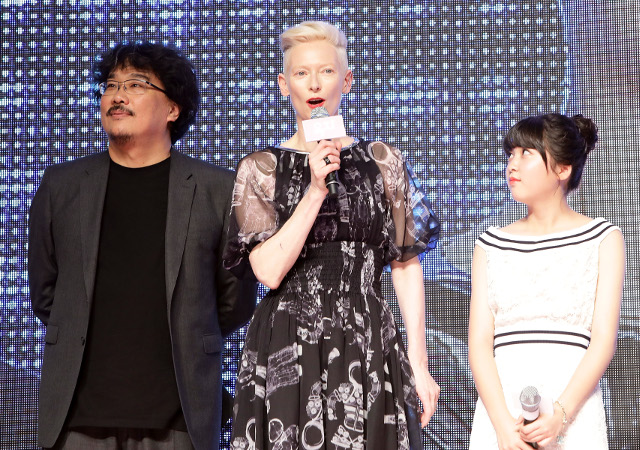 Bong Joon Ho (left) with stars Tilda Swinton and Ahn Seo Hyun
"[I] first told [Tilda] about Okja when [we] were doing the press junket for Snowpiercer," shares Bong. The storyline, he says, was inspired by an old Korean TV show called Animal Farm, which follows the lives of humans and their pets. The more he thought about it, the rest of the film's plot followed.
ADVERTISEMENT - CONTINUE READING BELOW
"[When I was] driving [along] the streets of Seoul, [I] imagined this big animal being stuck on the highway. So initially the size of Okja was much bigger than what you see now—about five stories high. The essence of this animal was that despite it having this very big built and very big size, it had such a sad face," he says. "So [I] began to imagine to wonder why did this animal have such a sad face, who was harming this animal? And why is it so big? The size of an animal means [the higher] value of the product, which led [me] to think about the corporation behind it."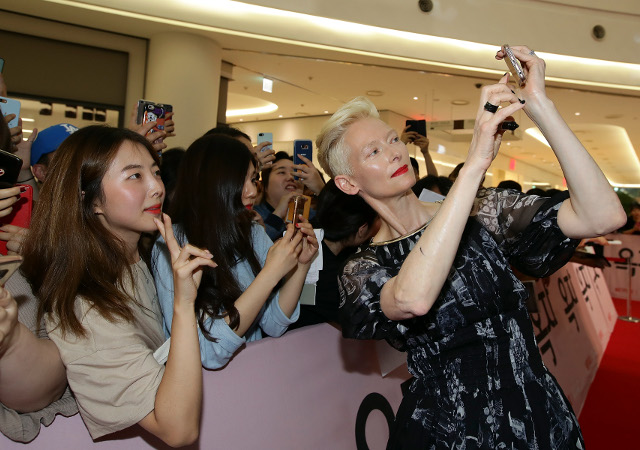 ADVERTISEMENT - CONTINUE READING BELOW
Tilda Swinton pauses to take selfies with Korean fans at the premiere
The process sounds simple when Bong puts it that way, but according to his cast, it was anything but. Instead, the "auteur" filmmaker uses storyboards—yes, like animated films—to meticulously plan out every single frame of his movie.
"If you'd told me 10 years ago that I would be working closely with someone who worked with storyboards, I would imagine that that would be quite constricting," admits Swinton. "Now I know that it's a real liberty, because he will show you where a shot is going to begin and end. And once you know that, you're completely free in the middle of it."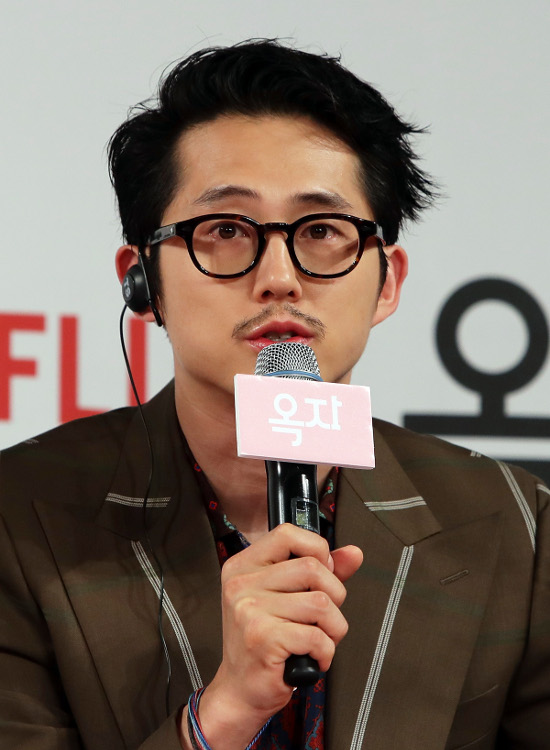 ADVERTISEMENT - CONTINUE READING BELOW
In the film, Steven Yeun plays an animal rights activist
Yeun—best known for his role in the hit TV series The Walking Dead—breaks down Bong's visual process even more. "Director Bong finds magical moments [visually], but he also is very deliberate about how composition works and how he wants to compose scenes...not because they're just pretty pictures, but because he's trying to direct your attention to a specific thing. Through [composition], he's saying as the director, 'I want you to watch this part of this frame because of this [specific] reason.'"
And yet, even with all the detailed planning, Bong is still a filmmaker who is very open to ad libbing. "That's the beauty of Bong Joon Ho, I mean he's making the film as we're making the film," says Yeun excitedly. "Every day, he'll wake up and we'll go into the scene, like, 'You know what I was thinking yesterday? I would like for you to add this line, and then just play around with that.'"
ADVERTISEMENT - CONTINUE READING BELOW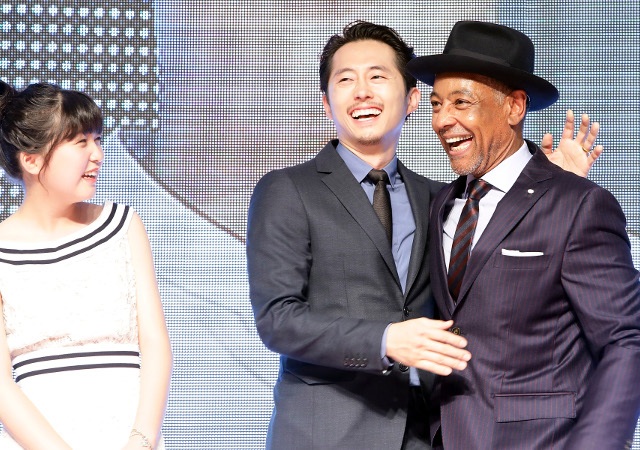 Ahn Seo Hyun with Steven Yeun and Giancarlo Esposito
Like Snowpiercer, Okja is both an American and South Korean production and despite the differences in language and culture, it's proof of Bong's remarkable ability to transcend barriers and borders. "[It's] the things that you can communicate without any language—which is this love between this animal and this girl—that's probably the most important message that gets conveyed and lasts throughout the film," shares Yeun.
ADVERTISEMENT - CONTINUE READING BELOW
And also like Snowpiercer (and the rest of his body of work that unflinchingly holds a mirror up to society), Okja has a lot to say about corporate greed, consumerism, activism, the environment, and perhaps more noticeably, animal rights. In short, there's a lot going on—a fact that isn't lost on his cast.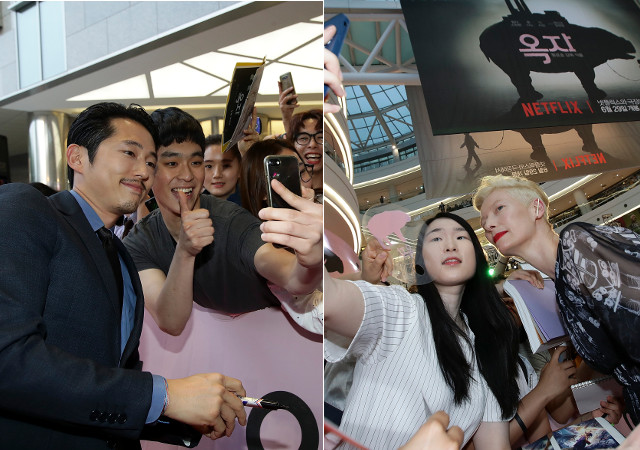 ADVERTISEMENT - CONTINUE READING BELOW
Tilda Swinton and Steven Yeun gamely pose with fans
"People really wanna narrow down what the meaning of this film is [...] but I think what's been really wonderful to see, especially after multiple viewings is that [the theme] changes every time you watch it," says Yeun. "[Bong] kind of paints a picture of what [the world] is, [not] what he wants you to see. [It's] what's happening and he's just showing it to you."
Okja starts streaming on Netflix worldwide on June 28.
Your guide to thriving in
this
strange new world.
Share this story with your friends!
---
Help us make Spot.ph better!
Take the short survey
More Videos You Can Watch
Load More Stories